The topic of discussion here is such a problem that may occur while working with with auto Windows update, upgrade, Outlook, Mail app, and store. 0x801901f4 is the error code that can appear with all of these processes and apps. When trying to install a Windows update, upgrade the system, add an account to Mail app, or get a game or application from Microsoft Store this code shows up.
Corrupted system files are one of the likely causes of error 0x801901f4 Windows 10 or 11, although the exact cause is still under investigation. Furthermore, glitches in the configuration, settings, registry, update components might equally be responsible to generate this code. Because we haven't yet received an official fix for this 0x801901f4 PC error manual actions are necessary to find alternative solutions. See fixes for another common issue 0x800f0831 Windows 11/10 Update Error.
0x801901f4 Windows 10 or 11 Error
Here is how to fix Error 0x801901f4 in Windows 11 or 10 –
Way-1: Run Windows Update Troubleshooter
After making attempt to install a patch or build when process failed, the integrated Fixit tool Windows Update troubleshooter could fix any issues that may arise. As Microsoft is keen to release installer files frequently, bugs and errors are quite closely related to updating in Windows 10 or 11. Positively, you can solve it using the below steps –
For Windows 10:
Go to Windows Settings (Win+I).
Click – Update & Security.
Click – Troubleshoot.
Navigate towards the right-hand side.
Select – Additional troubleshooters.
Choose – Windows update after moving to the following page.
Click – Run the troubleshooter from the popup menu.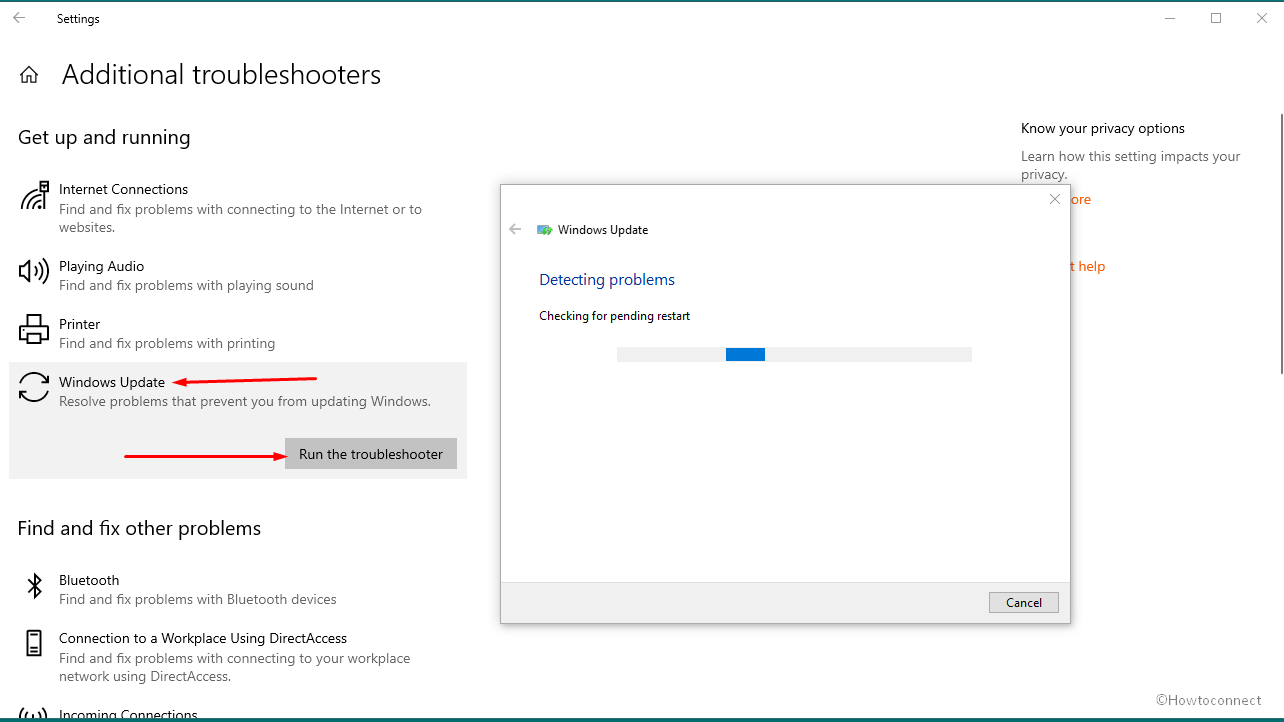 To finish the process, follow the instructions displayed on the screen.
For Windows 11:
Hit – Windows + I keys.
Go to Settings' right panel and Choose – Troubleshoot.
From the options, click –Other troubleshooters.
Click –Run next to the Windows update.
The utility will now start looking for faults.
Click – Apply this fix if the utility offers a fix. If not, follow the tool's instructions.
Restart Windows after closing the troubleshooter.
Way-2: Restart Wuauserv
The ability to download updates and then install them makes Windows 11/10/8/7 fully secure and feature-rich. Unfortunately, Windows Update frequently experiences service-related problems. The system comes with the wuauserv, often known as Windows Update service which is usually pre-enabled, however, the default settings can be inadvertently changed by a user or by third-party software. Therefore, in order to resolve error 0x801901f4 Windows 11 or 10, check the service and restart it.
Hit – Windows + R.
Type – services.msc.
Select – OK.
Locate Windows Update in the list that appears.
Right-click on it and select – Restart.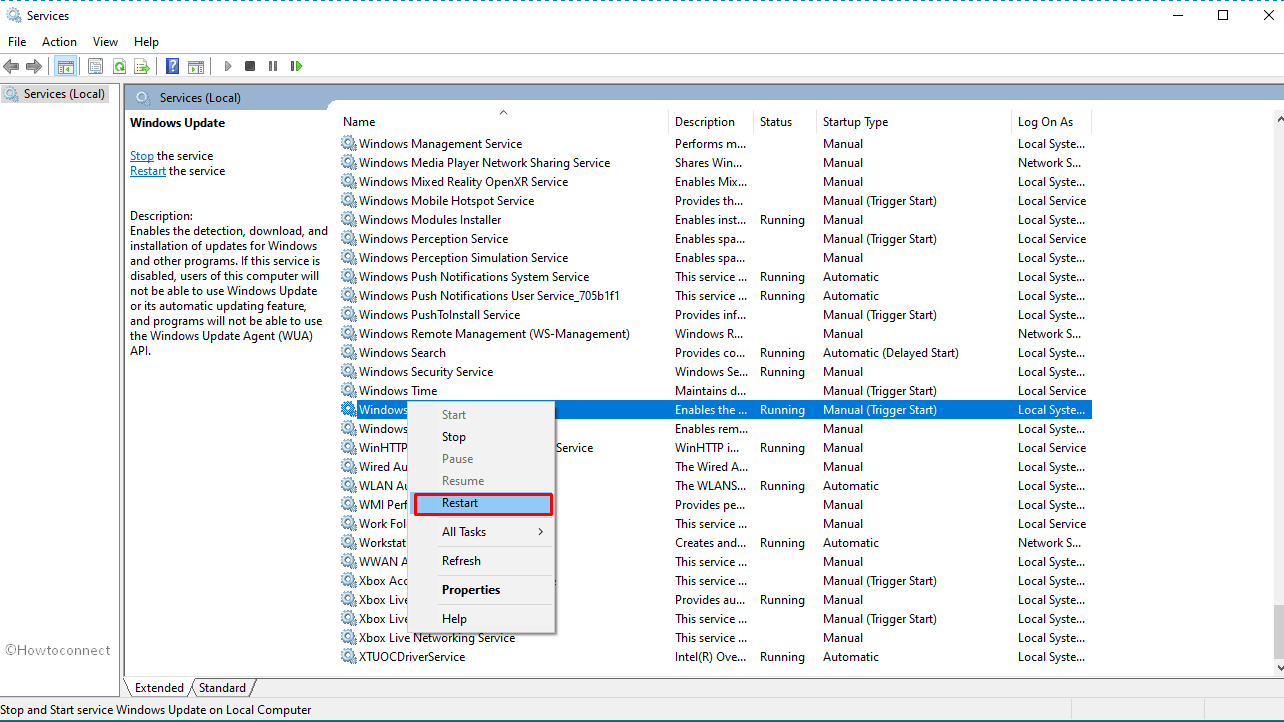 Way-3: Fix faulty System Files and Use DISM
Windows 11 and 10 function effortlessly and run without a hitch; thanks to some essential files that are always working on the computer. These are considered system files but since they are so delicate, they are easily compromised by nefarious intruders. Error 0x801901f4 Windows 11 might result from missing or corrupted "system files", which restricts the concerned procedure. A tool called SFC can fix these components and recover any missing files.
Sometimes malfunctions in .wim or Windows image might also trigger 0x801901f4 Windows 10 or 11 error code. So along with SFC you will also have to run DISM utility as a precaution. Follow the guide below to run the scan:
Go to the Start button and click on it.
Inside the search box, type – cmd.exe.
Now Press – Ctrl+Shift+Enter.
Click – "Yes" when User Account Control appears.
On Command prompt, type – SFC /Scannow.
Press – Enter.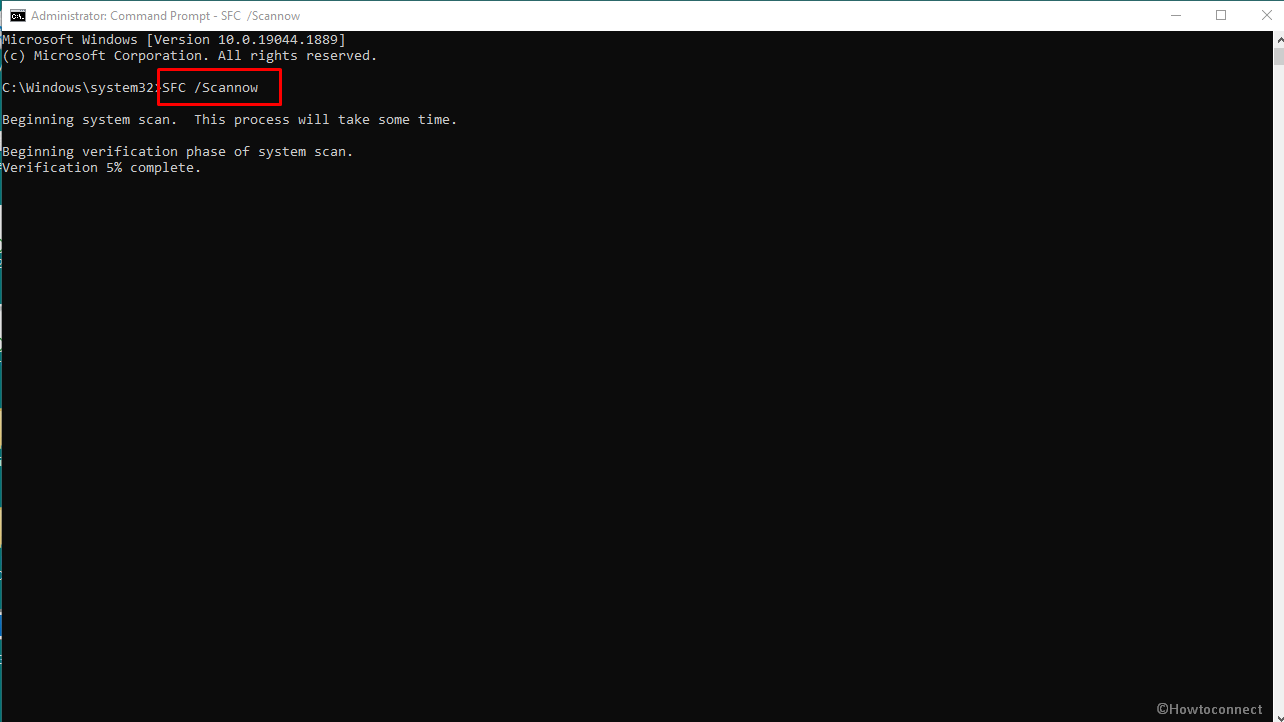 Allow the process to complete by reaching 100%.
Restart Windows after the scanning process is finished.
If the error still persists, again open Command Prompt as administrator.
Type –DISM /Online /Cleanup-Image /RestoreHealth.
Press – Enter.
After logging back in, try updating again.
See – SFC /Scannow, DISM.Exe, CHKDSK Windows 10.
Way-4: Remove Third-party Anti-virus
Since these errors are constantly affecting to compromise the security interface, it is really impossible to think of ignoring malware today. Without a robust anti-virus running round-the-clock, spyware, worms, rootkit, and trojan from the internet can easily compromise a security system. The best tool ever for this purpose is Windows security, it is a sophisticated program that comes installed by default.
Users occasionally want to install antivirus software from other parties to increase security, but they find that this is ineffective. As opposed to doing so, they block Windows update installer files by mistaking them for suspicious files. Furthermore, there is a chance of a dangerous software clash when using Windows and comparable products. Therefore, to fix a nefarious problem like 0x801901f4 Windows 10 or error, delete the third-party antivirus programs.
Launch Run Dialog (Win+I).
Type – appwiz.cpl in the command box.
Click – OK.
Find the installed third-party antimalware program from the Window that pops up.
Once located, right-click it and select – "Uninstall."
Follow the on-screen directions exactly to remove the program completely.
To make the deletions take effect, restart the system.
Way-5: Reset Update Components
System must be updated and safeguarded against existing and future threats as well as bugs, which is why Windows Update is so important. Unluckily, Users who seek to install the releases, frequently encounter issues and get error codes.
Resetting Update Components action will bring the default settings for the MSI installer, BITS, Cryptographic, and WSUS back. Two very significant folders SoftwareDistribution and Catroot2 will simultaneously get new names with this method. The folders temporarily store the specialized components linked to the update. Use the following steps below to resolve windows update error 0x801901f4 –
Click – Search.
In the box, Type – cmd.
Next, select – Run as administrator.
Select – Yes when the User Account Control prompts.
Copy-paste each of the lines below into the elevated Command Prompt separately and press Enter successively.
net stop bits
net stop wuauserv
net stop appidsvc
net stop cryptsvc
Ren %systemroot%\SoftwareDistribution SoftwareDistribution.bak
Ren %systemroot%\system32\catroot2 catroot2.bak
net start bits
net start wuauserv
net start appidsvc
net start cryptsvc
Next, close Command Prompt.
Reboot the system.
Alternatively, you can follow – How to Reset Windows Update to Default in Windows 10.
Way-6: Turn off the Windows Defender Firewall
Windows Defender Firewall is a vital program that filters incoming internet data and effectively prevents potentially hazardous content from entering the system. There is no substitute for keeping the program activated and running if you want to guarantee the maximum security of the system.
The application is so effective that it frequently flags and filters Windows installer files as suspicious resulting in failed updating process. You can temporarily switch off Windows Firewall and turn it back on after the update is complete to solve the issue. Follow these steps to do this:
Press – Windows + R.
Type – control firewall.cpl.
Select – OK.
Click – Turn Windows Defender Firewall on or off.
Check the options, Turn off Windows Defender Firewall (not recommended) for both Private and Public network settings.
Now, click – "OK".
Way-7: Modify Registry
Another cause of error 0x801901f4 Windows 10 or 11 might be some flaws in the Windows Update Download path. You may have to remove some keys in the Windows Registry to make this right. As a result, with a clear path and there won't be any more problems when updating.
Windows registry adjustments require expertise, and even the smallest error might result in long-term system harm. Making a comprehensive backup of the essential items is therefore advised before using this workaround; it is also preferable to seek professional assistance. To remove Registry keys, carefully follow the steps below:
Press – "Windows + S".
Type – regedit in Windows search.
Press – Enter.
Select – Yes for the User Account Control that appears.
When Registry Editor opens, go to the directory listed below:
HKEY_LOCAL_MACHINE\SOFTWARE\Policies\Microsoft\Windows\WindowsUpdate
Right click on – WUServer.
Select – "Delete".
Similarly, delete the WIStatusServer key as well.
Next, reboot the Windows.
0x801901f4 Mail App, Outlook login, Microsoft Store
Way-8: Run Windows Store apps troubleshooter
When you are using Mail app and try to add another account from Gmail, Yahoo, iCloud, or any other POP or IMAP you might find 0x801901f4 error code. To fix this move ahead with the steps –
Right-click on – Start.
<>Type – Troubleshooter.
Hit – Enter.
Go to the right and select – Additional troubleshooters.
Click on – Windows Store Apps.
Click on – Run the troubleshooter.
Once the tool is working follow the instructions provided.
Way-9: Reregister the apps
To solve 0x801901f4 Mail error that generally occurs when trying to add an account to email client you need to again register the application using PowerShell or Command Prompt: Here are the steps:
Copy-paste the following cmdlet at a time and hit Enter.
PowerShell -ExecutionPolicy Unrestricted

$manifest = (Get-AppxPackage Microsoft.WindowsStore).InstallLocation + '\AppxManifest.xml' ; Add-AppxPackage -DisableDevelopmentMode -Register $manifest
See if the issue is fixed.
Way-10: Fix 0x801901f4 Microsoft Store through Reset
When the same code appears during app update or installation in Microsoft store resetting the Store will fix the problem. So follow the method –
Right-click on – Start.
Select – Run.
Type – WSReset.exe.
Hit Enter and allow the process to complete through the command prompt.
Restart the system and hopefully, the error will be fixed.
Methods:
Way-1: Run Windows Update Troubleshooter
Way-2: Restart Wuauserv
Way-3: Fix faulty System Files and Use DISM
Way-4: Remove Third-party Anti-virus
Way-5: Reset Update Components
Way-6: Turn off the Windows Defender Firewall
Way-7: Modify Registry
Way-8: Run Store app troubleshooter
Way-9: Reregister Store app
Way-10: Fix 0x801901f4 Microsoft Store through Reset
That's all!!
Repair any Windows problems such as Blue/Black Screen, DLL, Exe, application, Regisrty error and quickly recover system from issues using
Reimage
.