A lot of windows users have complained about facing the Error Code 0xc004f050 while activating their copy of Windows 10. It usually occurs when your CD isn't working due to some issue in Server capabilities. Many users lodged complaints about facing issues while upgrading from their older above-mentioned Windows. There are certain underlying issues and reasons as to why a user may face the activation error.
One of the basic reasons for activation error 0xc004f050 is performing a clean install before upgrading to Windows 10 Professional or Home. Insertion of wrong or invalid product key, busy activation server, hardware replacements might also lead to this issue. Rest assured, the error can be fixed without needing any help from a technician. See the methods universal fix here – All-in-One Fix: Windows 10 Activation Problems 2020.
Error 0xc004f050 Windows 10 Activation Professional or Home
Here is how to Fix Error 0xc004f050 Windows 10 Activation Pro or Home
1] Take help of Windows Activation troubleshooter
Microsoft has designed pain-relieving troubleshooters to help the user to deal with all kinds of windows errors. Activation troubleshooter is among these helping to get rid of various errors arising when activating. Follow the steps and run the utility –
Press – Windows + S.
Type in – activation.
Hit – Enter.
Move to the right pane of the appearing page.
Click – Troubleshoot.
Remark – The option will no longer be viewable only if Windows is already activated.
When a User Account Control appears, click – Yes.
Once troubleshooting is complete, check the report and do accordingly.
2] Confirm your product key is legitimate to fix Windows license error 0xc004f050
Legitimate license key is a prerequisite to activate Windows 10 without encountering 0xc004f050 error. Additionally, ensure that you have purchased the digital license from Microsoft or some authentic and bonafide distributor. These days hundreds of fake websites selling product keys for different software including Windows 10 are easily found; beware of them. They not only commit fraud with you but may also hand over a package of malware. So before going to activate double check your product key is valid and then start following the steps –
Click the Search icon from the taskbar.
Type – cmd.
Press the – Ctrl+Shift+Enter.
When a pop-up arrives, click – Yes.
In the Command Prompt, insert the below line and then hit – Enter.
slmgr.vbs /ipk ProductKey
Note – Replace ProductKey with your 25-digit character key.
If the key is correct, you will see a successful message.
3] Reactivate Windows after a hardware change
If you recently had any hardware change, notably Motherboard then you are more likely to experience the Windows key error 0xc004f050. License key is automatically associated with the hardware when you install the OS which the system misses out after a replacement. the operating system stops working. Windows does not be able to find the genuine key after the installation of a significantly new motherboard and may throw the activation error. So whenever you perform a hardware replacement and get an issue about an incorrect product key follow the guidelines –
Press Windows key and type – activation.
Hit the – Enter.
From the right side, click – Troubleshoot.
After completion of troubleshooting, hit – I recently changed hardware on this device.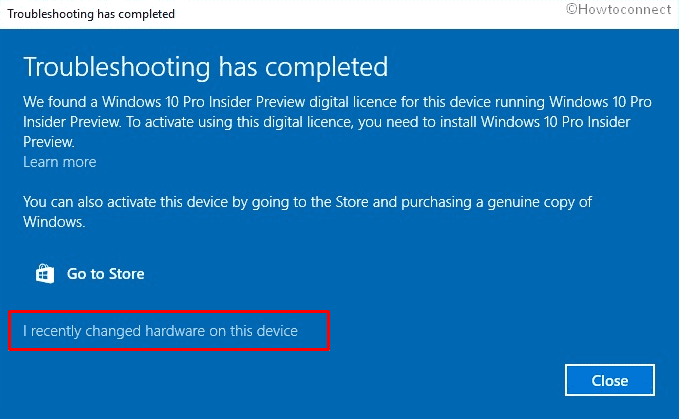 If asked, provide credentials of your Microsoft account and click – Sign-in.
Find the device you want to reactivate. If you don't get it at first glance, hit – See other devices linked to your Microsoft account.
Select your device and click the checkbox set before This is the device I'm using right now.
Click the – Activate.
4] Perform clean install only after upgrading to Windows 10
If you perform a clean install before upgrading to Windows 10 then, as is observed in most cases, you may undergo the activation error. Unlike the older editions, Win 10 requires you to upgrade rather and then start the clean install.
When you upgrading, the system checks match whether your software is genuine or not. After the upgrade is done, Windows 10 is appointed as the operating system on your device and is marked as labeled. You can use the Media Creation tool to successfully perform the upgrade.
When you run Media creation the wizard will display 2 choices – Upgrade this PC now or Create installation media for another PC. After selecting the first one and accepting the Terms and conditions you will automatically get an Install now option.
So one of the major causes of the 0xc004f050 Windows 10 pro or Home to occur is performing a clean install before upgrading.
Now go to the Activation and you will certainly no longer encounter the issue. You can get the latest version following this – How to Install Windows 10 2009 October 2020 update. One more post you can see is – 3 Proven Ways to Activate Windows 10.
Methods list
1] Take help of Windows Activation troubleshooter
2] Confirm your product key
3] Reactivate Windows after a hardware change
4] Perform clean install only after upgrading to Windows 10

That's all!!
Repair any Windows problems such as Blue/Black Screen, DLL, Exe, application, Regisrty error and quickly recover system from issues using
Reimage
.