For Windows 11 users, coming across update errors is nothing new. The problem arises when codes such as 0x80070002 appear on the devices, which causes an unnecessarily exasperating experience.
This problem may occur when some files in the Windows Update components are missing or corrupted, lack of free disk space, or incorrect configurations in registry. Sometimes wrong Date & time settings might also trigger error code 0x80070002. Furthermore, corrupted system files, .wim, and Firewall are also reasons that interfere with the normal update process. See – Fix: "Error Code 0x80073701" Windows 10 Update.
0x80070002 Error Windows 11 Update
Here is how to fix Windows 11 Update Error 0x80070002 –
Way-1: Use the process of In-Place upgrade
When Windows update fails to install, in-Place upgrade makes the process possible by installing the current version through ISO file. This method will directly install the latest edition of Windows 11 or 10 that includes the security patch or cumulative update which is needed.
Go to the Official website of the download page of Windows (11).
Scroll down and reach the section – Download Windows 11 Disk Image (ISO).
Click on the drop-down for Select download.
Choose Windows 11 (multi-edition ISO).
Click on- Download.
Select the product language using the dropdown.
Click on – 64-bit Download.
Go to the Downloads folder and right-click on the ISO file.
Select – Mount.
Click on Yes on the UAC prompt.
On the "Install Windows 11 dialog" select Next.
Now select Accept from the Terms and conditions and license agreement wizard.
The setup file will scan and check whether enough free disk space is available on your computer.
Ready to install page will appear; check the option Keep personal files and apps.
Finally, click on Install and wait for some time until the system doesn't install the update.
Way-2: Launch Windows Update Troubleshooter
Troubleshooters are the utilities for finding and fixing problems on Windows 11 and 10. So, to solve the error 0x80070002 you would require to launch and run Windows Update Troubleshooter which you could do by following these steps:
Press Windows and I.
On the Settings app, select Troubleshoot in the right pane.
Click Other troubleshooters options.
Select the Run that is located beside Windows Update.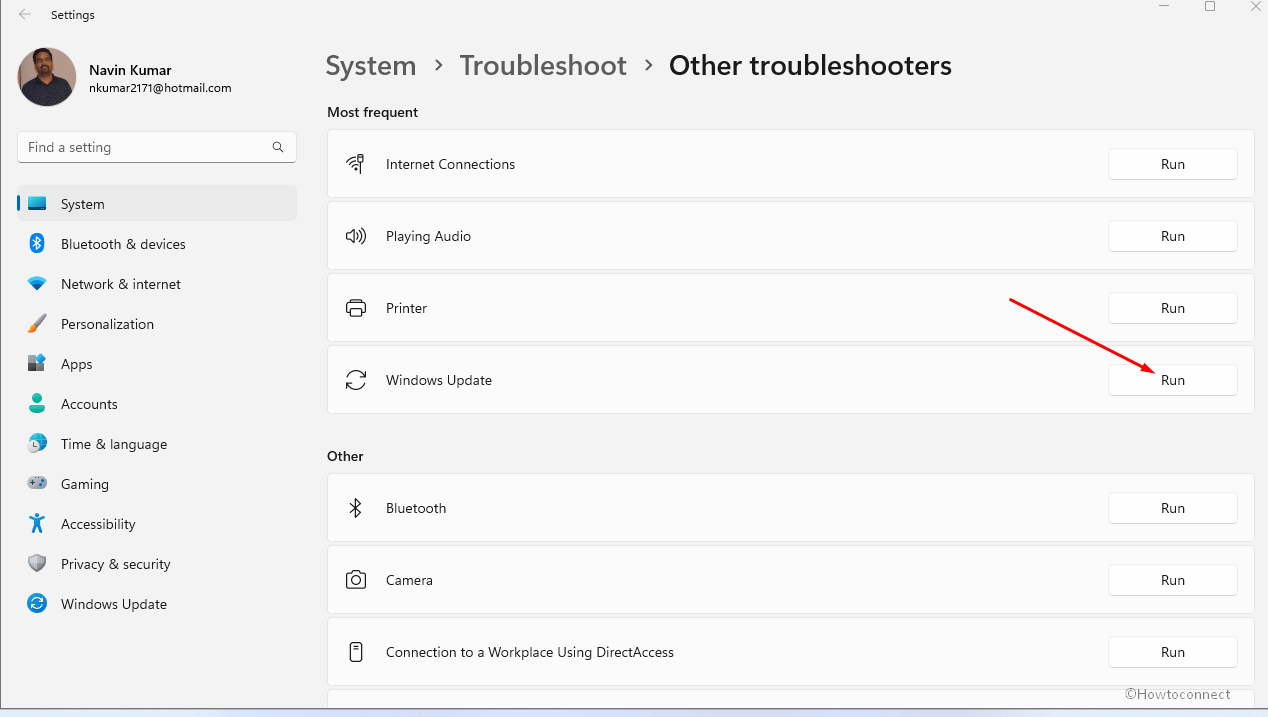 The tool will appear, search for problems, and repair them.
This may help you – Use Common Windows Update Troubleshooter on Windows 11, 10, 8.1, 7
Way-3: Adjust Date and Time Settings
You will be completely perplexed to know that changing date and time settings on your PC can also help in resolving the 0x80070002 issue on your Windows. Incorrectly set date & time is one of the root causes of this error, so it is necessary to synchronize your computer's time with the Internet time server:
In the search box, enter cmd.
Right-click Command Prompt.
Choose Run as administrator followed by clicking Yes.
Type the following commands successively and hit Enter each time.
w32tm /register
net start w32time
w32tm /resync
Restart your computer and retry installing Windows Update to check whether it works.
If, you are still facing the aforementioned error follow the next way.
Way-4: Remove content from SoftwareDistribution
Broken or deleted Windows update files are the general reasons to trigger error code 0x80070002. Erasing the data from SoftwareDistribution/Download, the storehouse of Windows update files might be a working solution.
Furthermore, renaming the folder can also sometimes fix the error code. Possibility is that you may need to stop the Windows Update service before you make any changes to the files or folder. Therefore here's what you should do:
Stop the Windows Update Service from Running
Press the Windows logo and R simultaneously.
Type services.msc.
Press OK
Find Windows Update and double-click on it.
Click Stop if the process is running, then click Apply and OK to save the changes.
Repeat the same with Background Intelligent Transfer Service, and Cryptographic Services.
Remove SoftwareDistribution Folder
Double-click the drive where Windows is installed, which is usually Drive C.
Navigate to the following folders: Windows > SoftwareDistribution > Download.
Delete all the contents in SoftwareDistribution/Download folder. If you do not wish to delete them, just rename the folder to SoftwareDistribution.bak.
Close all of the windows.
Start the Windows Update Service Again
Press the Windows + R key.
Type services.msc and hit OK.
Right-click Windows Update and click Start.
Also, start Cryptographic Services and Background Intelligent Transfer Service in the same way.
Try Windows Update again after you restart Windows to see if it fixes the update error 0x80070002.
Way-5: Modify Registry Entry
Modification in a Registry Entry works as a wonder when it comes to fixing 0x80070002 error code. This regkey allows Windows to upgrade to the next version through Windows update.
Regedit is the Registry editor and this tool consists of hives associated with all the Settings in Windows. You should be very careful when using this program because it lets you change your PC's settings at the root or administrative level and the core configuration.
Then follow these steps:
Hold down the Windows key and press R.
Type Regedit.
Press Enter.
Click Yes to confirm.
Then, visit,
HKEY_LOCAL_MACHINE\SOFTWARE\Microsoft\Windows\CurrentVersion\WindowsUpdate\OSUpgrade
Right-click the empty space on the right side of Registry Editor.
Click New and then select DWORD (32-bit) Value.
Name NewValue#1 to AllowOSUpgrade.
Choose "Modify" from the menu.
Then, double-click the number under Value data and type 1 into it.
Click OK after choosing Hexadecimal.
Try again after restarting your computer to see if the error has been resolved or not. If not, then follow the next way.
Way-6: Disable the Microsoft Defender Firewall for a while
Windows Firewall is a critical security program that comes inbuilt having the function to prevent unwanted access and allow permitted data transfers to and from your computer.
However, its protection standards and protocols can sometimes become a double-edged sword leading to an adverse impact on the updating process and showing errors like 0x80070002.
Therefore, while downloading the update, disable the firewall and determine if the problem is resolved. Follow these steps:
Click on the Start
Type Windows Security,
Hit the Enter key.
From the left pane, choose Firewall & Network Protection.
Select Private network.
Disable the Microsoft Defender Firewall using the toggle.
Way-7: Check and arrange Free Space
The occurrence of error code 0x80070002 may be caused by insufficient free disk space on the system to accommodate the update download. Although Windows reserves some space for update all the time, it is possible that the small allocation has been exhausted anyhow.
Check the drive's free space by using File Explorer –
Press Winkey+E.
Select This PC from the left navigation pane.
See the Local disk (C:) to know whether how much space is spare.
If this is lower than 16GB then use Disk cleanup to evacuate some.
Moreover, you can use external drive to extend the storage space.
Way-8: Run DISM and System File Checker
This method applies when the most common reason such as corrupted system files or broken Windows image affect the process. Consequently, the Windows update fails and throws the error code depriving you of modern changes and improvements.
SFC and DISM are rescuers in this case that fix Windows 11 Update Error. Follow the steps –
Press Windows & R.
Type – cmd.exe.
Next, press Ctrl, Shift, and Enter simultaneously.
Click Yes if a prompt appears.
Now, type SFC /Scannow.
Hit Enter and see when the command completely repairs the files and reaches 100%.
Restart the system and check if the error 0x80070002 still persists or it is fixed during Windows update.
If the issue is persistent then again launch the command prompt as you did in steps 1, 2,3, and 4.
Type
DISM /Online /Cleanup-Image /RestoreHealth
Hit Enter and when the repairing is completed, reboot the PC.
We hope, all the ways mentioned here would help you fix update error 0x80070002 in Windows 11 or 10.
Methods:
Way-1: Use the process of In-Place upgrade
Way-2: Launch Windows Update Troubleshooter
Way-3: Adjust Date and Time Settings
Way-4: Remove content from SoftwareDistribution
Way-5: Modify Registry Entry
Way-6: Disable the Microsoft Defender Firewall for a while
Way-7: Check and arrange Free Space
Way-8: Run DISM and System File Checker
That's all!!
Repair any Windows problems such as Blue/Black Screen, DLL, Exe, application, Regisrty error and quickly recover system from issues using
Reimage
.