IPI WATCHDOG TIMEOUT error is a very common and quite an annoying BSOD error for computers, laptops, desktops, and tablets running Windows 10. The issue occurs mainly when a serious problem causes Windows to shut down or restart unexpectedly. Various malfunctions can cause this problem such as – inaccessible boot device, overclocked PC hardware, corrupted or outdated Graphics Card devices. Furthermore, memory problems, corrupt system components, low disk space, incorrect BIOS configuration, damaged RAM or Hard Disk may also be a reason for this problem. There are some useful fixes to recover this irritating error. You actually don't need all the solutions, just work your way down until you find the one works for you.
Solutions to IPI WATCHDOG TIMEOUT Error 0x000001DB in Windows 10
Here is how to fix IPI WATCHDOG TIMEOUT Error 0x000001DB in Windows 10 –
1] Disconnect additional Hard Disk
It may sound silly but true that sometimes additional hard drives can cause IPI_WATCHDOG_TIMEOUT Error in Windows 10. As we often need such devices this problem is reported by quite a huge number of users. Removing the drive temporarily may settle the error but ultimately you need some permanent solution to this cause. Use the following instructions to reconnect your device:
Unplug additional Hard disk and other peripherals from the ports.
Place the hardware somewhere nearby so that you can reach them when needed easily.
Then using the traditional procedure restart windows.
Check if the IPI WATCHDOG TIMEOUT BSOD Error is still appearing in your system even after completing the rebooting.
If the error does not appear, open the browser and access the manufacturer's website.
Locate the current version of the driver for the hardware and install it manually.
Locate the current version of the driver for the device model of the hardware and install it manually.
Ultimately, plug the hard drive back into the ports and reboot the system once more.
2] Available Windows Update Installation
Windows 10 receives Patches installed correctly to keep the OS intact and out of danger from threats and attacks. Sometimes the updates are not installed correctly IPI WATCHDOG TIMEOUT Error happens. To install all the latest update, follow the steps written below:
Press Win+I shortcut key or you can select Settings cog from the start menu.
Select Update & Security from the options.
The next page will send you to the Windows updates section; click on Check for updates from the right-hand flank.
Any available updates will show up after the automatic service detects.
Click on Download and just wait for the process to end.
Restart your device.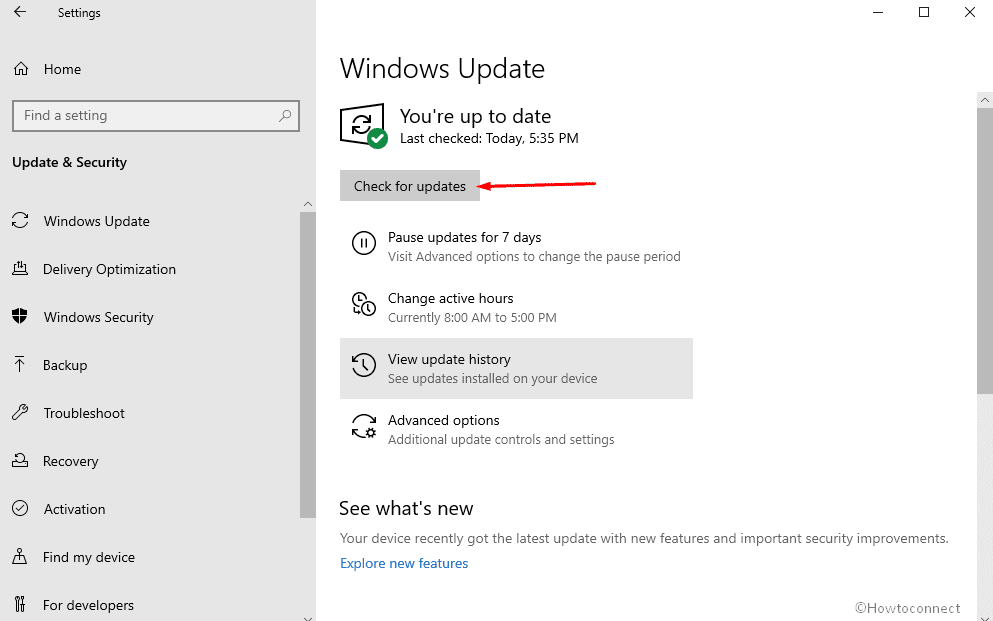 Check to see if the IPI_WATCHDOG_TIMEOUT Blue screen error is gone. If not then you have to go through the next steps.
See – 4 Ways to Update Windows 10
3] Update Device Driver to fix IPI WATCHDOG TIMEOUT
Incorrect, faulty, corrupted or outdated system drivers may be a prominent factor for the blue screen error showing on your computer. So find out if one is the real culprit for the BSOD and update them directly from the manufacturer website.
Access the manufacturer's website and locate the software by inputting the model number of your device.
Download the correct drivers and install them manually.
4] Remove third-party antivirus program
However, there are pretty good Antivirus utilities in the market but multiple numbers of them have not compatibility with Windows 10. Therefore, often this software becomes a case of IPI WATCHDOG TIMEOUT. As Windows security is a robust application available in your device, it is really not necessary to use another antivirus. In our opinion, it would be a good idea to remove any such third-party app especially when you encounter Blue Screen of Death error. To get rid of your antivirus you can use the following steps –
Press Win+I shortcut key and select Apps from the available options.
Choose apps and features from the left-hand side of the appearing window.
Find your third-party antivirus name on the list here.
Click on the same to expand it and select Uninstall.
For permission, choose Yes on the User Account Control dialog to proceed.
To remove the software completely please pursue the instructions/guidelines coming subsequently.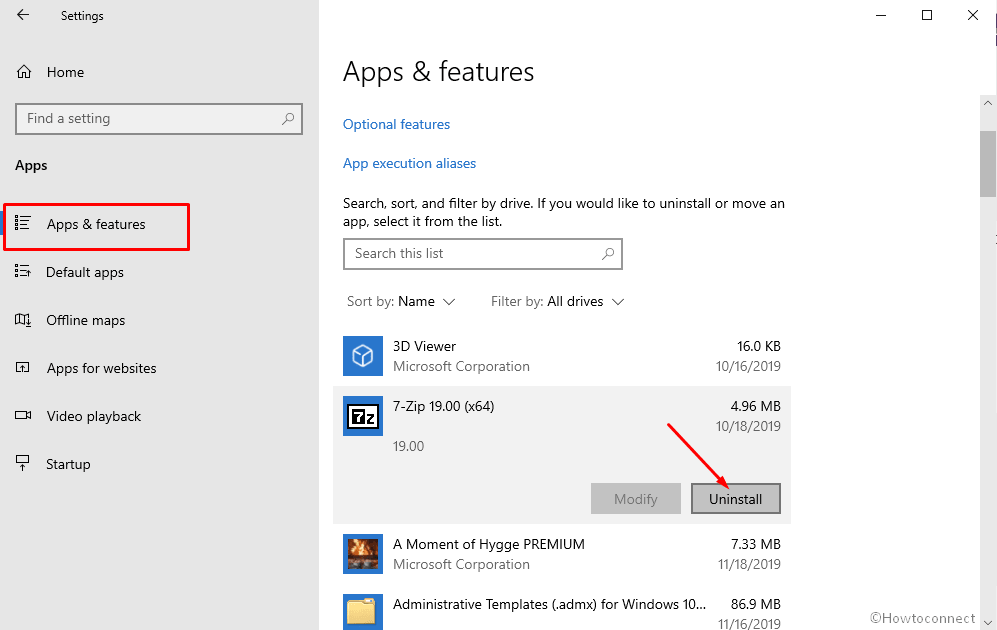 How to Uninstall Software From Windows 10 After Creators Update
5] Set the BIOS settings to the default stage
As most of us lack knowledge about BIOS, it is best to ask some help from the manufacturer to do so. When you access BIOS settings you might see something like the screenshot differing slightly.
Search for the website of the manufacturer of the brand and look for the latest update for your model of the PC. If you have a built computer, you have to find according to the motherboard manufacturer. Updates can be found on the Support or Download section of the website.
Windows 10 – 5 Ways To Know BIOS Version of MotherBoard
6] Run SFC /scannow command to solve IPI WATCHDOG TIMEOUT
Corrupted system files may also be the cause of IPI WATCHDOG TIMEOUT BSOD error.  System File Checker is the most demanded built-in tool to resolve this issue. You have to follow these steps to run this utility –
Press Win and S simultaneously invoke Taskbar Search
Type cmd.exe in the blank box
Select Run as administrator from the right side in result preview.
Click on Yes when User account control prompts.
Type sfc /scannow as a command in command prompt window.
Press enter key to proceed
It will take some time to detect and fix all the corrupted files automatically
After you are done please restart the device and check if the error has resolved already. If not, then try the following solutions.
7] Go back to the previous built
Sudden new changes in your system may cause the IPI_WATCHDOG_TIMEOUT error. You can always rollback to the previous build as an easy solution to this problem. Steps to be followed are:
Press WIN+A to open Action center flyout.
Click on Expand and then select All Settings.
Go to Update & Security.
Click the Recovery from the left column of the showing page.
Select Restart now under Advanced startup after jumping to the right pane.
Next, choose Troubleshoot from the displaying options.
Then go to Advanced options.
Select "Go back to the previous build" in the subsequent window.
When a new screen shows up, again click to Go back to the previous build.
How to Restore Earlier Build in Windows 10
8] Boot the device in safe mode
Windows does not have a flawless operating system that's why tech users always face problems like IPI_WATCHDOG_TIMEOUT Error. Luckily Windows recognize such things and have a temporary solution for the users i.e., booting the device in Safe Mode. In this basic state, the system uses a limited set of files and drivers thus enables you to narrow down the source of a problem. Go through the following instructions to find out how to start your PC in safe mode from Settings –
Go to Settings => Update & Security.
Another page will show up with various options on its left overlay; choose Recovery from them.
Jump up to the corresponding right, reach Advanced startup.
Do a click on Restart now button to begin rebooting.
When Windows completes the cycle of restarting, it will prompt to select the next step. Choose Troubleshoot from appearing screen.
Moving ahead, perform a click on Advanced options and thereupon hit Startup Settings.
Choose Restart after Windows tells you that the device can be restarted with "Enable Safe Mode".
9] Use Windows Memory Diagnostics Tool
IPI_WATCHDOG_TIMEOUT Error may also be the result of any memory issue in your device. Running the Memory Check on your computer is productive to fix any problem with your RAM.
Hit the Win and R buttons jointly to unfold the Run dialog box.
Type mdsched.exe in the available space and press Enter.
Windows Memory Diagnostic Tool will be launched in the middle of the screen.
Select the first option – Restart now and check for problems (Recommended) from the shown pop up.
Now, the computer will restart. Check for memory-based problems.
If you get any issues there, it will fix it automatically else if no issues are detected, this is probably not the cause of the error.
10] Check and fix Hard Disk
IPI_WATCHDOG _TIMEOUT error may also cripple your system because of Hard Disk problems. Using your computer for several years and almost every day affects Hard Disk and you cannot really control it. Disk Checking tool comes as a rescuer in this situation performing via Elevated Command Prompt. To approach the solution please follow the instructions –
A black window is immediately revealed; enter  – chkdsk C: /f /r /x
press Enter key to effectively perform the command.
It will take a few minutes to check and fix IPI_WATCHDOG _TIMEOUT. When the process is finished you will need to restart your device.
11] Clean your computer case and check for faulty hardware
Several times hardware failure is the prime reason for BSOD, and to get rid of them you need to thoroughly check if they are in good condition. Few users reported that a faulty motherboard and other said a CPU or graphics card creates this issue.
If your hardware is working perfectly, make an effort to flick off your computer case from dust. Sometimes dirt can clog your fans or even slots, therefore it's advised to clean your PC with pressurized air.
12] Scan and Dismiss malware with Window Security
BSOD error is obviously an out-of-the-ordinary behavior that can sometimes be the result of hardware conflicts. But the primary initiative you should take is to scan the system with Windows Security and discard the possibility of malware.
Press winkey, type security and then hit enter.
From the application interface, Select Virus & threat protection from the left pane.
Switch over to the adjacent right and click Scan options
After all the methods being available, hit the radio button before Full scan.
Walk a little down, do a click on Scan now option and let the process begin.
After the discovery gets finished, you will see the result in the display; hit Clean threats option if any virus traces out.
On the following window, select Remove and then Start actions.
When this process ends, all the malware will be deleted and the system will be safe.
13] Stop Windows from automatically restart
Windows 10 is an advanced OS that contains an extensive list of great features, but its tendency to reboot automatically makes things worse when IPI_WATCHDOG_TIMEOUT Error appears. Consequently While troubleshooting Blue Screen this becomes a difficulty as the process works so fast it does not give you much time to act on it.
Reach Desktop by holding the hotkey Win+D down.
Perform a right click on This PC icon and select Properties option.
Control Panel > System will come up in a separate window instantly. Out of the links residing in the left pane, select Advanced system settings.
When the System Properties popup throws out, you will find yourself into the Advanced.
Prefer to choose Settings located under Startup and Recovery section.
Navigate to System Failure portion of the wizard and then deselect the box before Automatically restart
Hit the OK button from the bottom.
14] Remove junk files with Disk Cleanup
Junk in a system always affects normal behavior moreover causes certain issues such as IPI WATCHDOG TIMEOUT Error 0x000001DB. Fortunately, Windows 10 following its predecessors offers a much useful tool to clean the garbage staying in your files and folders. This is none other than Disk cleanup and all you need is to run the utility to effectuate it for wiping out them. However, you are able to schedule disk cleanup to keep the computer neat by removing temp, unnecessary cache, Recycle been and some others.
Press Windows key type Cleanmgr.exe in the search bar and then hit Enter.
After a few moments, Disk Cleanup Utility arrives on display. Proceed to the bottom area of the wizard and select Clean up system files option.
Subsequent to Disk Cleanup for C: is showing, enter Files to delete section.
Input checkmark in all the boxes here only leaving Downloads as it is.
Next is to hit the OK button to start the removing process.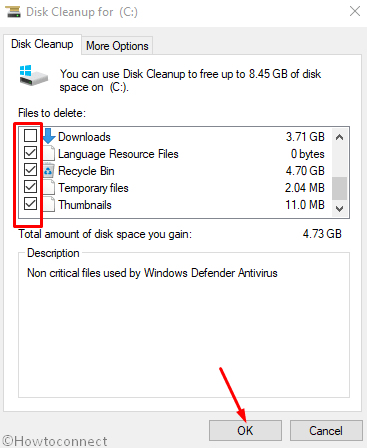 15] Use the default Winnows Blue Screen Troubleshooter
IPI_WATCHDOG_TIMEOUT is a complex Error and as we don't always know the actual reason behind it sometimes it can cause the whole system to collapse. To avoid this casualty there is a built-in program i.e., Blue Screen Troubleshooter by Microsoft. Just move with the below method –
Open Windows Settings by using the shortcut Win+I and select Update & Security.
As the following page appears, select the option Troubleshoot from the left-hand side.
Move across to the right and click the Blue Screen option for expansion.
Hit Run the troubleshooter after the button becomes visible in the extended pane.
Executing this default tool will fix Blue screen issues in your device. Thus, you can have a flawless system afterward.
16] Uninstall programs of equal functionality
Similar programs often overlap their functionality and therefore cause errors like IPI WATCHDOG TIMEOUT. You might have noticed 2 antivirus making system sluggish. In the same way, multiple applications of these kinds collide with each other and resulting in the Blue Screen of Death error. Follow the instructions to get rid of the issue –
Use Win+R hotkey to launch the Run dialog box.
Once the Wizard appears, type appwiz.cpl in the available bar and press Enter key to invoke Program and Features
Head out to find the programs striking in the listed apps.
When found, make a right-click on them and choose Uninstall when showing up here.
After the uninstallation process gets over, restart the device and Subsequently after returning to the desktop, check if the error still exists.
In case of being negative, install the removed application if necessary.
17] Fix IPI WATCHDOG TIMEOUT by deleting problematic updated files
IPI WATCHDOG TIMEOUT error sometimes can occur after Windows updates if they are buggy. Generally, these updates are to aid you and the system becomes quite perfect with very little chance of inconsistency. But when such things happen it is a better idea to uninstall the files to minimize the occurrence.
Advance to the "Settings => Update & Security => Windows update" by using any method discussed before.
A page will pop up with a whole bunch of options. Select the View Update History from the right pane.
A page will appear with a whole bunch of options; select the "View Update History" link from the right pane.
In the existing window, look for the most recently received patch
Right click on the correct one and select the solitary option Uninstall.
Keep going on until the updates are entirely removed.
18] Undo recent changes by performing system restore
If you are having IPI WATCHDOG TIMEOUT error after making some new installation or by uninstalling some old programs, you can always return back to the previous state by performing System Restore. Hopefully, this will help to solve the error.
Make a right-click on the start menu and select Run from the long list.
Consequently, the dialog box will open; in the blank text box type rstrui.
There will be a wizard with the option "Show more restore points". Select it.
After a series of restore points are accessible, choose the most recent one.
Hit the Next option to continue.
When the consecutive window shows up, choose Finish to start the restoring process.
19] Repair faulty/malfunctioning Windows image files
Defective/faulty/malfunctioning Windows image files may also be an offender of BSOD error on several occasions. This situation can be controlled by using the DISM tool. To perform you need to enter the Elevated Command Prompt by using the underneath step by step instruction –
Execute a right-click on Taskbar and choose Task Manager from the options.
select Run new task
Write "cmd" in the blank text box of Create a new task dialog.
Don't forget to hit the checkbox for "Create this task with administrative privileges".
Press the Enter key and let the Elevated Command Prompt show up immediately.
Type in DISM.exe /Online /Cleanup-image /Restorehealth and press the Enter key to activate the tool.
The process may be time-consuming but it will remove all the troublesome windows image files and eventually the error.
After you are done reboot the device and check for BSOD error.
As told before one of these options should work for resolving IPI_WATCHDOG_TIMEOUT BSOD Error. If still nothing works, the last thing you can always do to re-install Windows 10 using the article from the link in this sentence.
Methods:
1] Disconnect additional Hard Disk
2] Available Windows Update Installation
3] Update Device Driver
4] Remove third-party antivirus program
5] Set BIOS settings to the default stage
6] Run SFC /scannow command
7] Go back to the previous built
8] Boot the device in safe mode
9] Use Windows Memory Diagnostics Tool
10] Check and fix Hard Disk
11] Clean your computer case and check for faulty hardware
12] Scan and Dismiss malware with Window Security
13] Stop Windows from automatically restart
14] Remove junk files with Disk Cleanup
15] Use default Winnows Blue Screen (BSOD) Troubleshooter
16] Uninstall programs of equal functionality
17] Delete problematic updated files
18] Undo recent changes by performing system restore
19] Repair faulty/malfunctioning Windows image files

That's all!!
Helpful tools to research or fix:
Repair any Windows problems such as Blue/Black Screen, DLL, Exe, application, Regisrty error and quickly recover system from issues using
Reimage
.