Antivirus plays a vital role to safeguard PC's data and protect the system when browsing online. Avast AntiTrack Premium is one such antimalware program which consists of several security features. But many users get an error message – Issue Installing SQL Server Compact – when trying to install the software. The main reason for this Avast AntiTrack problem is the Microsoft .NET framework that may be outdated or corrupted.
There are different ad networks pop up in the middle while surfing on the internet. Their prime target is to collect your personal data and create your unique profile based on your online activities and transactions. Here comes this useful software Avast whose sole purpose is to only protect your privacy but also avert these ad networks. But to fix the Avast Antitrack Premium error, you need to walk through the below solutions. The message is like –  There was an issue Installing SQL Server Compact. Please install the latest Windows update/.Net Framework and try again
Issue Installing SQL Server Compact in Avast AntiTrack Solutions
Here is how to fix Issue Installing SQL Server compact in Avast AntiTrack –
Reinstall your Microsoft .NET framework
Step-1: Go to Cortana search box, type Windows features and when the Best match displays Turn Windows features on or off hit Enter.
Step-2: On succeeding windows click on the + sign against all the .NET services to expand its features.
Step-3: Here unmark all the checkboxes of .NET and its associated features. Then click OK on the dialog to turn off these services.
Step-4: Now you need to keep patience until the given process gets over. Click the close button once the change is completed.
Step-5: Thereafter Restart Windows 10 PC by clicking on Restart now button. In case, the prompt doesn't appear on the screen then reboot the system manually.
Step-6: Once you log in back, again get access to Windows Features. Now, follow the above-mentioned steps to activate all the .NET services and items within these features. You need to click on all the checkboxes to activate them.
Step-7: Click the OK button and wait until the process is finished.
Step-8: On the new screen, click Let Windows Update download the files for you option then wait. This process will take a few seconds to download the file and work on the changes.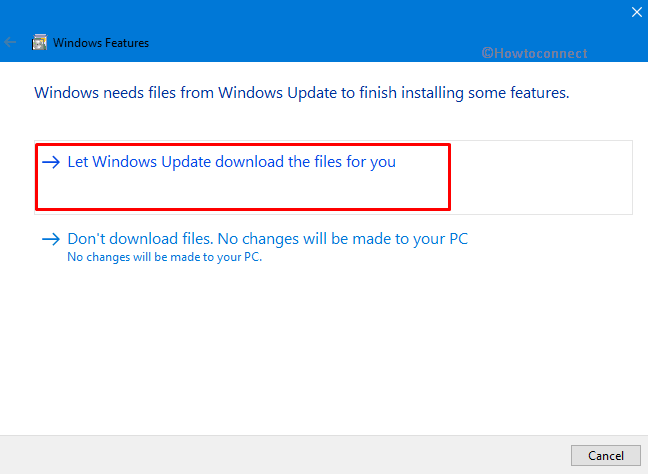 Run a Windows Update
After successfully performing the above steps, ensure to correctly install the .NET features moreover other updates also that are available for you.
Doing this will start searching for the updates. If any updates are available then download as well as install them right away.
Install Avast AntiTrack Premium
Once you successfully reinstall the Microsoft .NET Framework and you are sure that the PC is to up to date, then make an attempt to "Install Avast AntiTrack Premium" again.
First of all, log in on your system and ensure that there is no other antivirus program running within your PC.
Now, moving ahead, click this link to download the setup file of Avast AntiTrack Premium software. By default, the file will be saved in the Downloads folder. However, you can change its location as per your preference.
Make a right click on the avast_antitrack_premium _setup.exe file and select Run as administrator option from the context menu.
If "User Account Control" (in UAC) dialog prompts up for permissions, click Yes.
Now perform a click on the arrow button from the popup menu and select the preferred language. Click on OK.
To review the Licence Agreement, click Next. Moving on, choose I Agree to confirm the license terms.
Keep patience till the Avast AntiTrack Premium setup is installed on your system.
When this setup file gets installed on your computer, make a click on Close button. Now, Issue Installing SQL Server Compact in Avast AntiTrack will no more appear and you will find it's icon on your desktop or taskbar.
Note:
Avast AntiTrack Premium is now installed on your PC. You can easily access the user interface through two ways – either system tray or via its icon on the desktop. Double-click on this icon and put the valid activation code followed by your email id.
Minimum system requirements
In order to prevent any Avast AntiTrack problems, then check the below-given minimum system requirements.
1. Your PC must be running Windows 10 (32 or 64-bit) and the free space on hard disk should be near about 100 MB or more.
2. The PC must be compatible with Intel Pentium 4 / AMD Athlon 64 processor or above (should support SSE2 instructions) and use 512 MB RAM or above.
3. The web browser must be any one of these Internet Explorer, Microsoft Edge, Google Chrome, Mozilla Firefox or Opera browser to prevent Issue Installing SQL Server Compact in Avast AntiTrack.
4. The optimal resolution pixels should not be less than "1024 x 600".
5. You PC should have a steady internet connection to download, activate, and use the program.
Hopefully, you will be able to fix Issue Installing SQL Server compact pretty easily. Even if the trouble continues to persist then contact Avast Support.
Repair any Windows problems such as Blue/Black Screen, DLL, Exe, application, Regisrty error and quickly recover system from issues using
Reimage
.