The first patch of this year 2023 brings fixes for a bunch of bugs and flaws for Windows 11 22H2 but sadly a lot of users can not receive this update. For them, KB5022303 failed to install with specific error codes such as 0x80070002, 0x800f081f, 0x8000ffff, 0x80070570, and other. Furthermore, after installing this build, brightness control is missing on some computers according to certain reports.
Unable to install KB5022303 mostly occurs because of corrupted system files, interference from third-party programs, and broken Windows update cache. Incorrect service configurations and missing registrations might also affect the process and generate errors.
KB5022303 failed to install with error in Windows 11 22H2
Here is how to fix KB5022303 failed to install with error in Windows 11 22H2 –
Way-1: Try to manually install the patch
When a patch behaves rigidly and refuses to install there is always a second option available. This is Microsoft update catalog website that hosts standalone packages of all the releases and enables you to receive the same patch manually. Therefore, in starting, try this method –
Navigate to – https://www.catalog.update.microsoft.com/Search.aspx?q=KB5022303
Find the appropriate file compatible with your computer (from ARM64 and x64).
Click on the Download button.
Another page will prompt; click on the link lying alone there.
After the process of downloading is completed double click on the standalone copy (.msu).
Click Yes on the confirmation dialog.
Way-2: Run Troubleshooter to solve KB5022303 0x80070002, 0x800f081f, 0x8000ffff or other error
When KB5022303 0x8000ffff, 0x80070002, 0x800f081f, 0x8000ffff, or other error appears, the best tool to resolve this is using Windows update troubleshooter. The built-in utility will identify the reasons, check the service registrations and database, and repair them if they are found faulty.
Press – Wn+Q.
Type – troubleshoot.
Hit 'Enter' to launch the concerned Settings page.
Click on Other troubleshooters.
Find Windows update under "Most frequent" and click on Run.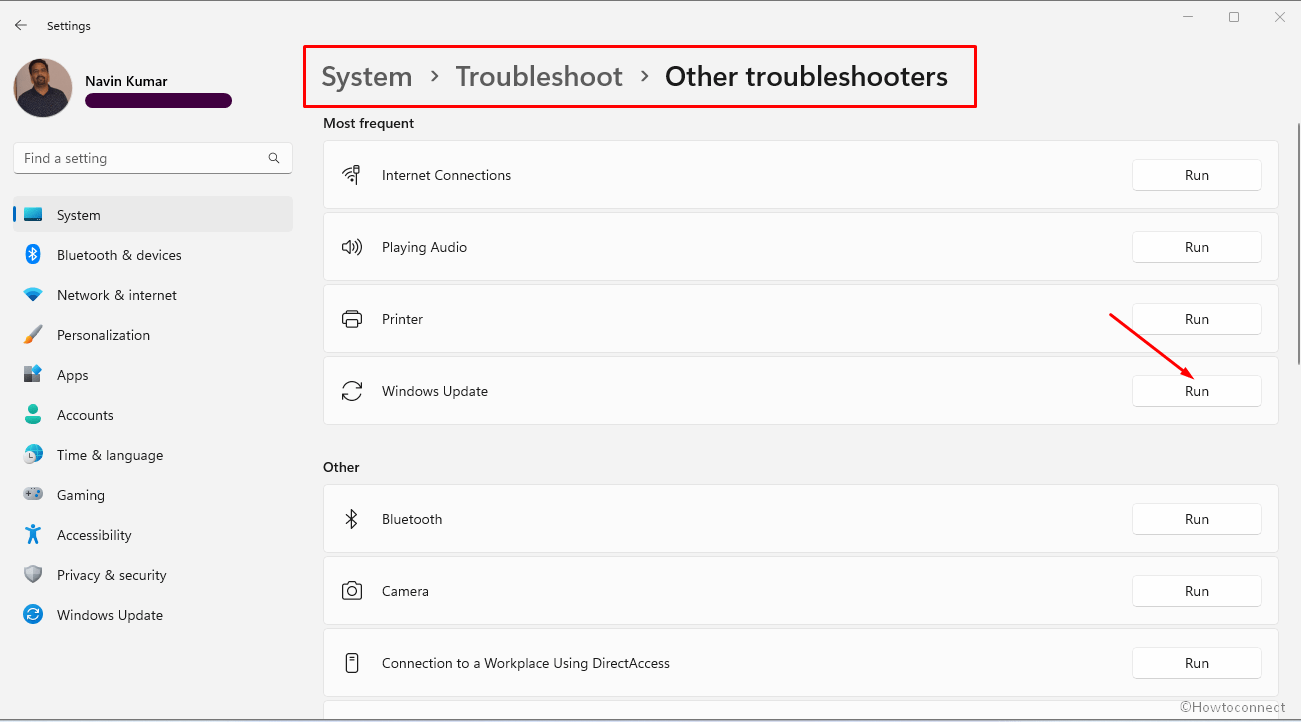 After the troubleshooting is completed restart your system.
Way-3: Reset the Windows update cache
Broken Windows update cache is the most generic reason why a patch is not installed. When Windows 11 22H2 KB5022303 stuck with or without any error, resetting the cache might help you beyond your assumption or imagination.
Especially, this process is so simple because you can do it manually by following the below steps or just run a script we are placing in this method –
A] Using manual steps
Click on – Start.
Type – cmd.exe.
Select – Run as administrator.
Once a User Account Control asks for permission to run Windows Command Processor, click on Yes.
Copy the below cmd syntax one by one, paste them into Command Prompt and press Enter –
net stop bits
net stop wuauserv
net stop appidsvc
net stop cryptsvc
Then, press – Winkey+R.
Copy the following path, paste it into to run dialog box, and click on OK –
C:\Windows\SoftwareDistribution\Download
When the File Explorer appears, select all the content located in the folder and delete them.
Restart your computer and again open the command prompt as administrator following the steps mentioned at the starting of this method.
Run the below commands now –
net start bits
net start wuauserv
net start appidsvc
net start cryptsvc
Press Windows logo and I keys.
Select Windows Update from the Settings app.
Click on – Check for updates.
B] Through Script (Batch file)
If you want to reset the Windows update to default automatically and avoid going with the above steps then follow –
Click on Reset_Windows_11_update.
Once the file is downloaded, right-click on it and select Extract all.
Browse the folder and find WuReset.bat.
Right-click on this file and choose "Run as administrator".
A command prompt window will appear and ask you to Press any key to continue; follow this.
Allow the scripts to complete their tasks and in the end reboot your device.
Now navigate to Settings => Windows update and click on "Check for updates".
If you are still getting KB5021255 failed to install problem try to remove third-party antivirus or any other program and then check.
Way-4: Take the basic step – check your internet connection
If the above-mentioned steps are not working to resolve KB5022303 failed to install with error then now it is time to return back to check the basics. Interrupted or disrupted internet access is one of the main factors that can prevent the update process.
Hence, check the connection if it is perfectly running on your computer. In case of any doubt, restart the router and reconnect the network.
Switch off the router and stay for 10 or more seconds.
Turn on the device, connect to internet again, and then Check for updates.
If the internet connection is not working or creating any severe issues then reset it –
Press – Winkey+I.
Click on – Network & internet.
Go to the right side of the Settings page, scroll down and click on "Advanced network settings".
Select – "Network reset".
From the next screen, click on "Reset now".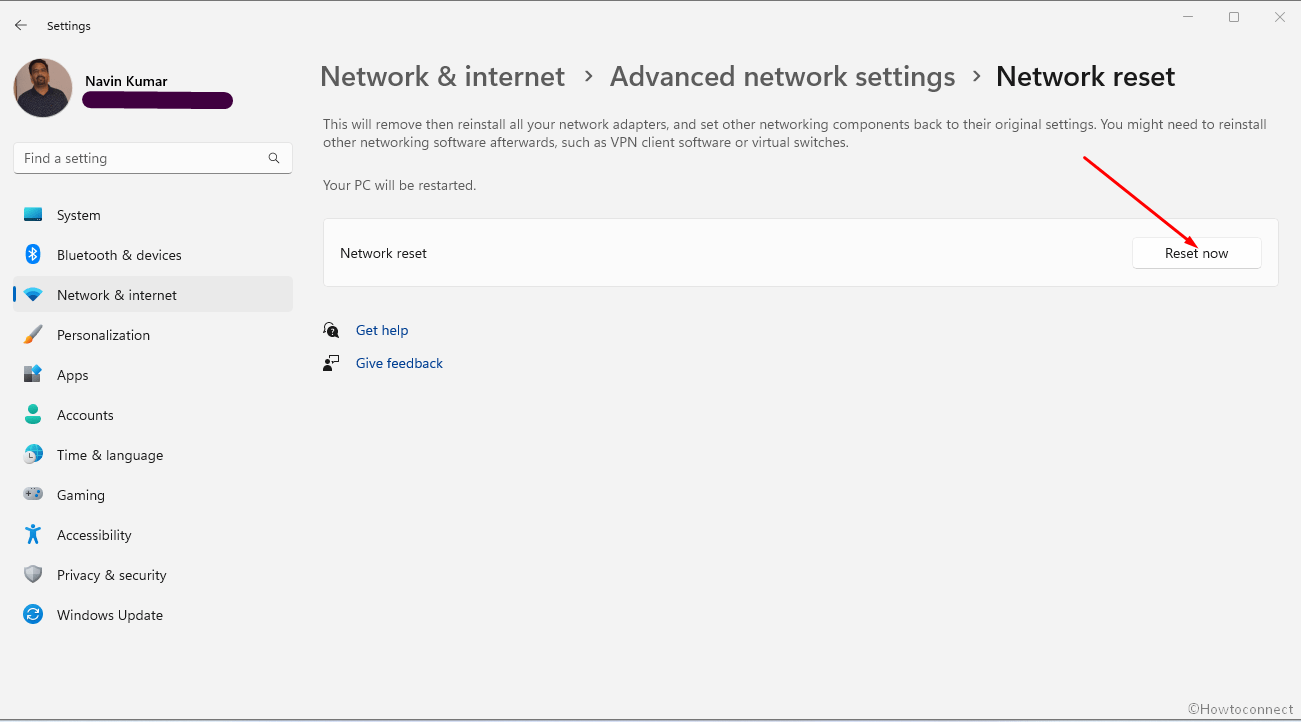 A confirmation dialog will be shown; select Yes.
After the process is completed, try to install KB5022303.
Alternatively, you can also see the guide – How to Network Reset Settings and Adapter in Windows 11.
Way-5: Use the System File Checker and DISM
When KB5022303 Failed to install, corrupted or missing system files may be the cause. This problem commonly occurs due to malware, conflict with third-party programs, or corruption in dll or exe files however you can easily solve them with a built-in command line tool.
System file checker is the one that can rescue the failed installation of the patch by repairing the reasons. Furthermore, DISM utility will correct the .wim file that can trigger this issue. Hence, follow the steps –
Click on – Search.
Type – cmd.exe.
Choose – Run as administrator.
On the UAC pop-up, select Yes.
Write SFC /Scannow on the command prompt.
Press "Enter" and wait for some time to complete scanning, verification, and repairing up to 100%.
Restart the device and check if the cumulative update is installed successfully.
If the issue still persists then once more launch the Command prompt as administrator and enter the following commands successively –
DISM /Online /Cleanup-Image /CheckHealth
DISM /Online /Cleanup-Image /ScanHealth
DISM /Online /Cleanup-Image /RestoreHealth
Once finished, reboot the PC and check if the update is installed now.
Read – Windows 11 22621.1105 KB5022303 22H2 is available.
Way-6: Change Alternate and Preferred DNS
Changing the preferred and alternate Domain nameserver to Google DNS sometimes helps to solve KB5021255 failed to install. So advance with the steps below –
Start by pressing on Windows and R keys.
Type – ncpa.cpl and press – Enter.
On the Network Connections window, find the running adapter and then right-click on it.
Click – Properties.
Check the option – Internet Protocol version 4 (TCP/IPv4).
Select – "Properties".
On the new window, check the option – Use the following DNS server addresses.
In Preferred DNS server, enter 8.8.8.8 and in Alternate DNS server, 8.8.4.4.
Click OK and close the open Windows.
Reboot the system and check if your modifications work.
Way-7: Perform in-place upgrade
When you can not install KB5022303 and 0x80070002, 0x8000ffff, or 0x800f081f error code throws, the last and most promising tool that you can use is In-place upgrade. This will take your system to the latest version which also includes the most recent LCU.
Navigate to the web page – https://www.microsoft.com/en-in/software-download/windows11.
Scroll down and locate – "Download Windows 11 Disk Image (ISO)".
Select the dropdown saying – "Windows 11 (multi-edition ISO)".
Then click on the "Download "option.
Choose product language.
Select – Confirm.
Now click on 64-bit Download (It may be ARM64 on your PC).
Double-click on the file Win11_22H2_Language_x64v1.iso (on my computer) and select – Mount.
Launch the setup.exe file.
Select "Yes" on UAC for approval.
Once you see the "Install Windows 11" wizard; click – Next.
On the license agreement; go with – Accept.
The software will scan for available space and display "Ready to install" page.
Check – Keep personal files and apps.
Select – Install.
Methods:
Way-1: Try to manually install the patch
Way-2: Run Troubleshooter
Way-3: Rest the Windows update cache
Way-4: Take the basic step – check your internet connection
Way-5: Use the System File Checker and DISM
Way-6: Change Alternate and Preferred DNS
Way-7: Perform in-place upgrade
That's all!!
Repair any Windows problems such as Blue/Black Screen, DLL, Exe, application, Regisrty error and quickly recover system from issues using
Reimage
.