14/02/2023 Security update came up with fixes for a bunch of bugs and vulnerabilities in Windows 11 22H2 but unfortunately, several people complain that they can not get this patch. According to them, when they tried, KB5022845 failed to install with some errors such as 0x80070005, 0x80070002, 0x800f081f, 0x80070422, 0x80248007 or other. Furthermore, after a certain percentage of installation, you might see Undoing changes made to your computer. This ends up reverting back to the old patch which you have lately installed like KB5022303, KB5019274, etc.
Unable to install KB5022845 might be the result of malfunctioning Windows update database cache, deregistered DLL, or presence of 3rd-party applications. Incorrectly functioning services can also impede the process and cause an error code when trying to receive a patch.
KB5022845 failed to install with error in Windows 11 22H2
Here is how to fix KB5022845 failed to install with error in Windows 11 22H2 –
Way-1: Install the patch using Standalone package
If a patch exhibits strange behavior and its installation is often interrupted, Microsoft Update Catalog is there to help. This Microsoft website provides access to standalone packages of all significant releases and offers free download links.
Therefore, you can manually take the Cumulative update and install it on your computer.
Navigate to – https://www.catalog.update.microsoft.com/Search.aspx?q=KB5022845
Find the appropriate file on website that is compatible with your processor's architecture (x64 or ARM64). You can go to "Settings > System > About > System type" (in Device specifications section) to locate the architecture.
Click on the Download button for that file.
A page will prompt up; click on the standalone file's link.
Come back to the folder where the update is downloaded.
Double click on
windows11.0-kb5022845-x64_279b2b5fcc98e99c79f85a395cd7e8eef8d06503.msu
or
windows11.0-kb5022845-arm64_841decf52b4c3066f716bd993cd7687d681a06ed.msu
Click Yes on the confirmation dialog.
The computer will restart a couple of times and the patch would be installed.
Way-2: Use the Windows update troubleshooter
When KB5022845 0x80070002, 0x80070422, 0x800f081f, 0x80248007, or other error appears, a handy utility may solve the problem and this is Windows update troubleshooter. The integrated utility will detect any potential issues, verify the service registration and database, and repair them if necessary.
Click on Search from the taskbar.
Write – troubleshoot.
Press the 'Enter' key to open the related Settings page.
Select – Other troubleshooters.
Under "Most frequent", look for Windows update and click on Run.
The tool will detect problems such as Services status and registration, missing and corrupt files, and security settings, initialize diagnostic and resolve the found ones.
See – Use Common Windows Update Troubleshooter on Windows 11, 10, 8.1, 7.
Way-3: Reset cache of Windows update
A corrupted Windows update cache is often the underlying cause of a patch not being installed. If Windows 11 22H2 KB5022845 is stuck with or without an error, resetting the cache could be more effective than you think.
This process is especially simple, as you can manually follow the steps below, or easily run the script provided as part of this procedure.
A] Using command prompt
Press Windows + R.
Type – cmd.
Then, press – ctrl + shift + enter.2
Give approval on 'User account control' by clicking on Yes.
Copy the following lines of command one at a time, paste them into Command Prompt, and hit Enter –
net stop bits
net stop wuauserv
net stop appidsvc
net stop cryptsvc
Right click on Start.
Select – Run.
Paste the following command into Run dialog box, and press "Enter" –
C:\Windows\SoftwareDistribution\Download
Select all the files and folders lying in the directory and delete them.
Reboot your computer.
Once more, open the command prompt as administrator and run the below commands –
net start bits
net start wuauserv
net start appidsvc
net start cryptsvc
Go to Settings > Windows Update.
Select – Check for updates.
Reference – How to Reset Windows Update to Default in Windows 10.
B] Through Script (Batch file)
To automatically reset Windows Update to its default settings and avoid the above steps, follow these instructions to fix KB5022845 Failed to Install in Windows 11:
Click on the link Reset_Windows_11_update.
Right click on the downloaded zip file and select Extract all.
Open the unpacked folder, right click on WuReset.bat and choose – Run as administrator.
When a command prompt shows, press any key to continue.
The script in the file will start working; once finished, reboot your device.
In the end, click on Start and select Settings.
Go to "Windows update" and click on 'Check for updates'.
Way-4: Repair your internet connection
Assuming the steps outlined above do not resolve the problem of KB5022845 failing to install with an error, it is now time to revisit the fundamentals. One of the main hindrances to the update process is disruption or interruption of internet access.
Therefore, verify that the internet is functioning properly on your computer. If you are unsure, restart the router and re-establish the network connection.
Turn the router off for minimum 10 seconds.
Switch on the device, connect to the internet again, and then try checking for updates.
If the internet access is still faulty then reset the network –
Press – Winkey and I simultaneously.
Select – Network & internet.
On the next page that appears, click on – "Advanced network settings".
Choose – Network reset.
From the coming screen, select "Reset now".,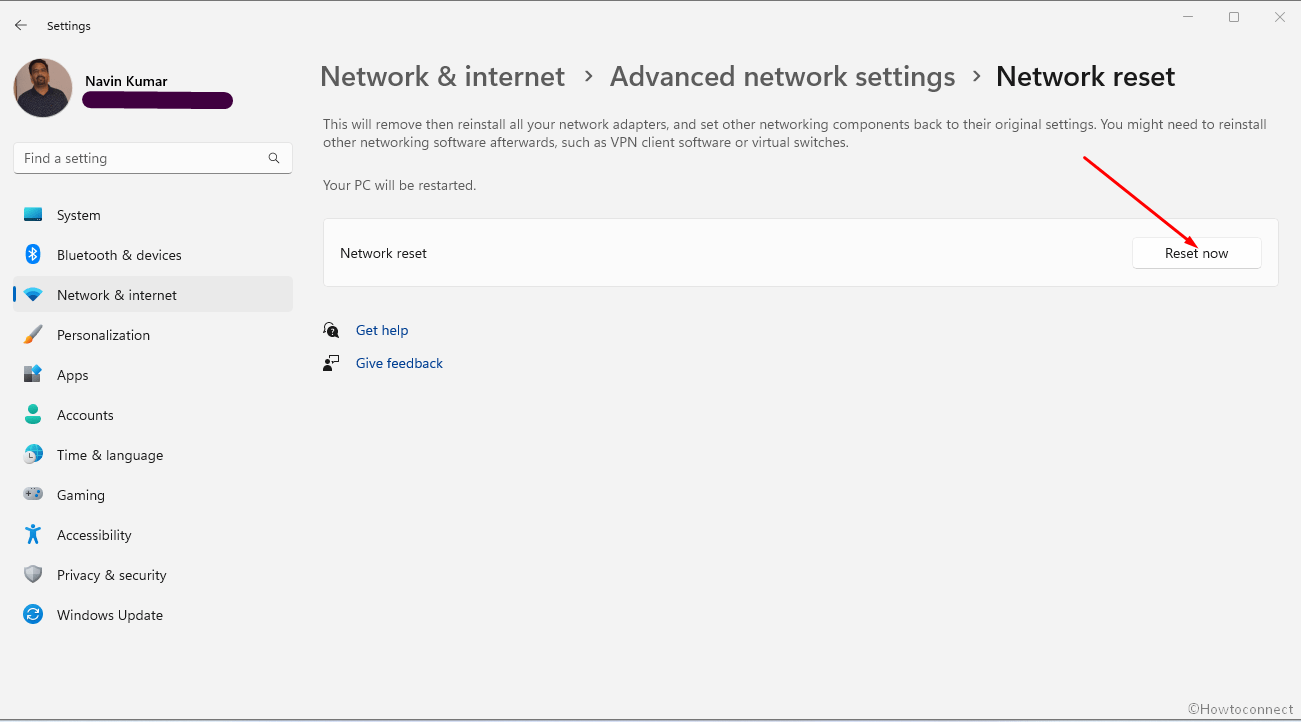 On the confirmation prompt, click – Yes.
After the reset is completed, try installing KB5022845.
Alternatively, you can also see the guide – How to Network Reset Settings and Adapter in Windows 11.
Way-5: Take help from System File Checker (SFC) and DISM
If KB5022845 failed to install issue occurs, it could be because of missing or corrupted system files. The malfunction is likely to happen due to malware, conflicts between core elements and third-party programs, or flaws in dll or exe files. Thankfully, you can solve them with built-in command line tools.
SFC has the capability to rescue a failed patch installation by identifying and fixing the underlying causes and  DISM utility will correct the .wim file that can trigger this issue. Hence, follow the steps –
Press Windows and S keys.
Type the term cmd.exe.
Select – Run as administrator.
On the UAC pop-up that appears, click on Yes.
Then Write SFC /Scannow on the command prompt and hit Enter.
Give some time as it will take a few minutes to finish the repair.
Reboot the system and check if the security update is installed.
If KB5022845 Failed to Install issue still persists then again open the Command prompt as administrator.
Run the following commands consecutively –
DISM /Online /Cleanup-Image /CheckHealth
DISM /Online /Cleanup-Image /ScanHealth
DISM /Online /Cleanup-Image /RestoreHealth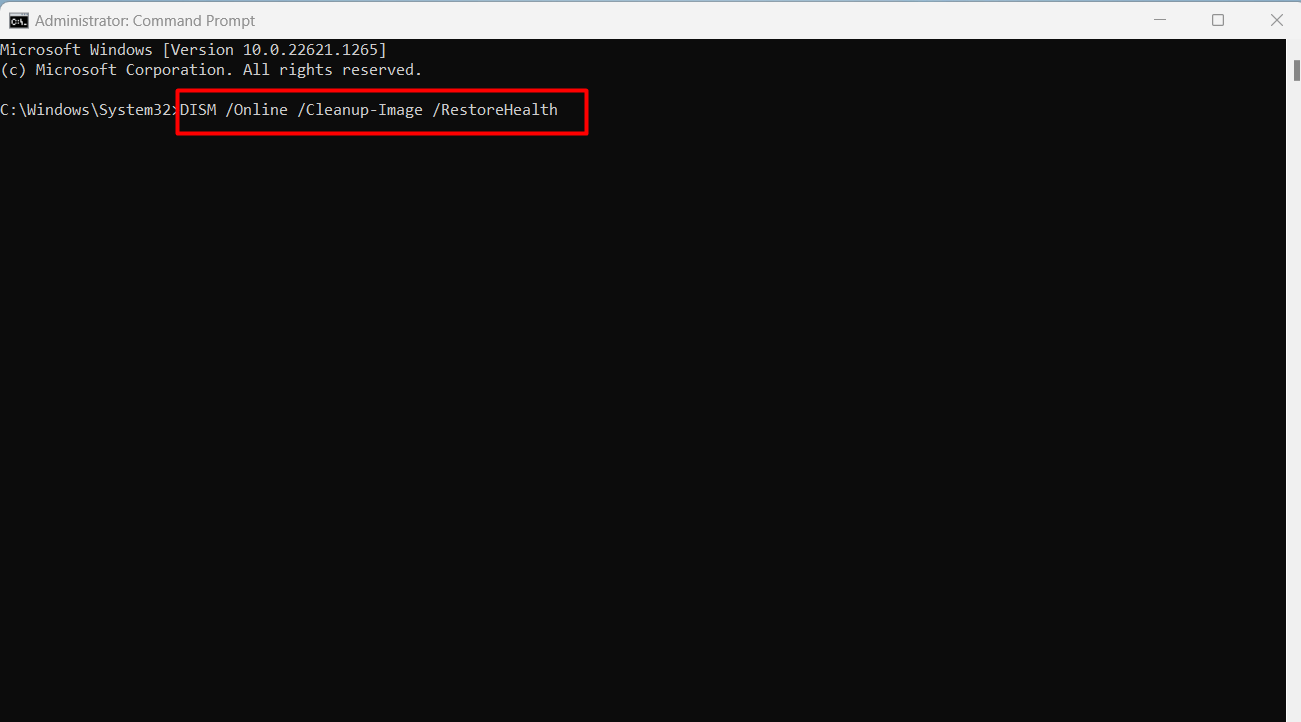 After the 3 commands are executed, restart the PC and check if the update is installing now.
Read – Windows 11 KB5022845 Update 22H2 Rolled out to 22H2 22621.1105.
Way-6: Check Google Alternate and Preferred DNS
Changing the DNS server to Google DNS may work when you are in trouble with KB5022845 Failed to Install. Therefore, move forward with the steps –
Hold the Windows key down and hit R.
In the Run, type – ncpa.cpl.
Click OK.
When Control Panel\All Control Panel Items\Network Connections window appears, right-click on the active adapter.
Select – Properties.
Check the option – Internet Protocol version 4 (TCP/IPv4).
Click on "Properties".
On the following window, select – Use the following DNS server addresses. Write the below DNS –
Preferred DNS server - 8.8.8.8
Alternate DNS server - 8.8.4.4
Close the window by clicking OK.
Restart the PC and see if your modifications work now.
Way-7: Execute in-place upgrade
When you can not install KB5022845 and 0x80070005, 0x80070002, 0x800f081f, 0x80070422, 0x80248007, or any error code is generated, the last and most reliable tool is In-place upgrade. The method will upgrade your system to the latest version, which includes the most recent LCU.
Go to the web page – https://www.microsoft.com/en-in/software-download/windows11.
Select "Download Windows 11 Disk Image (ISO)" from the bottom part of website.
Click on the dropdown that states – "Windows 11 (multi-edition ISO)".
Choose – Download.
Select the correct product language.
Then click on – Confirm.
Click on 64-bit Download (depending on devices).
Right-click on Win11_22H2_Language_x64v1.iso and select Mount.
Open the setup.exe file.
Choose "Yes" on UAC for giving permission.
On the "Install Windows 11" wizard; click – Next.
When on license agreement window; click – Accept.
The application will scan for available space on the machine and show "Ready to install" page.
Choose the option – Keep personal files and apps.
Finally, click on – Install.
Methods:
Way-1: Install the patch using Standalone package
Way-2: Use the Windows update troubleshooter
Way-3: Reset cache of Windows update
Way-4: Repair your internet connection
Way-5: Take help from System File Checker (SFC) and DISM
Way-6: Check Google Alternate and Preferred DNS
Way-7: Execute in-place upgrade
That's all!!
Repair any Windows problems such as Blue/Black Screen, DLL, Exe, application, Regisrty error and quickly recover system from issues using
Reimage
.