Some users complain about 21/02/2023 Windows 10 Preview update that they cannot receive it and come across different error codes. Furthermore, several times the screen shows Undoing changes made to your computer in the middle of the updating process. So, in this post, you will find some working solutions to the KB5022906 failed to Install issue.
Commonly, KB5022906 stuck in Windows 10 22H2 or another version because of defective configurations in services, broken update cache, corrupted system files, or third-party programs. Occasionally, conflicts between integral components and internet connection dropouts are also reasons behind this issue preventing Windows updates from installing. See – How to Fix Windows 11 Update Error 0x80070002 (Solved!).
KB5022906 Failed to Install in Windows 10
Here is how to Fix KB5022906 Failed to install with Error in Windows 10 –
Way-1: Run the Fxit utility Windows Update Troubleshooter
Troubleshooters are built-in diagnostic tools that can automatically detect and fix common problems that prevent updates from installing or working correctly.
Using Windows update troubleshooter is a quick and easy way to resolve the current issue without requiring any technical expertise.
Therefore, to fix KB5022906 error follow the steps –
Click on – Start.
Type – Troubleshoot.
Press – Enter.
Once the Settings app opens, go to the right side and click on – Additional troubleshooters.
Locate Windows Update.
Then, select – Run the troubleshooter.
Once the utility has completed detecting and repairing the registry, services, and Windows update cache restart your device.
Way-2: Use an alternative method to Install the patch
Manually installing the preview update on Windows 10 22H2, 21H2, or other versions will solve the issue when KB5022906 failed to install.
Microsoft update catalog is a website where standalone packages of the patches are hosted all at one location so it is recommended to move forward with the instructions –
Navigate to – https://www.catalog.update.microsoft.com/Search.aspx?q=KB5022906.
Type KB5022906 and hit "Enter".
Select the suitable version (excluding server updates) in the list and then click on "Download".
Click the link displayed in the pop-up window.
Once downloaded, return back to the folder on your computer where the Standalone copy of the patch is saved.
Right-click on one of the following if you are on 22H2 version and select Open –
windows10.0-kb5022906-x64_12ba8effedbce71a65380b396400be4786b425b8.msu
or
windows10.0-kb5022906-arm64_d272dbb760690aed427c018d58c590d1e30f34fe.msu
Note: If you are on a different version such as 21H2, 20H2, or another, download accordingly and open it.
The PC will reboot 2-3 times and finish the installation.
Read – How to Download and Install Update from Microsoft update catalog on Windows 11/10
Way-3: Run command line tools SFC and DISM
Corruption in the system files can be a potential cause of installation problems when the subject is Windows Update troubleshooting. SFC and DISM are rescuers in these types of cases which ultimately resolve the glitch.
You should fix KB5022906 stuck with or without any error code on priority to keep basic functions sound and avoid unwanted performance lags. Hence, Bring both tools into work to get rid of the issue –
Press Winkey+Q and type cmd.
Select – Run as an administrator.
Choose "Yes." when the User Account Control pop-up shows.
On the "Administrator: Command prompt" window, type – sfc /scannow.
Hit the Enter key.
After the tool has finished its task, please restart your computer and verify if the update error has been fixed.
In case, the error still persists, run the commands sequentially:
DISM /Online /Cleanup-Image /CheckHealth
DISM /Online /Cleanup-Image /ScanHealth
DISM /Online /Cleanup-Image /RestoreHealth
In the end, reboot your computer.
Read – SFC /Scannow, DISM.Exe, CHKDSK Windows 10.
Way-4: Uninstall Third-Party programs and antimalware
Third-party antivirus software's primary role is to protect your PC from potential threats and eliminate harmful viruses, but in certain situations, it can trigger an error, leading to "KB5022906 failed to install."
Furthermore, a system that has too many security measures can disrupt the connection to the server, making it impossible to deploy the Windows update. So uninstall them by going with the steps:
Right-click on Start and select Run.
Type appwiz.cpl.
Press – Enter.
Locate the third-party software in the list shown on Programs and Features window.
Click on the item to highlight it.
Select – Uninstall

.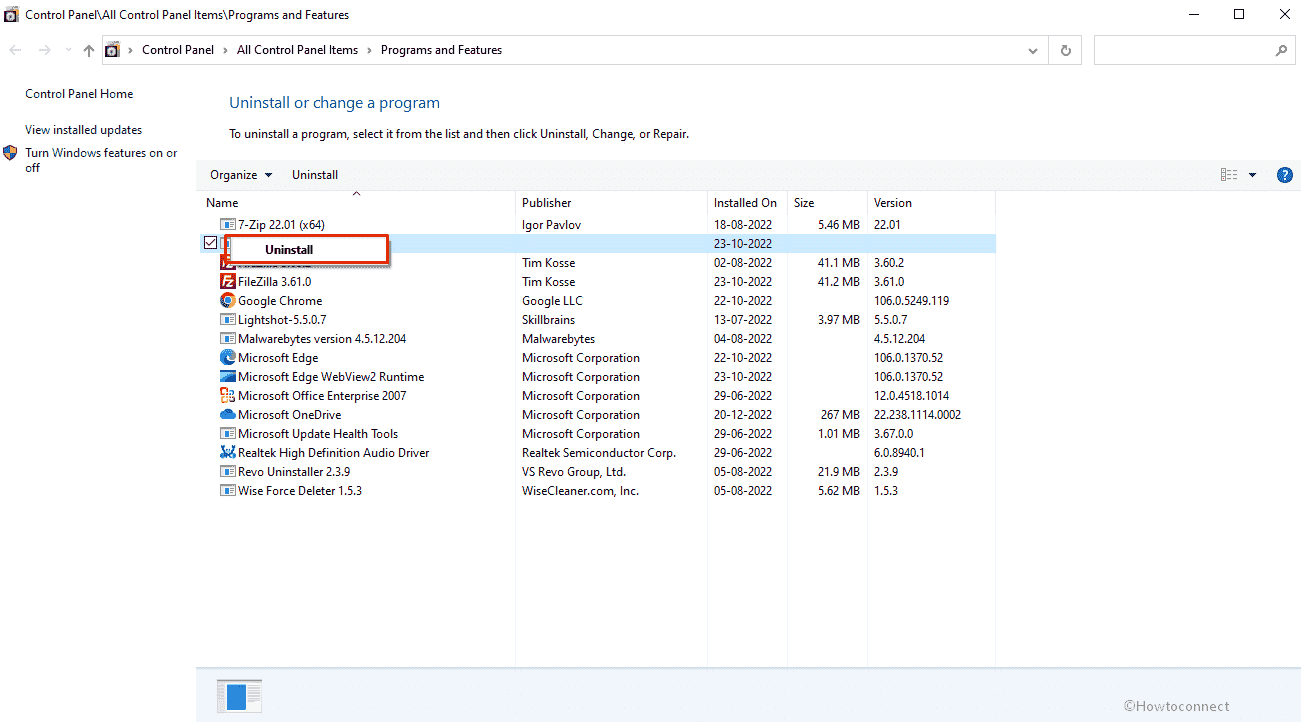 Verify the procedure by selecting "Yes" and allow the process to complete.
In case, any wizard opens, follow the guidelines displayed.
If multiple programs are installed, repeat the steps and remove them one by one.
Restart your computer to see whether the issue still persists.
This method typically resolves the related error, but if it troubles you again, proceed to the next approach.
Way-5: Set Windows Update database cache to default
This method can be useful if you encounter errors while installing KB5022906 as it deletes the problematic data and replaces them with newly downloaded update files.
You can use a bundled script file to reset the cache of Windows updates by following the steps:
Download Reset_Windows_10_update.zip.
Extract this .zip file.
Go to the "WuReset.bat" file and right-click on it.
Click – Run as administrator.
When the command prompt asks to Press any key to continue…, hit on one.
Stay until the repair is done and then restart your computer.
Then, guide to Settings > Update & security.
Click – Check for updates.
Guide – How to Reset Windows Update to Default in Windows 10.
Way-6: Check Services Startup type and status
To download a Windows update from server and install on computer BITS, CryptSvc, and wuauserv services must be functional. When facing KB5022906 failed to install, check them and configure according to the below instructions –
Hold down the Windows key and press the R.
Write – services.msc.
Hit – Enter.
Locate – Background Intelligent Transfer Service (BITS).
Right-click on this "service" and select – Restart.
If this is not Running, then double-click on it.
Navigate to the Startup type, click on drop-down, and choose – Automatic.
Under the Services status area, click on Start.
Select Apply and OK.
Use the same steps for Windows Update and Cryptographic Services
Way-7: Use infallible In-Place Upgrade
This last procedure provides to upgrade existing version of System to the latest one without changing configurations, server roles, and data. In-Place Upgrade will definitely solve KB5022906 failed to install with error.
Remember to remove the connected devices such as USB charger, printer, speaker, and so on from your computer or laptop. Then,
Visit – https://www.microsoft.com/en-in/software-download/windows10.
Move to Create Windows 10 installation media located in the lower part of the page.
Choose – Download tool now.
Launch the setup (.exe file).
On User account control prompt, select 'Yes'.
Accept the terms and conditions.
Select – Upgrade this PC now.
Click "Next".
Then, select Install.
In a little while, KB5022906 will be installed.
Methods:
Way-1: Run the Fxit utility Windows Update Troubleshooter
Way-2: Use an alternative method to Install the patch
Way-3: Run command line tools SFC and DISM
Way-4: Uninstall Third-Party programs and antimalware
Way-5: Set Windows Update database cache to default
Way-6: Check Services Startup type and status
Way-7: Use infallible In-Place Upgrade
That's All!
Repair any Windows problems such as Blue/Black Screen, DLL, Exe, application, Regisrty error and quickly recover system from issues using
Reimage
.