You might encounter Kernelbase.dll error in various cases such as during appcrash and failing to launch a game or app. Note that Appcrash is an event name that is automatically created when a certain app crashes. The problem may occur when Office (Word, Excel, Powerpoint), any of the store apps, games, or third-party software is unable to open. And instead, it shows the pop-up with the message Kernelbase.dll error. For example, some users have reported Forza Horizon 5 not opening (KernelBase.dll) issue recently.
Kernelbase.dll aka Dynamic Link Library is a part of crucial system files that stores certain drivers and processes. This file is essential for the normal function of some Windows apps and is commonly located in SysWOW64 or System32 folder based on the architecture of a system. You might have come across the error – Application crashes with faulting module kernelbase.dll. Mostly, Kernelbase.dll error occurs due to the presence of third-party utilities and buggy Windows update. Conflicts between DLL and external software are very often found as a culprit when this problem appears. However, there are certain troubleshoots that usually work in a majority of situations.
Kernelbase.dll Error in Windows 10 or 11
Here is how to fix Kernelbase.dll Error in Windows 10 –
Way-1: Uninstall third-party tools
As we mentioned third-party tools like antivirus, joystick or other software are reasons in plethora of cases. Utilities, other than Windows built-in app, have always possibility to carry bugs and Inconsistency and fall in struggles with the system files. Because of conflicts between the outdated or incompatible utility with Kernelbase.dll, this error code is generated while launching the game or app. Uninstalling the tool is one solution to end this error message. In case, it is important then find an alternative for the same. However, you can reinstall the tool by following Way-2 which is written below. As of now, move with the steps ahead and uninstall the problematic tool –
Click – Start from the taskbar.
Select – Settings.
Next, click on – Apps.
On the Apps and features Settings, find the third-party software you are looking for.
Click on it and select – Uninstall.
Confirm by clicking on Uninstall again on a tiny pop up.
Follow the instructions being displayed on the screen.
Way-2: Reinstall the problematic app or game
When Kernelbase.dll error appcrash Windows 10 occurs an app or game unexpectedly crashes. In fact, a certain process calls the DLL for running or opening an app it comes to know that file is malfunctioning and its requirement cannot be fulfilled. The result is the Appcrash in event viewer and crashing of game/app. Reinstalling the game or app fixes this problem as many users report and it. You may understand in this way that reinstalling the game will replace damaged Kernelbase.dll with a fresh file. Therefore, it would be worth a shot to actually uninstall and then reinstall the app that if failing to launch with the DLL error. Follow –
Press – Win+S.
In the search box, type – control.
Press – Enter.
This will launch Control Panel. Click – Programs & features.
Scroll through the list and find the problematic app you're trying to reinstall.
Right-click on that and select – Uninstall.
Confirm by again clicking on "Uninstall".
Now go to Microsoft Store if it is a store app. And install the app by clicking on Get button from there. If this is third-party software download it searching on the web and then install it.
Way-3: Remove Windows update
One of the prominent reasons for Kernelbase.dll error is Windows update. Several times, cumulative update or build carries bugs with itself and creates annoyance when opening a game or app. After some days, curative patch is released by the company to solve the issue and until then you keep getting the error. Therefore, when this DLL error code occurs, check whether it started after installing a certain Windows update. Once confirmed, uninstall the recent update using the following steps –
Press Windows and R keys altogether.
Type – appwiz.cpl.
Next, hit the – Enter key.
From the Program and Features window, click on – View installed updates.
Locate the KB patch in the Microsoft Windows section.
Right-click on it and select – Uninstall.
Follow the guidelines being shown on the screen.
Way-4: Restore Kernelbase.dll from another PC
Kernelbase.dll "establishes" link between an application and the kernel of the Windows operating system. This file plays an important role in opening and running the app. When it is determined that the app is not working due to this file, it indicates that Kernelbase.dll is corrupted, broken, or damaged. And to fix the error means repairing or replacing Kernelbase.dll.
Though there are some websites that let download DLL this kind of way always has a risk factor. Whereas replacing the file is a safer task moreover it is an easy method. The only requirement in this procedure is that you should have more than one computer. You can also take help of your friend's or sibling's PC in this concern. Therefore we are here in this method with the guide to replace the file –
Click on – Search.
Type – about system.
Press – Enter.
When the Settings app appears, note down the Windows version and System type.
Power on another computer having the same system architecture and Windows version.
Go to C:\WINDOWS\System32 and copy Kernelbase.dll. Put in a removable drive and paste the file.
Now insert the removable disk into your computer and copy kernelbase.dll.
Paste it into C:\WINDOWS\System32.
Way-5: Download Kernelbase.dll file
This is one of the basic fixes you can try in case of a Kernelbase.dll Windows 10 error. Given that there is a chance that there is an issue with this particular DLL file, it would be a good idea to restore the Kernelbase file, or basically replace the original one with a non-corrupted one. Here is how you can get a reliable new DLL file.
Download the Kernelbase.zip file from – this link.
Extract Kernelbase.zip.
Now copy Kernelbase.dll.
Press Windows key + R.
In the Run command box, type – %systemroot%\System32.
Hit – Enter.
Paste Kernelbase.dll.
Reboot the device and the DLL error should be fixed.
Way-6: Run System file checker
System file checker is one of the ideal tools to detect any corrupted system files and fix them up. It also scans for missing OS files including DLL files. Therefore, whenever you start getting errors related to Kernelbase.dll, an SFC scan should be one of your go-tos. that works as a Fixit tool. Running into command prompt the utility diagnoses all the DLL and exe files, and other elements. In case, any corruption is found the tool will replace it with the same tasking from the cache. Here is how you can simply run a System File Checker scan.
Click – Start.
Type – cmd.
When the Command prompt shows up in the results, right-click on it.
Select – Run as Administrator.
Click – Yes if User account control dialog appears.
On the command prompt, type- SFC /Scannow.
Hit Enter to initiate the System file Checker scan.
The process may take some time to complete. Once it does, simply reboot the system and see if it resolves the problem.
Way-7: Run Program compatibility troubleshooter
One more probable reason for Kernelbase.dll error is compatibility issue. To deal with this case, Windows 10, as well as 11, incorporates a Program compatibility troubleshooter. This will give you options to run the problematic app or game in the environment of another version of Windows where it was running or opening correctly. One drawback of this solution is you may miss modern features of the app due to running in the older version. Here is the method –
Press – Winkey+I.
Select – Update & security.
Go to the left pane of the Settings app and click – Troubleshoot.
From the right, select – Additional troubleshooter.
Once in a list of troubleshooters, find Program compatibility troubleshooter.
Click on – Run the troubleshooter.
The tool will scan for the programs in the system and display all of them in a list.
Select the one that is affecting the app.
Click – Next.
From the coming Window, click – Troubleshoot program.
You will see 4 options for What problem do you notice. Check the suitable one and click Next.
Now follow the guidelines till the end by choosing the correct options.
Restart the PC.
Check if the Windows System32 Kernelbase.dll error is solved.
Way-8: Update Drivers
DLL errors may occur because of the existence of outdated drivers on the system. Obsolete apps often cause messes when launching a game, preventing it from opening. Kernelbase.dll is the file associated with the executable files that support the launching of a program or app. When you open a game it calls the kernelbase.dll to support it. Because the file is already broken it cannot be available for the process and the game crashes. If the whole scenario occurs on your PC and the reason is the driver then you need to check for the drivers if anyone is outdated. In case found, update it through the following guidelines –
Press – Windows + X
Click on – Device Manager.
You can see a list of devices in a tree view. Expand each of them by double-clicking and check if any shows a warning sign in yellow. If one is found you need to right-click on it and choose – Update driver.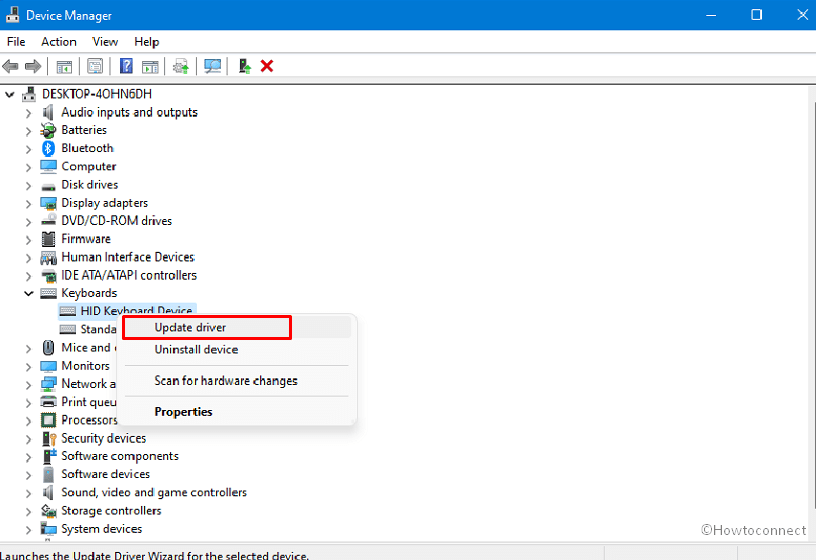 When the Update driver wizard shows up, select – Search automatically for drivers.
Repeat the same process for all devices in the list.
Finally, reboot the device and see if Kernelbase.dll error is fixed.
If not fixed then go to your device manufacturer's website
Find your computer model.
Navigate to the section related to drivers and software for your model.
Download the relevant drivers.
Run the downloaded file to install.
Restart the device once the installation completes.
See – Tips to Update Driver Software on Windows 10 Step by Step.
Way-9: Install Update Windows
Kernelbase.dll error Modern Warfare, Forza Horizon 5, or other game or app might occur when you haven't updated your Windows 11 or 10 for a long time. Actually, the outdated system starts causing compatibility issues or security concerns which might even result in DLL error. Furthermore, Microsoft may push an official resolution for Kernelbase.dll Error through Windows update. Hence, check for updates and install if one is pending using the following guidelines.
Press – Windows + I Keys.
When the Settings app opens up, click on – Update & Security.
Click on – Check for updates.
If there are any pending updates, the system will automatically download and install them. When the download is complete, allow the system to complete the restart cycles and finish the installations.
Way-10: Run a full scan of Windows Defender
We are covering this method because threats might corrupt the system files ending up with regsvr32 Kernelbase.dll error in Windows 11 or 10. Malware and virus are commonly developed to manipulate the DLL and Exe files first to break the structure of system. So if the problem occurs on your Windows 10 or 11 a thorough check by a powerful antimalware tool is necessary. Here comes Windows Defender, the fully capable robust built-in tool to detect and kill threats. Run the app using the below instructions –
Click on – Start.
Type – security.
Press – Enter.
On the Windows Security app, select – Virus & threat protection.
Next, click on the link – Scan options.
Check the option – Full scan.
Click – Scan now.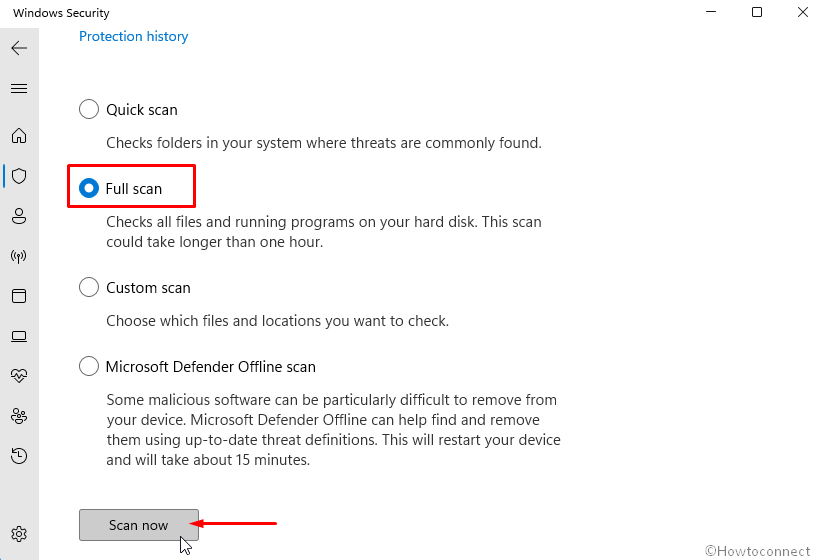 After scanning is finished you will get a notification. Follow the steps suggested in that and remove the threat.
Read – How to Run Windows Defender Full Scan in Windows 10.
Way-11: Use DISM Tool
Some users, despite in small number, report that this DLL error could be resolved using the DISM tool. Deployment Image Servicing and Management is a command line utility you generally put in action to repair malfunctioning Windows image. In this case, diagnosing and fixing the Windows image also fixes up the DLL problem. Here is the process –
Open Command prompt as administrator (note – see Way-6 above).
Type – DISM /Online /Cleanup-Image /RestoreHealth.
Hit Enter to execute the command.
When completed, restart the computer and see if the module Kernelbase.dll was loaded but the entry point error still persists.
Way-12: Perform System restore
Suppose other troubleshooting methods are not working, you can try to restore your system to a point when it wasn't getting the DLL error. When you perform a system restore, it basically undoes the changes you've made to the settings, registry, any new updates and drivers that you got, and apps installation. You do need to have a restore point created (whether manually or by default) from a prior date in order to make this work. Here is how you can do a system restore:
Press – Win+Q.
Type – rstrui.
Hit – Enter to open System Restore wizard.
Click – Next.
Simply choose the restore point you prefer and select – "Next".
Now, click on – Finish.
Confirm by clicking on – Yes.
This process will consume a good amount of time (maybe some hours). Sit back patiently to complete restoration.
Finally, the issue should be fixed.
Methods list:
Way-1: Uninstall third-party apps
Way-2: Reinstall the problematic app or game
Way-3: Remove Windows update
Way-4: Restore Kernelbase.dll from another PC
Way-5: Download Kernelbase.dll file and place
Way-6: Run System file checker
Way-7: Run compatibility troubleshooter
Way-8: Update Drivers
Way-9: Install Update Windows
Way-10: Run a full scan of Windows Defender
Way-11: Use DISM Tool
Way-12: Perform System restore

That's all!!
Repair any Windows problems such as Blue/Black Screen, DLL, Exe, application, Regisrty error and quickly recover system from issues using
Reimage
.