Do you also encounter the problem Microsoft Edge Stops Loading Webpages After a While? Multiple users comment that they can't open any pages on the Windows 10 built-in browser once they browse for some time on Reddit. In the beginning, they can open different sites as usual but after some time pages can't be accessed. When they close the browser and reopen, the same webpages starts loading but certain time later the same occurrence repeats.
When Microsoft Edge Stops Loading Webpages After a While, Reset, repair or reinstall doesn't work either. Windows 10 version 1809 users are getting this issue and looking for a fix for the browser. Microsoft doesn't provide any clue on this problem officially so it is a nagging situation for them. Thankfully, the user on Reddit has himself given a trick to fix Microsoft Edge Stops Loading Webpages. NVIDIA has recently released a hotfix for 'Microsoft Edge does not respond after playing back video' which works like a charm in this case. Edge is undoubtedly a prominent web browser for Windows 10 users but sometimes it creates weird annoyances.
Microsoft Edge Stops Loading Webpages
Here is how to fix Microsoft Edge Stops Loading Webpages After a While –
Step-1: Go to this page and click on the Hotfix Driver Version 417.21 from NVIDIA matching it with the architecture of your system.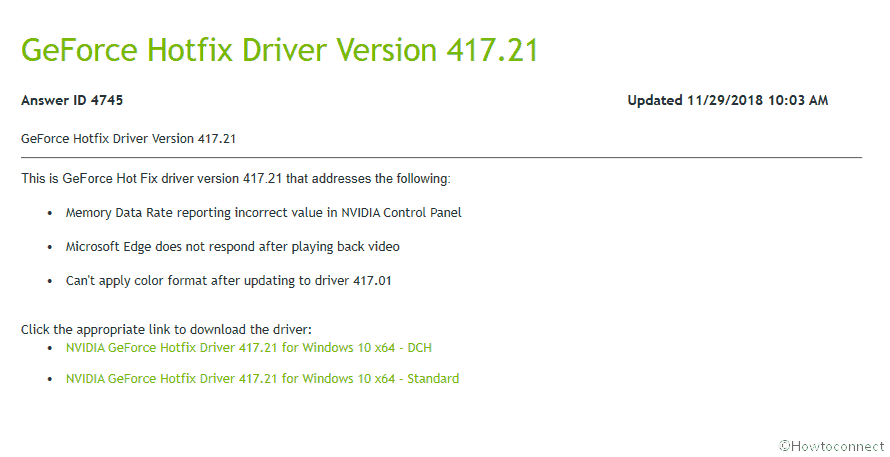 Step-2: Select Save file (Firefox) on the dialog to start downloading.
Step-3: Go to the location where you have stored the hotfix and double click on it.
Step-3: Once a UAC prompts for your confirmation, select Yes.
Step-4: Let the application complete the installation and check system compatibility.
Step-5: Click on Next and then follow the instruction on the screen to finish.
Reboot your PC and launch Microsoft Edge to test whether it is working fine now.
See instructions for – How to Fix Microsoft Edge Keeps Closing on Windows 10.
That's all!!!