The game lovers across the world are facing Origin Error 0xc00007b Windows 10 during gameplay. However, this Electronic Art's clients frequently receive updates from the company but still encounter the issues. Specialists point out that the main culprit of the problem is the missing of important legacy files. Moreover, reasons like obsolete Windows version, unnecessary startup programs, .NET Framework are also equally responsible in our opinion.
Though Windows 10 always aims to perform flawlessly but in certain conditions users face several challenges. Similar to EA, Microsoft also releases updates quite often to fix bugs and issues. Regardless of whatever reason, if any of the updates fail to install, the PC will be prone to many errors. The same holds true for Origin's Error 0xc00007b as well. Simply explore the below solutions and see which one works wonder.
Origin Error 0xc00007b Windows 10
Here is How to Fix Origin Error 0xc00007b Windows 10 –
1] Download and Install MS Visual C++ Redistributable Packages
Experts suggest that the above Origin Error 0xc00007b Windows 10 mainly occurs when certain important legacy files go missing from the system. Therefore, it becomes significant to have x64 and x86 of VC++ installed. Go through the below links to download the same directly from Microsoft –
Microsoft Visual C++ 2010 Redistributable Package (x86)
Microsoft Visual C++ 2010 Redistributable Package (x64)
Visual C++ Redistributable Packages for Visual Studio 2013 (all three: vcredist_arm.exe, vcredist_x64.exe, vcredist_x86.exe)
2] Check for Windows Update
Sometimes the issue also occurs when Windows goes out of date. Windows 10 always gets several cumulative updates quite frequently which include new features, fixes for bugs and problems, driver updates, and more. So if any of the updates are not installed, the device will be prone to some kind of complications. Hence check for the available updates and install them right away.
Open Windows Settings using "Win logo + I" shortcut keys.
Select Update & Security.
Click Check for updates button that appears on the right pane of the following page.
Wait for the system to scan and list the updates. Hit Download to grab them and if any of them require a reboot for a complete installation, Restart Windows 10 PC.
3] Fix Origin Error 0xc00007b Windows 10 by Enabling the .NET Framework
In some cases, users have reported that somehow by default the .NET Framework on their devices has been disabled. So simply enable the feature and make sure to install both x64 and x86 VC++ 2010 to resolve the issue. To enable Framework, go through the below series of steps –
Fire up taskbar search box, type control panel and hit Enter.
This will open Control Panel on the PC screen, keep the applets view either large or small. Select Programs and Features.
Click "Turn Windows features on or off" that is visible on the top left of the subsequent page.
Now, select .NET Framework 3.5 (includes .NET 2.0 and 3.0) and click OK to apply the modifications.
4] Run System File Checker
Specialists also recommend affected users to use inspect all the important elements of the Windows system including the DLL files as well. To do this, run System File Checker, an inbuilt tool and if it detects any issues with system files, it will replace them straight away. Executing this utility will save time and even more, you don't require to format the game to mitigate Origin Error 0xc00007b Windows 10. Observe the below series of steps to execute the tool –
First of all, open Command Prompt as Administrator using any of the preferred methods. However, the easier one is to type cmd.exe on taskbar search. Right-click on Command Prompt and opt Run as administrator.
When UAC prompts up for permission, click Yes to continue.
Once the black window becomes visible, insert the following command and hit Enter to run the utility –
sfc /scannow
The entire scan will take some good minutes to finish. After it gets over, reboot the device and check for the error.
5] Check DirectX Version
DirectX is a set of elements in Windows that gives the ability to software, more specifically games. This will function more directly with the video and audio hardware. In simple terms, the games that use DirectX can utilize built-in multimedia features pretty precisely. Furthermore, it also improves the overall multimedia experience. So to mitigate Origin Error 0xc00007b Windows 10 issue, it becomes important to check the DirectX version and install the latest one if required. See the below steps to perform the task –
Perform a right-click on Start and choose Run. Type in or copy-paste dxdiag and click OK.
Now, check DirectX version (the latest version is DirectX 12) as shown in the below screenshot.
If it is not updated, update it right away through Windows Update.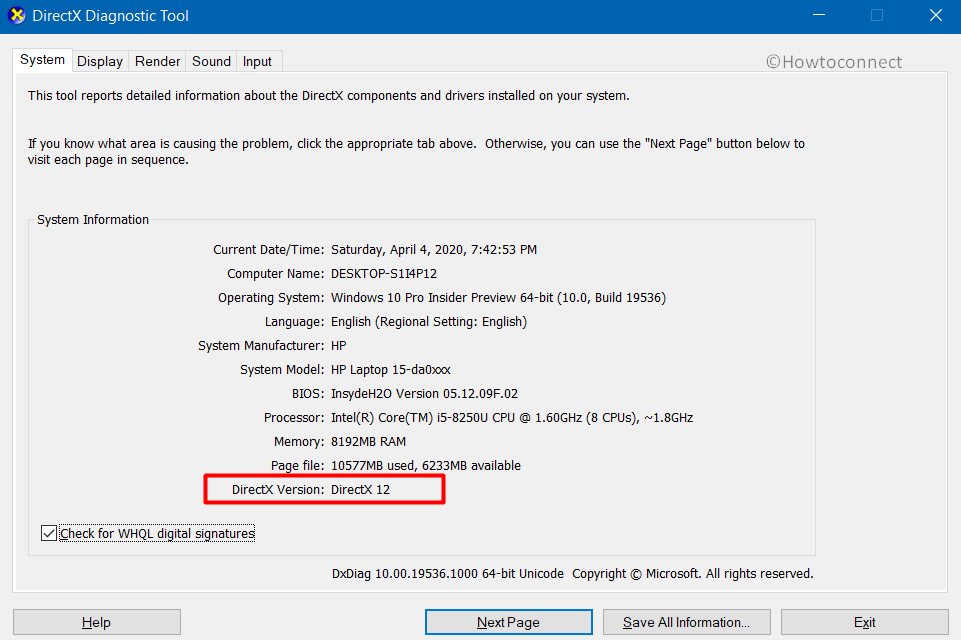 6] Do a Clean Boot to Fix Origin Error 0xc00007b Windows 10
Conducting a clean boot will ensure that no programs are interfering in the background. Windows always have certain unnecessary applications that start functioning right away after every boot. Moreover, a number of drivers and services also work in the background which may create conflict with the game. So it is best to Disable Unwanted Startup Programs and see if this resolves Origin Error 0xc00007b Windows 10. Go through the given instructions below –
Get access to Run dialog using "Win logo + R" keys altogether. Insert MSConfig and click OK.
Highlight Services tab, check mark the box "Hide all Microsoft services" and hit Disable all.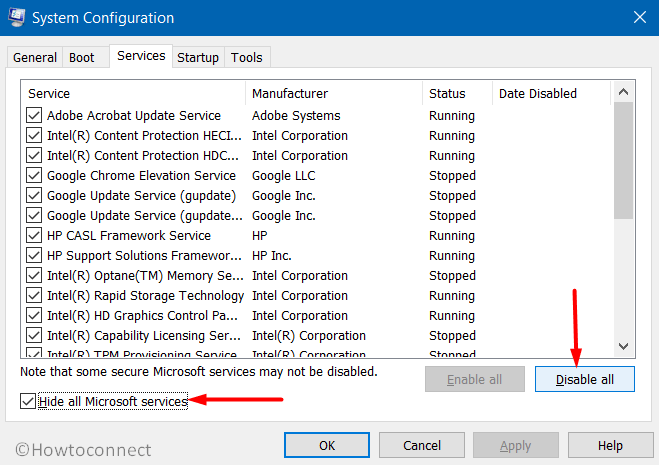 Then go to the Startup tab and click the only link Open Task Manager.
Once the console shows up, select each item and click Disable button.
After disabling all the items, head back to the System Configuration window and click OK.
Upon startup, see for the error and if it doesn't show up, then the culprit is one of those startup programs.
7] Run the Game as Administrator
If the above solutions do not provide any relief, try to run the game as administrator. To access the game with the admin rights, see the following steps –
Navigate to the Origin games folder, for example – C:\Program Files (x86)\Origin Games\Battlefield 4
In the folder, find the executable file of the game, such as Bf4.exe.
Do a right-click on it, choose Properties and then Compatibility.
Select the checkbox against the option Run this program as administrator.
Repeat the same process with BF4_x86.exe as well.
You can also follow – How to Clear Origin Game Cache in Windows 10.
Methods:
1] Download and Install MS Visual C++ Redistributable Packages
2] Check for Windows Update
3] Enable the .NET Framework
4] Run System File Checker
5] Check DirectX Version
6] Do a Clean Boot
7] Run the Game as Administrator
That's all!!
Repair any Windows problems such as Blue/Black Screen, DLL, Exe, application, Regisrty error and quickly recover system from issues using
Reimage
.