Stop errors are exceptional in the system and the critical failure crashes Windows. The main thing Windows can do is to restart leading to data loss as most programs don't have autosave feature. Additionally, the error automatically creates minidump file containing information about the crash and saves it to the disk drive that helps to identify the cause of the issue. PDC_WATCHDOG_TIMEOUT_LIVEDUMP is a Blue Screen error that does the same in Windows 10. The BSOD has a bug check code 0x0000015C hinting that a system component failed to respond under the allocated time period. As a result, it will prevent the system from entering or exiting connected standby.
PDC WATCHDOG TIMEOUT LIVEDUMP blue screen, fatal system crash is hard to troubleshoot every time as the issue will come out of nowhere and leave no clue where it is rooted. Generally, the prominent reasons behind this BSOD are misconfigured or overclocked BIOS, insufficient space in HDD, corrupted system components, Windows image, and drivers. Sometimes incorrectly installed external or internal HDD or SSD, hardware devices incompatible to BIOS, memory problems, and some less trustworthy software running in Windows kernel can cause this critical trouble. Nevertheless, the blue screen error is very hard to resolve, a couple of usual methods can fix it pretty easily as well. We will discuss some most effective ways to resolve PDC_WATCHDOG_TIMEOUT_LIVEDUMP BSOD error in this write-up.
PDC_WATCHDOG_TIMEOUT_LIVEDUMP
Here is how to fix PDC_WATCHDOG_TIMEOUT_LIVEDUMP Error Windows 10 –
1] Disable Automatic Restarting of Windows
Blue Screen or stop errors get into all of a sudden in Windows 10 and break away usual functionality. Hence, user doesn't have anything to do but accept the automatic restarting which leads to a good amount of data loss. Technically, a BSOD is a result of fatal crash in the system due to some potential shortcomings. When the system generates this issue, Windows will opt to save the vulnerable data from being erased and activate Automatic Restart. However, this is a safety measure and very much helpful, the same will immobilize the computer too.
Automatic Restart is a default feature in Windows 10 enabled from the beginning. However keeping this one turned on, you cannot work in the system as it will go for rebooting all of a sudden. Troubleshooting will be delayed for that and system will encounter more fatality with BSOD error. Therefore, in order to deploy the workarounds, disable the Automatic Restarting following the below steps –
Invoke Run dialog by pressing Win+R hotkey together.
Type in – sysdm.cpl.
Press the – Enter.
Click Advanced tab from System Properties popup.
Scroll down to – Startup and Recovery.
Click the – Settings.
Head over to – System Failure.
Uncheck the box that says – Automatically Restart.
Click – Ok.
Changes will be made immediately and Windows will not reboot all of a sudden automatically from now.
2] Scan for Malwares in the system using Windows Security
Viruses are the consistent enemies for Windows right from the initial stage. These strongly coded programs are basically developed for breaching the security of a protected system and steal sensitive data. Once they sneak through the Windows 10, will stay in the computer like a usual file as a disguise, and it's very much difficult to identify them.  Along with making fraudulent transactions, collecting private data, they will also damage the system files. Essential system components will lose the internal data and some critical .dll file may go missing as well. Therefore, a critical system crash is a must followed by generating the PDC_WATCHDOG_TIMEOUT_LIVEDUMP Error.
Windows Security has a robust construction to detect and dismiss malware and providing real-time protection. A full system scan using this default utility will ensure no harmful viruses, Trojans, spyware, worms are not damaging system components. Here is how to run the scan –
Press the – Win+S.
Type in Security.
Press the – Enter.
Select the – Virus & threat protection.
Click the – Scan options.
Hit the radio button set for – Full scan.
Click – Scan now.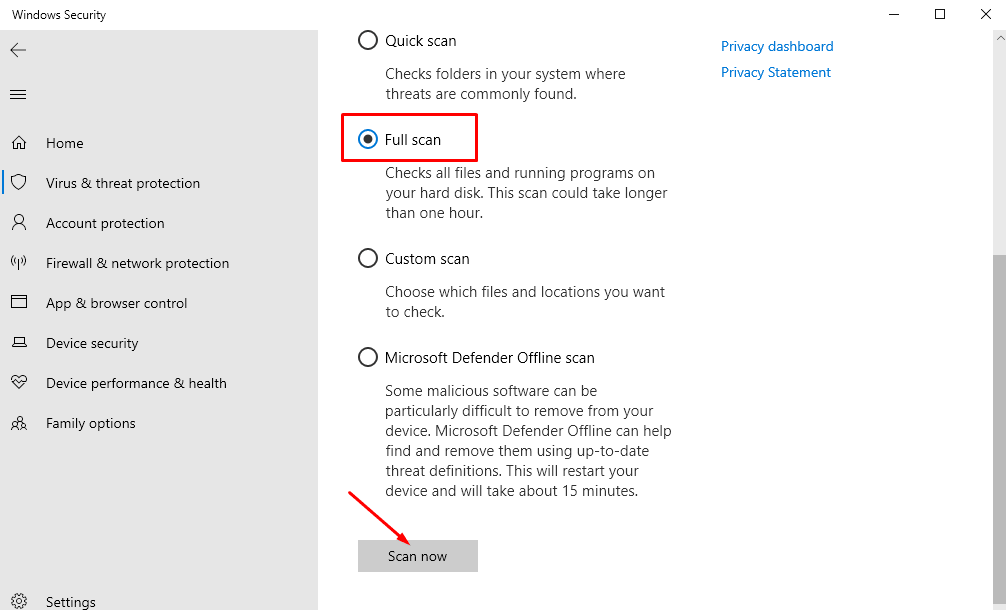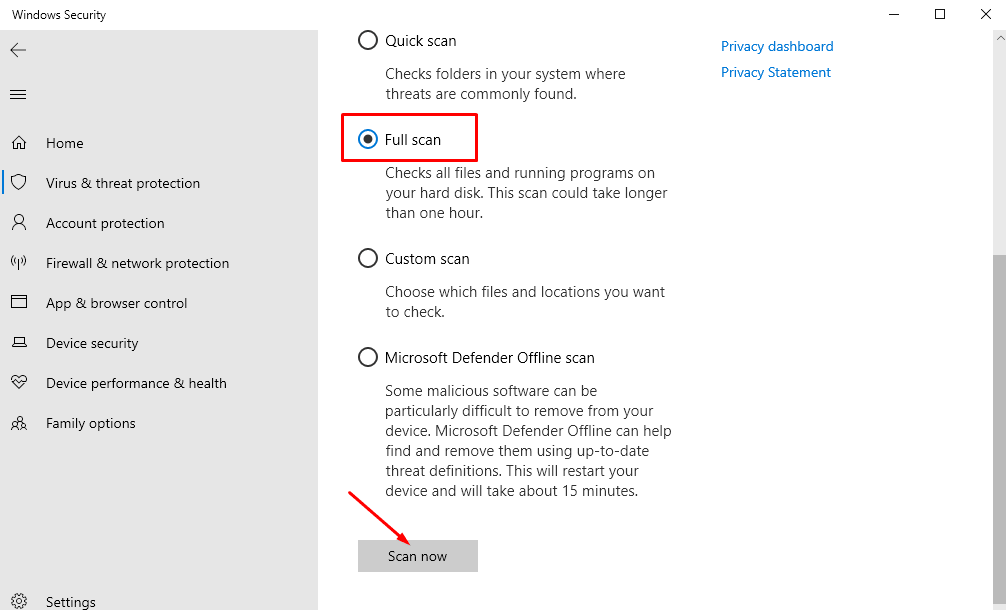 If any malware is detected, the tool will manifest a list of threats.
Click the – Clean Threat.
From the next page, click Remove and then Start actions.
Restart the Windows and check if the BSOD error still persists.
3] Wipe out Unnecessary programs
Programs in Windows are necessary to accomplish a variety of tasks easily and in a short period of time. To serve this purpose, Microsoft has included a wide range of default applications in Windows 10. However, these built-in programs are not always enough to serve specialized tasks and you need to install new ones. Microsoft Store is a rich source of applications and it is the most trustworthy source yet some other third-party applications we install quite often from various untrusted platforms. These are often buggy, carry potentially harmful threats, and can cause serious harm to the computer.
These low-level programs running in kernel unnecessarily cause serious trouble starting from making the system slower to causing a fatal crash. Sometimes similar programs can also cause a fatal software collision and leads .dll files to go missing. Therefore, avoid installing programs unnecessarily especially from a suspicious platform. If you have some of these low-level applications, uninstall them right away following the below instructions –
Open Taskbar Search pressing Windows key and S at once.
Write – appwiz.cpl.
Press – Enter.
From Programs and Features window, find out the problematic application.
Right click the app and select Uninstall.
Follow the few guidelines to complete the uninstalling process.
4] Perform Safe Boot to aid troubleshooting
Safe Boot is a trustworthy troubleshooting technique that cuts off the third-party programs and tools at the startup. Hence, only the essential applications are loaded for running Windows with limited resources. As the third party programs are opted out, it has become pretty easy to troubleshoot the PDC_WATCHDOG_TIMEOUT_LIVEDUMP Error. Again, there is no better way to start a device normally except booting in Safe Mode once it has encountered as fatal crash.
Safe Boot Mode only allows limited applications at the startup hence, internet services will be unavailable for use. But there is another option to Boot Windows in Safe Mode with Networking which will enable the Network adapters as an essential program. As the blue screen error is tough to troubleshoot, it will be helpful to accomplish this workaround. For doing so, follow the below instructions –
Open the Taskbar Search clicking magnifier icon.
Write "MSConfig" in it and select System Configuration.
Enter into the Boot tab.
Move down to the second half in this tab i.e. Boot options area.
Check the box that reads Safe boot.
Click the radio button set for Minimal.
If you want to enable internet services, click Network instead.
Click the Apply button and then Ok.
Restart the Windows 10.
System Will Boot into Safe Mode or Safe Mode with Networking.
If you like to load the Normal Boot, uncheck the box set for Safe Boot in System Configuration.
Save the changes to get back usual Windows mode.
5] Update the Hardware drivers to the latest versions
In case of a blue screen error, driver incompatibilities cause the most damages as these part of the system controls interaction between computer bus and attached peripherals. They help the system to detect newly connected hardware components and recognize its actions. Outdated drivers cause the instability of the system and lead to some irrecoverable issues like PDC_WATCHDOG_TIMEOUT_LIVEDUMP Error.
Windows Upgrade is the best time to update the drivers but some vendors release regular updates for them. Windows has a default tool i.e. Device Manager to easily handle hardware drivers. The best part of this utility is, you can easily identify the problematic ones observing the yellow indication beside each driver. Here is how to update the drivers using Windows Device Manager –
Open up Power user menu pressing Windows key and X together.
Select – Device Manager.
Reach the device having mark of exclamation.
Split up driver list by double-clicking.
Right-click the driver having yellow sign.
Select the – Update driver.
Click the – Search automatically for updated driver software option from succeeding popup.
Repeat the same process to update all the drivers.
Restart when the updating gets over.
6] Disable defective driver or roll back it
Though updating the driver software usually resolves PDC_WATCHDOG_TIMEOUT_LIVEDUMP Error in Windows 10, not always the result will be the same. The reason is, software vendors often release some buggy updates from the drivers who can be very much detrimental to the system. Missing components, potentially harmful bugs in them will cause additional problems in the system let alone fixing the error.
In case of this problem, you can roll back the defective update and load the older versions of it to resolve. If there is an additional trouble, you have to uninstall the driver and then reinstall once the issue is resolved completely. Windows Device Manager has these options from where you can easily take the necessary help for all the steps. To accomplish these tasks, follow the below steps –
Click Start, and type devmgmt.msc in the blank field.
Press Enter to open up Device Manager.
Reach out the device for which you need to receive an update.
Double click the same to unfold driver.
Right-click suspicious driver and select Properties.
Enter into Driver tab in the next popup window.
Click – Roll Back Driver.
Once the task is finished, this driver will load it's the earlier version.
Restart Windows and check if the error is gone.
If that doesn't resolve the blue screen error, uninstall the problematic driver following the below steps –
Reach the suspicious driver and right-click it.
Click the – Uninstall device.
Follow the instructions on the screen and complete uninstalling it.
Restart Windows 10 and check if the error is resolved completely.
Now, Visit the vendor's website for the driver you have uninstalled.
Download the latest driver software from there and install it on the computer.
7] Use Microsoft's Blue Screen Troubleshooter web page
Stop errors all of a sudden cease the functionality of the computer and the user doesn't have any other option carry on the investigation. Mostly, there is no determined cause from where you can start troubleshooting as the error comes out of nowhere. This has been prevailing for a long time and people used to try various usual workarounds just to make the system up and running. However, Microsoft rolled out a new troubleshooter online help page from where you can get the best idea to resolve this error.
Windows Blue Screen Troubleshooter will arrive in web browser and you have to provide some information about the encountered PDC_WATCHDOG_TIMEOUT_LIVEDUMP Error. There will be procedure to resolve this in a while and you have to go through it. To try this method, follow the below guidelines –
Click this link and avail Microsoft's Support web page for Blue Screen error.
Scroll down to When did you get the error? Area.
Select the radio button set for preferable option between –
After an update was installed
While using my device
The page will unveil guidelines to resolve the blue screen error based on your information.
Follow them to fix the issue easily.
8] Update the Windows10 to the latest build
Windows 10 receives cumulative patches in close intervals with security modifications, UI improvements, bug fixes, and wide variety of handy tools. If there are any shortcomings in the earlier build, the company usually fixes that in the succeeding build. Furthermore, the new versions are less likely to have issues like PDC_WATCHDOG_TIMEOUT_LIVEDUMP Error, unlike older Windows editions.
Installing the latest patch revamp Windows 10 a stronger one, keep safe from harmful bugs, and moreover make it immune against unexpected errors. The Windows Updating process is autonomous if there is an active unmetered internet connection is available. However, often the automatic process delays download or installation stuck in some update errors. Therefore, you can try installing the patches regularly by your own following the below instructions –
Press –  Windows key and I – at once.
Click – Update & Security – from Settings app UI.
Select – Windows Update – from the left pane.
Hit – Check for updates on the right-side pane.
If there is any latest patch found, will appear here.
Downloading will start automatically followed by installing them.
Attend the Restarting of the computer once asked to complete this process.
9] Update BIOS to fix PDC_WATCHDOG_TIMEOUT_LIVEDUMP
Basic Input/Output System or simply BIOS is an integral and inseparable part of Windows. This thing comes already installed once you buy a new computer from store and this will run ahead of any software. BIOS energizes the system and lets users to set up the device from the root level to run. Furthermore, this will also organize the data flow between Windows and adhered hardware like video adapter, keyboard, mouse, printers, hard disk, etc.
BIOS being firmware can be outdated often leading to making the system technically unstable, as well as non-functional. Hence, OS cannot communicate with the microprocessor, and data processing will be interrupted. A few users have also encountered PDC_WATCHDOG_TIMEOUT_LIVEDUMP Error in Windows 10 with BIOS outdated. To keep it updated always, follow the below steps –
Unfold Start menu by pressing Windows key.
Type – msinfo32.
Select – System Information.
Scroll down in new window and click the Search box.
Type BIOS in it and press Enter.
Note down the info shown against – BIOS Version/Date.
Close the System Information app and launch any web browser.
Visit its manufacturer's web page for your BIOS.
Find out compatible BIOS file using previously noted information.
Download the latest BIOS file for your device.
Run the file to install the latest version of BIOS.
10] Fix up corrupted Windows image files
Before any major Windows Upgrade, ISO files are released having snapshots well known as Windows image files. These components can often encounter a severe corruption due to malware attack is the system is not well protected. Even some third-party applications can make few unexpected changes in the system and Windows image files can be damaged. PDC_WATCHDOG_TIMEOUT_LIVEDUMP Error occurs pretty easily if the system has some corrupted or defective image files.
Deployment Image Servicing and Management (DISM) tool is a freeware in Windows 10 to deal with these corrupted Windows images. The handy utility is applicable for the offline images as well and fixes them keeping internal information intact. This utility runs in the Elevated Command Prompt upon executing the specific command. For accomplishing the task, follow the below guidelines –
Open Start menu by clicking the Windows icon.
Click the – Power sign.
Select Restart holding down the Shift key.
When the Automatic Repair will be booted, select – Troubleshoot.
Click the Advanced options and then – Command Prompt.
Type the below line of command at the window –
DISM /Online /Cleanup-Image /RestoreHealth
Press the Enter key and run DISM tool here.
After inspecting through the system, defective Windows image files will be detected.
The utility will also fix them automatically.
Once it ends, restart the computer.
Check if there is any BSOD error in the system now.
11] Perform System Restore and roll back Windows version
Some blue screen error breaks the OS all of a sudden in an updated version of Windows 10 or in some latest insider builds. There might be Windows Updating faults, partially buggy patches responsible for this issue. However, invalid entries in the Windows Registry are another prominent issue here which can easily be done by some problematic applications. Whenever we install a new program in the system, new DWORD values are created whereas some may change the value data.
If you have encountered the PDC_WATCHDOG_TIMEOUT_LIVEDUMP Error after performing a Windows update, installing new programs, or removing a problematic one, the best option is to undo these changes. For that, System Restore can be more helpful and the process leads an old Windows state to load. You will be directed to an errorless Windows version easily. To carry out System Restore, follow the below instructions –
Open Taskbar Search pressing Windows key and Q at once.
Type Recovery and select it from the result.
From the Control Panel window, click – Open System Restore.
Hit the radio button against Recommended restore if you opt to load back the most recent update.
If you are looking to restore another Windows state, rather Choose a different point of time.
Hit the – Next.
Put a checkmark on the box set for – Show more restore points.
Choose any of the points you opt to restore.
Hit – Next.
 Confirm the selection and click – Finish.
Windows will reboot for instance.
After the desktop area loads, you will get a message confirming that "System Restore completed successfully"
12] Run the Hardware Troubleshooter to fix hardware incompatibilities
PDC_WATCHDOG_TIMEOUT_LIVEDUMP Error often generates when the hardware accessories have issues with Windows. They might be misconfigured; drivers can be defective or often for no exact reason. In the recent past, some of the BSOD cases were found with connecting external peripherals like mouse, keyboard, speaker, or printer. These issues surprisingly were resolved only by disconnecting these hardware gadgets momentarily. However, not the same thing will work smoothly, and you have to diagnose deeper for finding out the exact cause so that blue screen error does not occur regularly.
For resolving the Hardware related incompatibilities in Windows 10, you can run the Hardware Troubleshooter. The built-in tool can detect even major problems pretty easily and thereby fix automatically. To run this utility, follow the below procedure –
Press the – Win+R.
Type in – cmd.
Press – Ctrl+Shift+Enter keys together.
Click Yes from UAC warning popup.
Enter the following command there –
msdt.exe -id DeviceDiagnostic
Press "Enter" key and open up the Hardware and Devices Troubleshooter page.
Click the – Next.
The utility will find out Hardware issues in the system.
Vulnerabilities will be fixed automatically by the tool.
13] Perform SFC scan in Command Prompt with Admin privileges
In Windows, some files are very much necessary and take part in critical operations. Being known as system files, they take part to run the Windows, open services, and processes. Oftentimes these files may be subjected to corruption especially when the malware manages to enter into the system. Furthermore, Windows updating faults and sudden power surge can damage them. System files after losing their internal components after being corrupted appear as unreadable and cause malfunction. In addition, some viruses forcibly delete important .dll files causing a severe system crash and the result is PDC_WATCHDOG_TIMEOUT_LIVEDUMP Error.
To fix these corrupted files as well as recovering necessary .dll components, System File Checker is the rescuer. The default tool will be active in Elevated Command Prompt upon executing the SFC command line. Follow the below steps to run this –
Open the Taskbar Search.
Write cmd in the box
Right click  – Command Prompt.
Select – Run as Administrator.
Click Yes when the UAC will roll in.
Enter the below command line at the cursor –
SFC /Scannow
For execution, press – Enter.
Wait for the tool to detect corrupted system files and missing .dll files.
Fixes will be applied automatically for repairing damaged files.
Once accomplished, restart the computer.
Check if there is any blue screen error in the system now.
14] Run Disk Cleanup tool to remove unnecessary junk files
Low disk space is another major reason for which system will encounter the PDC_WATCHDOG_TIMEOUT_LIVEDUMP Error in Windows 10. There are a series of issues that might come up when the disk has insufficient free area. Windows will run slow, there will be annoying lags and memory problem error messages will come up regularly. Usually, the system drive OS (C:) stockpiles temporary files, shader cache, web browser data, restore points which are unnecessary after a certain period. Furthermore, huge space consumer Previous Windows Update files stay here covering up most of the storage area. If we can delete these files, a good amount of free space can be recovered and the system will be functional again.
Disk Cleanup tool is an amazing tool in order to delete these unwanted junk files altogether from selected categories. In addition, it will show you the amount of space you can recover which is different from most of the similar tools. To run this default utility and carry out cleanup, follow the below guidelines –
Press Win+X simultaneously.
Select Run from Power user menu.
Type – cleanmgr.
Click – Ok.
From the Disk Cleanup tool, select OS (C:) as a preferable drive for running the utility.
Press-  Enter.
The tool shows categories to delete upon calculating total free space it can make.
Click – Clean up system files.
Select "OS (C:)" again from the Disk Cleanup popup.
Click – Ok.
Check the boxes from where you opt to clear data.
Click – Ok.
Hit – Delete files – from the confirmation warning message.
Once done, restart Windows 10 and check if the error still persists.
15] Repair bad areas in hard disk to solve PDC_WATCHDOG_TIMEOUT_LIVEDUMP Error
Hard disk issues will make you sufferer most while using a computer and will cause critical issues in the coming time. HDD comes pre-installed with the system and the same one stays with it for life. This is the soul of a system and needs to be taken good care as well as maintain it in good health always. Sometimes, forcibly pulling cable from CPU or sudden power surge can cause forming bad areas in it. These defective sectors are very much likely to generate the PDC_WATCHDOG_TIMEOUT_LIVEDUMP Error in Windows 10.
However, Windows has a default utility i.e. Disk Checking tool to repair these areas and eventually eliminate blue screen error. To run this one, follow the below guidelines –
Open Taskbar Search and type "cmd" in it.
Select Run as Administrator from right side.
Click Yes from UAC asking permission.
Type the below command and press the Enter –
chkdsk /f /r C:
Upon execution, the defective areas will be repaired by this tool.
Once done, restart the computer and check for BSOD issues.
16] Toggle Off the Fast Boot Mode
In order to make the booting process sharp, Windows has Fast Boot enabled in the Windows right from the beginning. This process is a combined feature of Power options i.e. hibernate and Shut down. To make the startup faster, it usually collects necessary system data from a running session and carries over to the following one. No doubt it serves best when you need to boot up faster but there is a chance of carrying over PDC_WATCHDOG_TIMEOUT_LIVEDUMP Error to the next session as well. Therefore without disabling this feature, you cannot be able to fix the blue screen issue as the same will be carried over always.
To disable the Fast Startup mode, follow the below guidelines –
Press Win+Q and type control.
Select the result to open.
Click the View by and choose Small/Large icons.
Click the Power Options once the UI is readjusted.
From the left pane, click the – Choose what the power buttons do.
On the adjacent right pane, select the link that says Change settings that are currently unavailable.
Reach to the Shutdown settings area and uncheck the box set for Turn on fast startup (recommended).
Select the – Save changes.
17] Detect memory problems in Windows and replace RAM if required
Most of the blue screen error code generates due to the defective RAM stick or from memory problems however both are interlinked. A RAM can be defective from the time of manufacturing it or when the device falls on the ground. Memory issues usually occur due to insufficient space in the disk drive.
Before replacing the RAM as a part of resolving the error, you have to be entirely sure that it is defective. For that, a diagnosis is a must which is very well possible as Windows Memory Diagnostic tool can do. The default utility carries out tests, detect problems in the memory, and compile a complete report. You can, later on, check the report and decide what can be done. Here is how to run this tool –
Click the Start, Type in memory and then hit – Enter.
Pick Windows Memory Diagnostic under Best match.
When the utility will arrive, click Restart now and check for problems (Recommended) option.
In a while, Windows will boot into a blue screen and the utility will begin detecting problems.
Upon reaching 100%, the computer will reboot again.
When the desktop area loads, you will get a notification in the System Tray from Windows Memory Diagnostic tool.
Check the report and if there is any problem, step out to take action accordingly.
18] Uninstall a defective Windows Update patch
We have cited earlier that, an older version of Windows 10 is more likely to generate the PDC_WATCHDOG_TIMEOUT_LIVEDUMP Error than an updated one. In addition, installing the latest patches will strengthen the system to cope up with malware, security threats, and unexpected errors. However, there are a few patches released by Microsoft that are partially buggy and carry threats to the system. Installing these files will cause Windows to crash unexpectedly and thereby generate blue screen error code.
You might encounter the same error after carrying out a Windows update or installing the latest cumulative patch. For fixing the error, immediately uninstall that update file from the system before it's too late. To accomplish this task, follow the below steps –
Click the – Update & Security.
Click the – View update history link on the right side.
Tap the Uninstall updates link from here on the next page.
On the upcoming Control panel Window, reach to defective update patch.
Right click it and select the – Uninstall.
Click Uninstall from confirmation popup.
Once the process ends, restart Windows and check if the error is resolved successfully.
19] Re-download installation files
Few cases are found that PDC_WATCHDOG_TIMEOUT_LIVEDUMP Error occurs in Windows 10 due to the damaged installation file. In that case, you have clear those files and try installing the latest Windows patches again.
To complete this workaround, follow these guidelines from below –
Open the Windows Settings app.
Click System from UI.
From left pane, click – Storage.
Reach local disk section on the right side.
Click the – Temporary files.
Uncheck the preselected boxes.
Only check the box that reads – Temporary Windows installation files.
Click the – Remove files.
Once the files are removed, try to upgrade to the latest version of Windows 10 using Windows Update.
Methods:
1] Disable Automatic Restarting of Windows
2] Scan for Malwares in the system using Windows Security
3] Wipe out Unnecessary programs
4] Perform Safe Boot to aid troubleshooting
5] Update the Hardware drivers to latest versions
6] Disable defective driver or roll back it
7] Use Microsoft's Blue Screen Troubleshooter web page
8] Update the Operating System to latest build
9] Update BIOS for the Operating System
10] Fix up corrupted Windows image files
11] Perform System Restore and roll back Windows version
12] Run the Hardware Troubleshooter to fix hardware incompatibilities
13] Perform SFC scan in Command Prompt with Admin privileges
14] Run Disk Cleanup tool to remove unnecessary junk files
15] Repair bad areas in hard disk
16] Toggle Off Fast Boot Mode
17] Detect memory problems in Windows and replace RAM if required
18] Uninstall a defective Windows Update patch
19] Re-download installation files
That's all!!
Utility tools to solve this BSOD:
Repair any Windows problems such as Blue/Black Screen, DLL, Exe, application, Regisrty error and quickly recover system from issues using
Reimage
.