Quicken offers a variety of features including creating budgets, tracking investments, generating reports, paying bills, and setting financial goals but several people find problems with this application on Windows. Users complain the issues such as software not responding, stuck login, not displaying on screen, crashing, failed to install update, not opening, error code 5205, and several other. This post tries to sum up solutions to all these reasons why Quicken not working issue occurs including a trick to fix them.
Quicken problems in Windows 11, 10, or other versions might mostly occur because of corrupt installation or incompatibility of the app. Furthermore, malware, malfunctioning system files, interference of antivirus or firewall blocking, and Windows update bugs may cause this finance management software to create annoyances. See – Fix 7.1 Surround Sound not working error in Windows 11.
Quicken not working in Windows
Here is how to fix Quicken not working in Windows –
Way-1: Restart your computer
Sometimes just restarting may accomplish the work you are looking for when facing Quicken problem. Hence, follow the steps –
Click on Start from the taskbar.
Select Power icon.
Then click on Restart.
Way-2: Use this trick – Uninstall and install Quicken offline
First of all, a trick has helped several users to fix the latest Quicken update problems like failed installation, the app not opening or responding, and some error codes. Installing the software in offline mode removes these glitches.
Quicken installs all the executable files without permission so conflicts start between the old and new files preventing the application from installing and sometimes working. Offline mode stops this process therefore follow the steps to get rid of this issue –
Back up your Quicken data before starting. For this, go to File > Copy or Backup File… > Save Backup. By default, this will be saved in the location C:\Users\username\Documents\Quicken\BACKUP on computer. (Note: You can change the location at your convenience).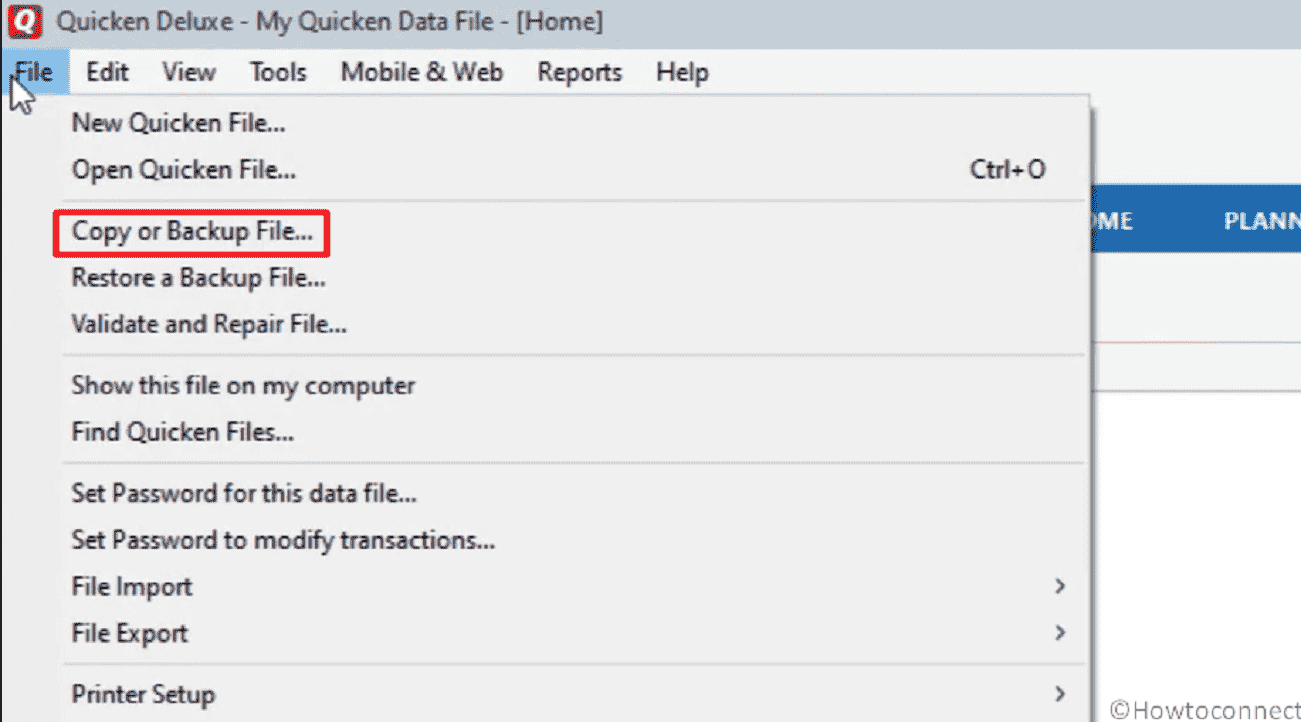 Press Windows and R keys.
Type control then press Enter.
Click on Programs and Features.
Find Quicken in the list and click on this item.
Select Uninstall.
Then go to the Quicken website and download your product.
Disconnect all the internet connections on your computer.
Right click on the Quicken setup file, select Run as administrator and follow further instructions to complete installation.
Connect to internet and launch the application.
Enter your unique Quicken id and password to sign in to the product.
Then, try running the application.
If your Quicken files disappeared then you can restore the backup. For this, go to File > Backup and Restore > Restore from Backup File… Browse to C:\Users\username\Documents\Quicken\BACKUP > Open.
Way-3: Update to the Quicken latest patch
If Quicken one step update not working issue occurs then again installing the same in offline mode will fix the issue. Multiple users report that they are unable to open the application after receiving one step update because the program either crashes or does not open or respond but this method helps them. So, move forward with the guide:
Navigate to this link https://www.quicken.com/support/update-and-patch-20182019-release-quicken-windows-subscription-product.
Download the patch suitable for your computer.
Go offline i.e. turn off all the internet connections.
Right click on the Setup and choose "Run as administrator".
Go with the instructions shown on the screen.
Restart your computer and check if Quicken is working now.
Way-4: Open Quicken without a data file
Large amount of data saved in Quicken may also prevent the app from working correctly and create login or password, bill pay, or transaction problem. But there is an option to start the program without loading data file which can help in this case. Later, restore and load the data using the backup whose steps are provided in the way-2.
Back up the data following the steps in Way-2.
Press and hold Ctrl and Shift altogether.
Double-click the Quicken icon and wait until Quicken appears with a blank screen.
If this occurs, there may be an issue with the data file that's keeping Quicken from opening properly.
Restore the Quicken data (Steps are in the last of Way-2)
After that click on "File" and select Validate and Repair File.
Check Validate file and click OK.
Way-5: Disable the antivirus and firewall to check if the issue is fixed
Most of the time, if you try to update Quicken and fail, this problem might occur because of hindrances from antivirus and/or firewall that could block the program from running. Disabling the programs might help to get rid of this finance application issue.
If you have third-party antivirus or firewall program then click on the up arrow icon located on the right side of taskbar.
After that, right click on icon of the software and select – Disable (the option may vary according to programs).
Download Qucken update.
Disconnect internet connection running on the system.
Double-click on the patch and follow guidelines.
If the issue still persists, disable Microsoft Defender momentarily to check whether the app works in this case. For this, click on Search and type security.
Select Windows Security from the result.
On the application that appears, click on Virus & threat protection.
Scroll down and click on – Manage settings.
Turn off Real-time protection using the toggle.
Now back to Homepage of the app and select Firewall & network protection.
Turn off the Firewall for Private network or the network your computer is connected to.
Then open Quicken and see if it works.
In the end, turn on Real-time protection and Firewall.
Way-6: Run System File Checker and DISM
Now we are focusing on Windows system flaws which may trigger Quicken crashes when opening. Mostly these underly in corrupted system files and installation format but there are built-in tools like SFC and DISM to deal with both withdraws. All you need is to follow the instructions:
Click on Start and type cmd.exe.
Select Run as administrator.
Once a User account control popup appears, choose the option Yes.
On command prompt window, type – SFC /Scannow and press Enter key.
When verification and scanning are completed, restart the computer.
Once more launch the command prompt (administrator) and run the below syntaxes one line at a time:
DISM /Online /Cleanup-Image /CheckHealth
DISM /Online /Cleanup-Image /ScanHealth
DISM /Online /Cleanup-Image /RestoreHealth
In the end, reboot the device and hopefully, the Quicken not opening should be fixed,
See – Top 10 Best Tax Preparation Software for Professionals.
Way-7: Run Malware scan with Microsoft Defender
On certain occasions, Quicken not working issue seems to occur due to malware or virus infections. Since threats wrapped in the malware mess up the system files and registry and they are likely to create obstructions in running the app on Windows 11, 10, or other versions. Therefore, run the Microsoft defender full scan once that can solve the Quicken not opening or responding or working problem –
Press Winkey+R.
Type windowsdefender://threat/.
Press Enter to launch Virus & threat protection window.
Click on Scan options.
Check the option – "Full scan".
Select Scan now.
After the detection of threats is completed, go to Windows Security > Virus & threat protection > Protection history.
Select one threat found, click on Actions, and choose Remove or Quarantine.
Replicate the same steps with other threats if found and restart your device.
If still you are facing any problems navigate to the Quicken support page and ask for a solution.
Methods:
Way-1: Restart your computer
Way-2: Use this trick – Uninstall and install Quicken offline
Way-3: Update to the Quicken latest patch
Way-4: Open Quicken without a data file
Way-5: Disable the antivirus and firewall to check if the issue is fixed
Way-6: Run System File Checker and DISM
Way-7: Run Malware scan with Microsoft Defender
That's all!!
Repair any Windows problems such as Blue/Black Screen, DLL, Exe, application, Regisrty error and quickly recover system from issues using
Reimage
.