Storage port driver aka Storport.sys is a system file that appropriately supports high-performance buses, for example, RAID adapters and fibre channel 'buses'. Previously, SCSI Port driver was in use for the same purpose which Storport.sys replaced over time. Recently several users encounter Blue Screen error because of the failure of this driver. The message is "What failed: Storport.sys" and it is commonly accompanied by bugcheck System Service Exception, Page Fault in Nonpaged Area, IRQL_NOT_LESS_OR_EQUAL, Kernel Data Inpage Error, System Thread Exception Not Handled, and KMODE Exception Not Handled.
Sometimes, for the error Storport.sys Valorant is responsible. Bugs in Riotgames Vanguard Valorant give rise to this blue screen of death in Windows 11 and 10. Before moving ahead you may like to see a list of all Blue screen error codes. Now coming to the point Storport.sys BSOD might also occur due to malfunctioning obsolete drivers, corrupted system files, and existence of malware on the system. Furthermore, Power problems with SSD, third party AntiVirus and Firewall, buggy Windows update, bad memory, or hard disk can cause this stop error to trigger.
Storport.sys Blue Screen Error BSOD
Here is how to fix Storport.sys Blue Screen Error BSOD Windows 11, 10 –
Way-1: Uninstall Vanguard Valorant
This method is applicable for the users who install and run Riotgames Valorant and encounter BSOD Storport.sys. Removal of the app is the best solution if you are ready to sacrifice this game. Nonetheless, you can try to uninstall and reinstall Valorant and see if it can solve the problem.
Press – Winkey+I.
Type – appwiz.cpl.
On Programs & Features window, click on Riot Vanguard.
Select Uninstall and follow the instructions on the upcoming screen.
Restart the system and see if the error still persists or is resolved now.
Visit – How to Use BlueScreenView to Detect the Cause of Blue Screen.
Way-2: Update Windows drivers
Various types of research on this problem prove that drivers in the category 'Storage Controllers' and 'IDE ATA/ATAPI controllers' of Device Manager are responsible for this bug check. So, when you find Storport.sys Blue Screen Error make sure that all the drivers in both the sections are updated. Apart from this, when the error occurs, LatencyMon storport.sys reports that Audio issue is causing the problem.
Forsooth, these components are very much essential parts as they preserve communication between the computer bus and specific hardware accessories. Once they enter outdated conditions, a variety of vulnerabilities occurs. Nevertheless, the updating process is automatic for the built-in and OEM you can proceed to complete the task manually too to avoid related errors. The process is as follows –
Press – Windows key.
Type – Device manager.
Press – Enter.
Once on the Windows tool, go to Storage Controllers.
Double-click on this and expand the section.
Right click on the driver under this.
Select – Update driver.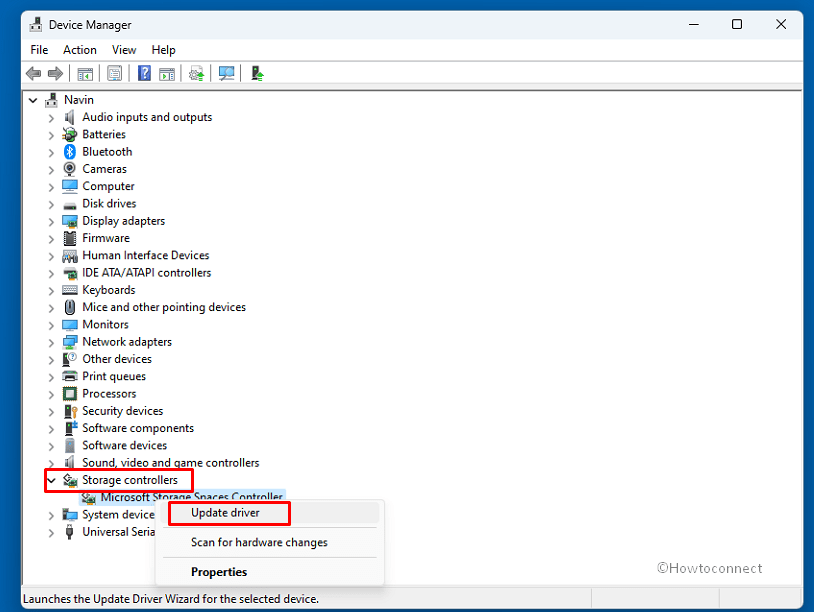 Click on – Search automatically for drivers.
Repeat the same process for all the outdated drivers in that section.
Now go to IDE ATA/ATAPI controllers.
Expand this by double-clicking and then update the drivers under this.
Now, check all the devices drivers if anyone is obsolete (showing yellow exclamation mark).
If found, update them one by one.
Finally, restart the computer and allow the changes to come into effect.
See – How to update drivers in Windows 11 (Best ways).
Way-3: Uninstall or roll back faulty drivers
Sometimes, updating the driver damages situations instead of repairing the error. Especially when the files are buggy they start creating problems including Storport.sys BSOD. Frequently, certain drivers can be detrimental so badly whereas some could be installed in an invalid format. In such problems, you need to uninstall them if they aren't essential furthermore, bringing them back to their default state is another useful option. Follow the steps –
Right-click on the – Start.
Select – Run.
Type the shortcut – devmgmt.msc.
Hit – Enter.
On the Device Manager that appears, go to the devices list.
Double click on 'IDE ATA/ATAPI controllers'.
Right-click on driver.
Select – Properties.
On the newly opened wizard, click on the Driver tab
In the end, click Disable or Roll Back Driver.
Do the same for all defective drivers under Storage Controllers.
Next, do the same with SATA port and SATA Controller driver
Reboot the Windows 11 or 10 machine.
Way-4: Manually download and install the latest drivers
Instead of installing drivers through Device manager or any preferable authentic third-party tool, we would recommend getting the software from the manufacturer's website. Earliest possible, companies uploads the most recent version of drivers on their official website. Therefore download them manually from the location and install them manually using following guidelines –
Go to the Manufacturer's website. Here we are giving links to important companies – HP, Dell, Lenovo, Acer.
Enter the model number of your Laptop or desktop whichever you own.
Go to the Drivers' page and download them one by one.
Back to your machine and install the drivers using the setup files one by one.
Way-5: Disable Game mode
Game mode on Windows 10 and 11 is found culprit when Storport.sys BSOD is thrown on the screen because this feature triggers overclocking and corruption problems. So, check if it is enabled on your and disable using the below guidelines –
Press – Winkey+I.
Select – Gaming.
Choosse 'Game Mode' from the right pane.
Click on the Toggle switch for Game Mode to turn it off.
Way-6: Repair corrupted system files
When a well-running system experiences the absence of some essential components from the directories, it will usually encounter the outbreak of Storport.sys Blue Screen error. There are a few factors for which these elements can go missing for example software conflict that occurs due to the presence of threats, vulnerability, arbitrary code, etc.
To deal with such kind of malfunction, you need to give try to recover them and System File Checker / SFC will be a prime tool here. "The tool is the best creation to repair the core components when executed via the elevated Command Prompt." To run it, follow the guide –
Press – Winkey+R.
Type – cmd.
Press – Ctrl + Shift + Enter.
Click – Yes when prompted.
Once on Command prompt, type – SFC /Scannow.
Press – Enter.
After the action, System file checker tool will quickly begin scanning to find corrupted and missing system components and repair them.
Wait until it is completed, and in the end, restart the device.
Way-7: Uninstall buggy Windows Update files
The Manufacturer company, in order to add improvements to fix existing bugs, rolls out cumulative updates and patches quite regularly. These are automatic in nature, so installed themselves on Windows if you restart the system when asked.
However, this process is sometimes damaging particularly when in a loop of problems and the files become dreadful. In the continuation, they are installed in the system and generate Storport.sys blue screen error. Therefore, uninstall them via the following steps –
Press – Winkey.
Type – appwiz.cpl.
Select – View Installed updates.
Go to the update and select Uninstall.
Click Yes on the prompt.
Way-8: Receive Windows updates
Microsoft Windows and other supporting Operating Systems including various components, unless lifecycle policies support them, receive different types of updates following a schedule. Moreover, some emergency patches are delivered to deal with accidental issues, bugs, and vulnerabilities. These updates not only help to keep Windows 11/10/8/7 healthy but also add features.  Mass number of users claim that the BSOD error Storport.sys is very protruding in an outdated system. As a matter of fact, it's been so essential to keep Windows up-to-date to avoid maximum errors. However, sometimes, the automatic Windows update process might result in generating troublesome problems instead it's recommended to accomplish the task manually by following the method –
Open Windows Settings (Win+I).
Select the Update & Security.
Click – Check for updates.
Let the Windows update Download.
When the process is completed, choose – Restart now.
See – How to Use BlueScreenView to Detect the Cause of Blue Screen.
Way-9: Discard malware
Irql_not_less_or_equal storport.sys, or with other bugcheck, might occur due to malware. You might know that the Programs that have the attributes of replicating themselves into another one, in the process encrypt data from a system are generally treated as malware. These types of flaws are nowadays floating around the web with an aim to steal sensitive as well as precious data.
After they break the defense line, they not only steal personal data but also damage the core components and trigger blue screen error. The best way to safeguard you is to identify the intimidation using Windows Security and kill them afterall. The built-in app comes with tangible features which function as malware eliminator in both online and offline modes. Move ahead using the below steps to discard prevailing threats –
Click on – Search.
Type the – Security.
Hit – Enter.
Once the Windows Security app appears, select – Virus & threat protection.
Click the link – Scan options.
Check the option – Full scan.
Next, click – Scan now.
After the identification is completed and threats are traced out, click – Clean Threat.
Choose – Remove.
Finally, click – Start actions.
Take help from – Dump File Location Windows 10
Way-10: Remove unnecessary apps
Unessential programs may cause several problems, including incompatibility and taking up a large amount of space in the disk. Although these third-party apps serve a series of purposes and users generally believe in them so keep installing more. Surprising factor is you often find some applications in the system leading to a software collision in Windows 11, 10, or other version.
The results of this action are too awful to afford as several Windows core components become corrupt and go missing. For a reason like earlier, storport.sys blue screen error takes place in Windows 11 or 10. To prevent this blue screen, you can simply advance to the below steps and uninstall the applications having similar nature –
Right-click on the Start.
Choose Run.
Type appwiz.cpl.
Hit – Enter.
On the Program and Features window, reach out to the application that you need to remove and click on the same.
Select Uninstall.
Click Yes on the verification prompt.
Follow the guidelines on the screen until the program is uninstalled completely.
Restart the device to make these changes effective in Windows.
Read – How to uninstall apps on Windows 11 (Easy methods)
Way-11: Update the BIOS
BIOS aka Basic Input/Output System is a firmware interface that, in fact, derives the hardware initiation at the time of booting. Furthermore, it has a great liability of providing runtime services for Windows 11 or 10 and installed programs.
Once this integral part of computer becomes obsolete, the result can be deadly and often cause Storport.sys Blue Screen Error. To update BIOS, follow the steps –
Press – Winkey+S.
Type – Sysinfo.
Press – Enter.
From the System Information window, note down BIOS Version/Date.
Navigate to the manufacturer's website for the BIOS.
Access the webpage where the software is stored.
Match the version and date then download BIOS.
Double-click on the setup and install it.
Way-12: Repair the corrupted Windows image files
With the major update rollout, Windows image files are delivered as a part of ISO. When these files are corrupted, there is a possibility of having Blue screen bug checking problem in Windows 11 or 10. To repair these files a built-in command line utility DISM works as a Fixit tool. So run it by following the steps –
Copy the following command and paste it into the prompt –
DISM.exe /Online /Cleanup-image /Restorehealth
Press – Enter.
The utility will automatically start looking for corrupted Windows image in the system and repair them accordingly.
At the end of the process, reboot the device.
Way-13: Execute Clean Boot
The method of starting Windows 11 or 10 with minimal and basic drivers is called Clean Boot. It commonly helps in detecting setbacks like BSOD error with What failed: Storport.sys Blue Screen and also enhances the device's overall performance. In addition, this process will also lessen the chance of software conflicts and therefore Windows 11 or 10 blue screen error can be fixed easily as well. Follow the steps –
Click on – Start.
Type the shortcut – MSconfig.
Hit – Enter.
Check the option Selective startup on the System Configuration window.
Deselect – Load startup items.
Now, go to the Services tab.
Check – Hide all Microsoft services.
Click – Disable all.
Go to the tab Startup.
Click the link Open Task Manager.
On Task Manager, right-click on each program under the Name column one by one and choose Disable for everyone.
Come back to the System Configuration
Click on Apply and OK.
Way-14: Settle Memory problems
Any defect in Memory might be the root cause of Storport.sys Blue Screen Error. When such setback is originated after device has fallen on the ground and RAM has bad areas in it, you may need to replace it completely. But prior to that, you can try out the Memory Diagnostic tool to fix the problem.
Click the Start.
Type – mdsched.exe.
Press Enter.
Select – Restart now and check for problems (recommended).
The system will restart and after that, a new session starts. You will come across a blue screen identifying memory problems.
Next, Windows will reboot by itself for the second time.
Examine the result of Diagnosis taking it from the system tray of the Notification area.
Way-15: Start System into Safe Mode
Several problems are easy to solve while few are headstrong and hard to rescue. Luckily, in every case, a rectification that acts as a savior is Booting in Safe Mode. The process starts with a new session of Windows running only essential services and drivers. Here are the instructions to boot into Safe mode –
Press – Win+Q.
Write – MSConfig.
Press Enter to open System Configuration.
Go to the Boot tab.
Select Safe boot and then Minimal.
Click on Apply and OK.
On the warning dialog, select Restart.
Way-16: Use System Restore
An ultimate rescuer of all the errors, System Restore is a method to revert back the current state of Windows to a previous one just like upside down when everything was fine.
Usually, Registry hives are integral part of Windows and any incorrect entry in this may mislead the whole system to have BSOD with Storport.sys Blue Screen Error. To deal with this problem, the best remedy is to load back to the earlier state of Windows where there was no BSOD.
Hold down Windows and press R.
Type – rstrui.
Hit – Enter.
System Restore wizard will open up immediately; check Show more restore points.
Select – Next.
Choose the latest point
Once again click Next.
Finally, select – Finish.
Confirm the prompt and the restoring process will start.
Methods:
Way-1: Uninstall Vanguard Valorant
Way-2: Update Windows drivers
Way-3: Uninstall or roll back faulty drivers
Way-4: Manually download and install the latest drivers
Way-5: Disable Game mode
Way-6: Repair corrupted system files
Way-7: Uninstall buggy Windows Update files
Way-8: Receive Windows updates
Way-9: Discard malware
Way-10: Remove unnecessary apps
Way-11: Update the BIOS
Way-12: Repair the corrupted Windows image files
Way-13: Execute Clean Boot
Way-14: Settle Memory problems
Way-15: Start System into Safe Mode
Way-16: Use System Restore
That's all!!
Utility tools to solve this BSOD:
Repair any Windows problems such as Blue/Black Screen, DLL, Exe, application, Regisrty error and quickly recover system from issues using
Reimage
.