WhatsApp users with Android devices find a nagging error This Version of WhatsApp became obsolete. This strange message doesn't disappear until the messenger app is reinstalled again. Uninstalling might be dangerous as the messages contain important files, pictures, videos and all. However, a little manual tweak can stop the issue from showing up and help the messaging application to run smoothly without losing any single data. So, let's head towards the steps and see how to get rid of this problem.
How to Fix "This Version of WhatsApp became obsolete"
WhatsApp authority has already taken steps to fix this annoyance permanently. They will be releasing a fix with the latest update very soon. Till then, you can step up as following: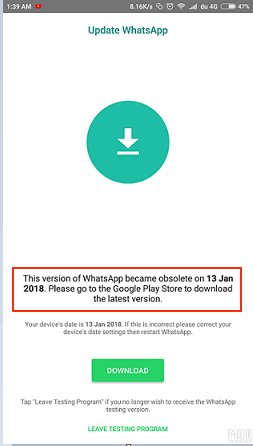 Step-1: Launch any browser on your Android enabled Smartphone. In the address bar, type whatsapp.com/android and tap on the Enter or Go button.
Step-2: From this page, tap Download Now as shown in the given image. The system will download WhatsApp.apk file from here. If you are prompted for any confirmation, go ahead.
Step-3: Once the downloading process finishes, quit the browser and open My Files on your handset. In Device/Internal Storage, specifically, in Downloads, you need to locate the WhatsApp.apk file. Tap this one simply.
Step-4: Tap INSTALL button at the bottom of the page that will prompt for your permission to update the existing application (see screenshot).
Step-5: Lastly, there will be no appearance of error This Version of WhatsApp became obsolete once you successfully install the .apk file.
Note: Some handsets don't allow installing the app from unknown sources due to privacy concern. As a result, before proceeding to these steps, you need to Switch this privacy Off. To do this, you may need to follow steps:
Step-1: Swipe your screen downwards and tap the Settings icon on the top right.
Step-2: Proceed to Privacy section and toggle "Allow installation of apps from unknown sources" button On under Unknown Sources section.
Step-3: After successful completion of WhatsApp.apk file update, toggle this option Off as it was before.
Most popular messenger application WhatsApp has become unusable due to little inconveniences. Users are bursting into anger as after opening the app, text appears like This Version of WhatsApp became obsolete. But once you complete the above steps and install the .apk file, the issue will not occur anymore.
Conclusion
WhatsApp is one of the best messenger apps and it has become famous as well as popular around the globe in last 5 years. People use this specific application for personal messages and Group messages. Lots of important materials are stored here every day. Annoyance like error message This Version of WhatsApp became obsolete has put the users in trouble. Though the authority has acknowledged the matter already, they will release the permanent fix in the following update. Meanwhile, the instruction we provided above will fix the same manually. Use them for your good self once encountered by this error.