If you are here, you must have seen utcsvc.exe file somewhere on your PC and are trying to get rid of the problem created by this. Here, in this post, we will discuss the utcsvc.exe file and how to fix if any error occurs because of its presence such as high CPU usage, virus infection, etc.
Utcsvc.exe is one of the important executables developed by DiagTrack aka Diagnostic Tracking Service. This file is used for Telemetry and User Experience diagnostic tracking service. It belongs to Touch Utility Manual Right Click which is found under the service host that collects data on the telemetry level of your system for short time. It stands for "Universal Telemetry Client" commonly known as UTC. The collecting processes of data using the utcsvc.exe file have four levels – Window 10 Home,  Enterprise Edison uses, Telemetry level, and Windows 10 Pro.
Utcsvc.exe Error in Windows 10 or 11
Here is how to fix Utcsvc.exe Error in Windows 10 or 11 –
Way-1: Through Services
Click on Search.
Type – services.
Hit – Enter.
Once Services Windows appears, right-click on Connected User Experiences and Telemetry.
Select – Properties.
On the DiagTrack Properties, click on the dropdown for Startup type.
Select Disabled.
No click on Stop in the Service status section.
Click on Apply and OK.
Close the Connected User Experiences and Telemetry Properties window and services.
Way-2:  Disable Utcsvc.exe Via Registry Editor
Press Winkey + R.
Type – regedit.
Click on OK.
After the registry Editor opens, copy the below string and paste it into the address bar. Hit Enter.
HKEY_LOCAL_MACHINE\SOFTWARE\Policies\Microsoft\Windows\DataCollection
From the right pane, right-click on an empty location and select New > DWORD (32-bit) Value.
Name it  AllowTelemetry.
Double click on this value and put its data 0.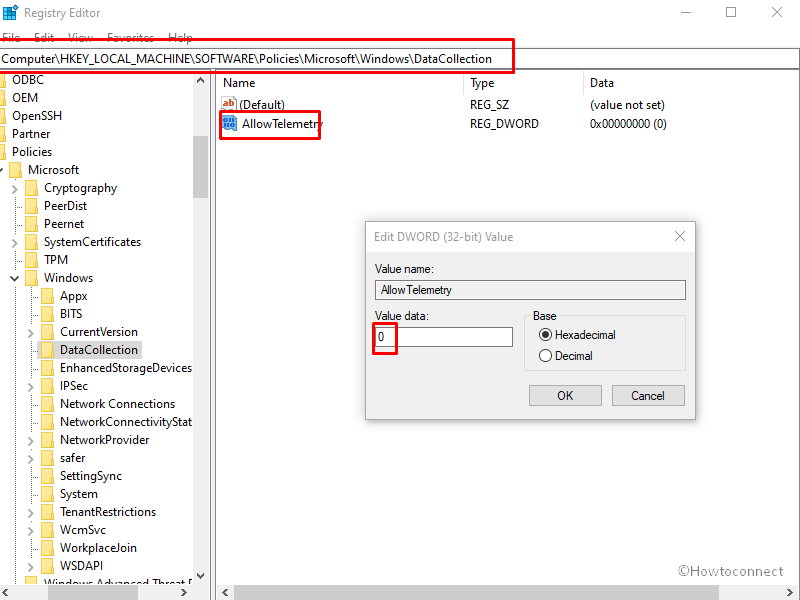 Finally, close the Registry Editor and restart the machine.
Way-3: Using Group Policy Editor
Click on Start.
Type – gpedit.msc.
Press Enter to launch Group Policy Editor.
Go to
Computer Configuration => Administrative Templates => Windows Components => Data Collection and Preview Build
Double click on the policy Allow Telemetry.
On the window that appears, check the Option Disabled.
Click on Apply then on OK.
How to identify fake utcsvc.exe file
Utcsvc.exe file may mislead you with a virus owing to its extension malware is found using similar names and corrupting data. If you keep the fake file of this in the system, OS may crash or show unusual behavior. It might also lead to slowing down your PC.
Find out which file is the correct one
At first, press CTRL+ALT+DELETE from the keyboard at the same time.
This will open the task manager on your PC.
Here, look out for Utscvc.exe file in Details Tab.
Once found, right-click on its name.
Then select "Open its location".
If the path displayed is the C:\Windows\System32 folder, then there is nothing to worry about. This is just a normal core file of Windows. If the path displayed is other than the above-mentioned, then it must be malware and you need to scan your PC with a good antivirus.
Yet another way to differentiate between core files and malware is to check out for its size.
Right click on the file.
Select – "properties".
Here you can easily see its size. The normal core file uses very little space on your system i.e. approximately 53 Kb. If the size of the concerned file with a duplicate or fishy name is huge and is using large storage, it must be a virus. Corrupt Utcsvc.exe file might slow down the loading of Touch Utility Manual Right Click feature on the system.
Common signs which indicate corrupt utcsvc.exe in PC
System becomes sluggish while processing.
Anti-malware program not working properly.
Unusual messages pop up on the screen.
By default, a random website opens up.
System starts working without permission.
Some software removed without your approval.
How fishy utcsvc.exe enters
Through Email attachment file,
By Downloading files from an unsecured website,
Via Networking,
On Installing a file with USB (universal serial bus).
How to uninstall Utcsvc.exe file from Windows
Once you suspect that this file is running as a virus and creating bugs as listed in the diagnostic service, you can uninstall it. There are various antivirus programs that help to scan this file and find out its location.
There are two ways to overcome this issue. The first one is to remove it automatically using an antivirus program while the other is to disable it from Windows 10.
Delete Utcsvc.exe virus automatically
If you are sure that this file exists on the wrong path this might be malware, and can infect your system. Therefore just remove it using a good antivirus. Once the viruses are removed from your system, do restart your PC by following the method mentioned below:
At first, press windows+R.
The RUN dialog box will be opened, here type msconfig.
Press OK.
A dialog box will be open, now select Boot.
Click Safe Boot.
Choose Apply and OK.
Your system gives you message "whether you want to restart your computer now" select Restart the system.
See – 7 ways to boot Windows 11 into Safe mode with easy steps
If you scan in safe mode you have to download antivirus program instantly to remove malware. Note that you need to download the antivirus from its official webpage.
Disable Utcsvc.exe in Windows 10:- If you have scanned your PC and utcsvc.exe is still running, it means that it is the original file of your system. But if you are worried about its privacy policy there is a way to set the lowest level of telemetry using the underlined process:-
Click on Start
Type – settings.
Press Enter.
Select  Privacy.
Choose feedback& Diagnostic.
Click on Basic here which will help you in sending the necessary data for the Window update.
Note: – Once you want to uninstall Utcsvc.exe, create a backup of all important folders and files.
What is Svchost related Utcsvc.exe?
Svchost commonly known as Svchost.exe or Service Host is a core file used to host one or more Windows services. This is a common system process. Some programs use its name too to reside back on your PC and disguise themselves.
Remove SvcHost.exe virus
You can use one of the below-mentioned tools to remove the corrupt file fishy Svchost.exe
ESET Poweliks Cleaner
Rkill
Malwarebytes
HitmanPro
Methods list:
Way-1: Through Services
Way-2:  Via Registry Editor
Way-3: Using Group Policy Editor
That's all!!
Repair any Windows problems such as Blue/Black Screen, DLL, Exe, application, Regisrty error and quickly recover system from issues using
Reimage
.