If you are running Windows 10 on your PC you might have been facing an activation problem. Actually, few users get the message when they enter a product key. I encountered the same issue too. But a different approach that I am going to write has helped me to activate Windows 10. We will write the Windows 10 product key and the process in which you will use the command prompt and after mere a few steps, the activation will be successfully done. So follow the process to Fix Windows 10 Activation Error.
Related: Product Key for Microsoft Windows 10 – 64 bit or 32 bit
How to Fix Windows 10 Activation Error
To Fix Windows 10 Activation Error, the foremost step you need to do is to bring the Command Prompt with the Administrative We provide you two simplest ways of procuring the Administrative Command Prompt.
Make a right click on the Start Menu and choose Command Prompt (Admin).
Choose any one of the ways and the Command Prompt with the Administrative privileges will be opened up.


Now, you need to type the following phrase:
SLUI 3
and press the Enter.
You will see a banner sort of thing on your display screen which asks you to provide a product key.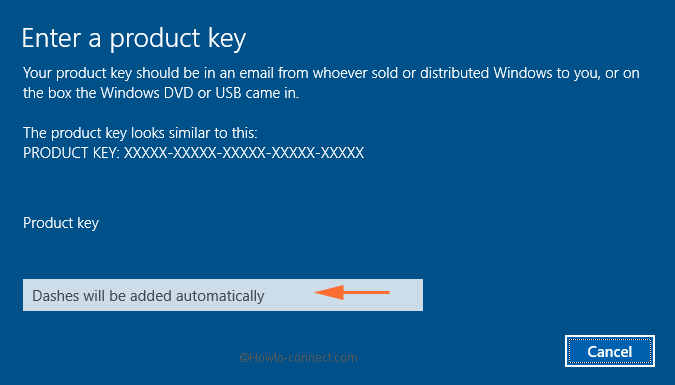 Type the product key below in the place where it is to be written
NKJFK-GPHP7-G8C3J-P6JXR-HQRJR
You can even copy or paste the entire key to not make any mistake.
As soon as you write the exact product key it will check and return back with a thanks message.
That's it! You are done with the process. This will now help you in activating Windows 10.
There are new users who have not tried the Windows 10 tech preview that was out last year and thus they are willing to give a shot with this latest update. And keeping them in thought we have recently covered an article that explains to you the detailed process of upgrading your Windows 7, 8 or 8.1 to the latest build 9926 of Windows 10. You may take a tour of the following link if you are not sure how to carry out the process.
Now coming to the users who hold a good idea about updating and installing Windows 10 had produced a query that their Windows 10 had failed to activate. There is an error message that arrives every time when the users are attempting to activate Windows 10. Though the error message doesn't contain any button nor any highlighted text. It displays only the normal words. But still, when the users make a click on it, they get a DNS error. If you are new to Windows 10 and its entire process of update and install, and if you also face this activation problem, you would surely like to fix it. So, it is obvious that all of them would like to resolve this problem and activate Windows 10 with ease. Here, we have represented you the easiest way applying which you can Fix Windows 10 Activation Error easily.
Winding Up
We hope that with the above solution you will be able to fix the problem that prevents your Windows 10 from activating. If you are also facing this problem, try out the above-mentioned process to Fix Windows 10 Activation Error and let us know how it worked for you. Tell us if you face any other trouble, we will be more than glad to help you out.
Repair any Windows problems such as Blue/Black Screen, DLL, Exe, application, Regisrty error and quickly recover system from issues using
Reimage
.