C:\WINDOWS\system32\Taskmgr.exe error message troubles when you try to open Task manager on Windows 10. Instead of getting this utility you encounter a dialog suggesting 'Make sure you typed the name correctly, and then try again.
In fact, Windows fails to locate taskmgr.exe in the Registry path resulting in the failure in launching the task manager. The main cause of this problem is a 3rd party Antivirus that corrupts the string. But don't worry, only a simple Registry tweak works like a charm and restores the Task Manager.
Windows Cannot Find 'C:\WINDOWS\system32\Taskmgr.exe" in Windows 10 Solution
Task manager is a great tool to analyze and manage the processes running on your system. In addition, the utility lets you check the utilization of system resources performance like RAM, Hard Disk, CPU,  and GPU. But in certain build, when you can't open Task manager in Windows 10 it creates annoyance and issues. For the problem C:\WINDOWS\system32\Taskmgr.exe there is a trick. You need to delete a debugger string in the registry editor and that's all.
Here is the fix of "Windows Cannot Find 'C:\WINDOWS\system32\Taskmgr.exe" on Windows 10 –
First of all, we recommend taking a backup of the registry editor before starting the method to avoid a mishappening. now move to the steps –
Step-1: Move the mouse cursor to Cortana search box and make a click on it.
Step-2: Write "Regedit.exe" in the typing area and select and make a right click on .the same from the result section. Select Run as administrator.
Step-3: On Proceedings, select "Yes" from UAC command box once prompted to access Registry Editor in Windows.
Step-4: When the new window flashes, copy the following path, paste into address bar and pressEnter.:
HKEY_LOCAL_MACHINE\SOFTWARE\Microsoft\Windows NT\CurrentVersion\Image File Execution Options\taskmgr.exe
Step-4: Upon reaching to the "taskmgr.exe", go aside to the adjacent right side and Delete the String named as Default..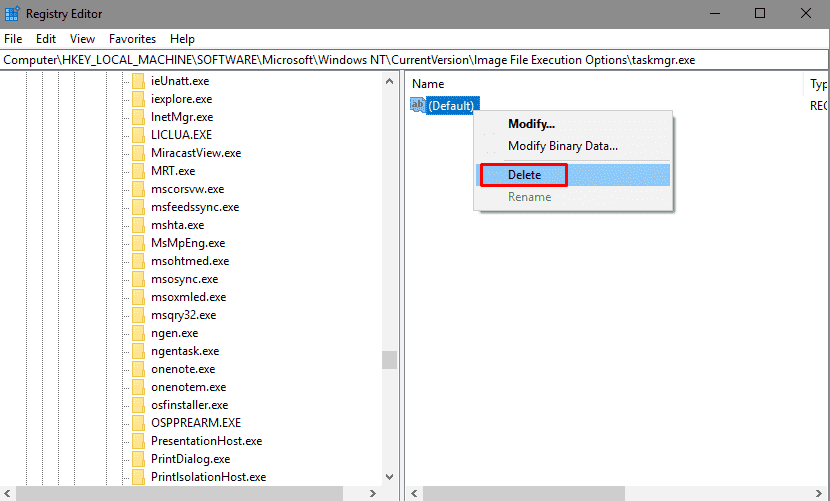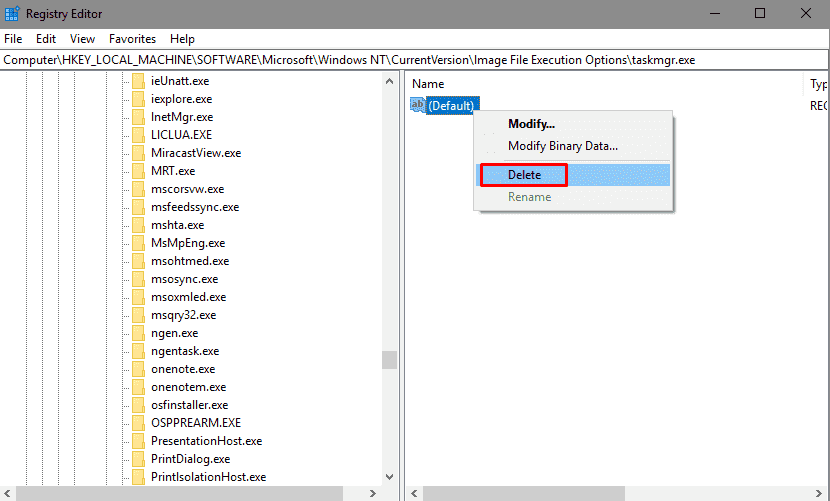 That's all! Simple and fastest solution!
Repair any Windows problems such as Blue/Black Screen, DLL, Exe, application, Regisrty error and quickly recover system from issues using
Reimage
.