Firefox includes several built-in options that secure and strengthen your web browsing to another level. One such new and interesting feature is to Block Dangerous and Deceptive Content in Firefox. Enabling this option will restrict the potential content that can convince you into downloading malware.
Deceptive attacks have become common as they are the theft sites that appear as a legitimate one and tricks you to provide personal information such as credit card numbers, passwords, or account details. The browser enables this option by default unless your security settings have been changed. However, it's a great idea to give a check to it, so let's head towards the steps.
How to Block Dangerous and Deceptive Content in Firefox
Step-1: Launch the latest Firefox browser on your computer and hit on Menu at the top right end (3 horizontal lines).
Step-2: With a list of items rolling down, click on Options. A new tab with lots of settings will open in the browser.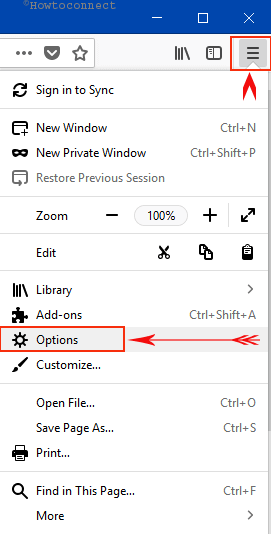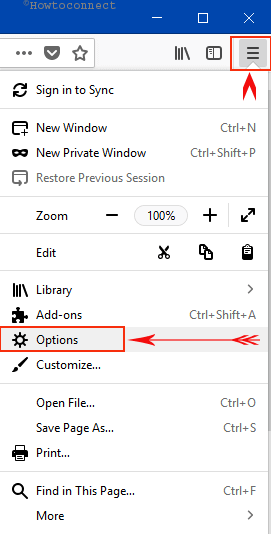 Step-3: Click on the Privacy & Security section from the left pane and eventually jump on its corresponding right side.
Step-4: Scroll down and reach out to Security section and checkmark the box namely Deceptive Content and Dangerous Software Protection.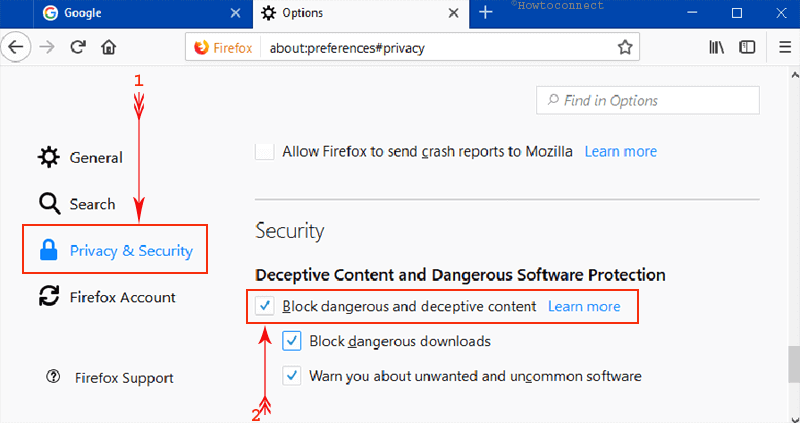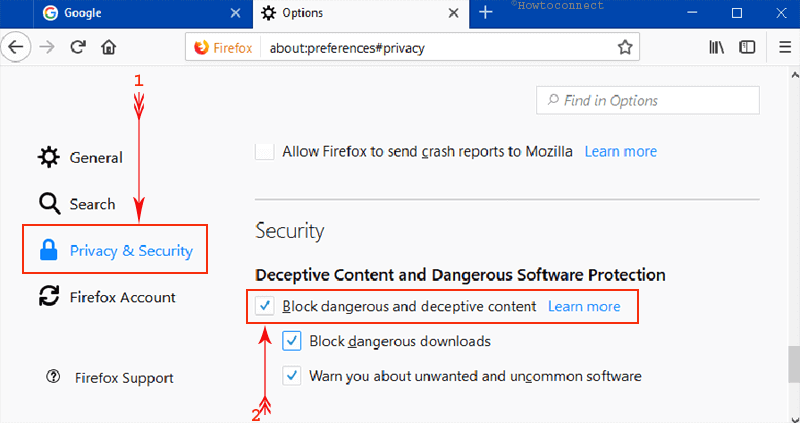 Step-5: Once you check this, you can notice two sub-options "Block dangerous downloads" and "Warn you about unwanted and uncommon software". Enable both these options to strengthen the security.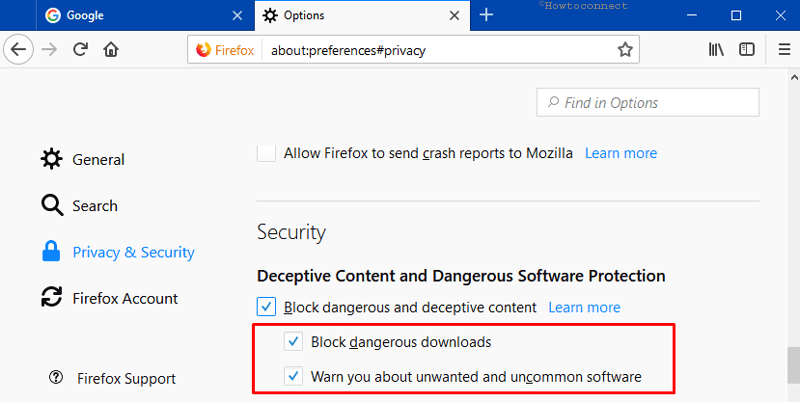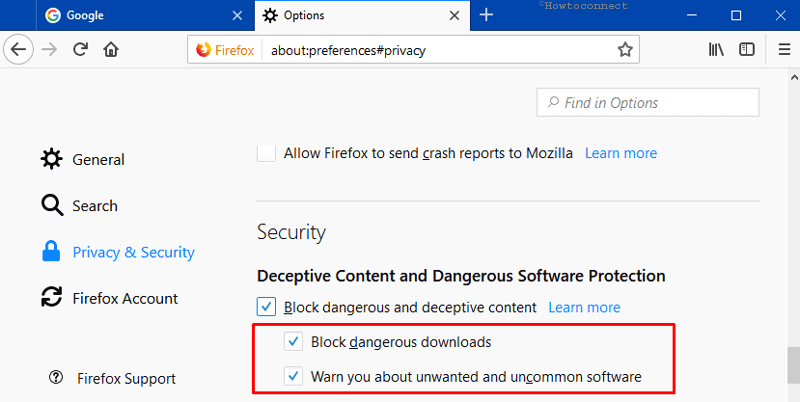 Modifications will be saved and the browser will Block Dangerous and Deceptive Content in Firefox onwards.
For reference, you can follow our tutorial on How to Stop Websites Mining Computer Processor in Windows.
With the victory flag of technology development flying high above, people are taking a vow to use this platform for the sake of making undue benefit. Spreading malware, mining cryptocurrency is the biggest vulnerabilities. This is the reason; most popular web browser Firefox has come up feature to Block Dangerous and Deceptive Content on Firefox. The feature is available in the new update and once you turn it on, it blocks websites spreading dangerous and deceptive contents.
Winding up
Websites are nowadays somewhat risky and contain contents like malware frequently. Once users enable the feature to Block Dangerous and Deceptive Content on Firefox, the browser will warn them before entering into a page having such deceptive contents. Another feature coupling with this one will activate download protection. Once enabled, it will use a remote server in order to dig up the files infected with malicious invaders. Turning it on is rather easier while it means a lot in case of safe browsing. Hence use these guidelines and utilize the feature, in the process, you have a secure browsing over the internet. If you have more tips to share on this security feature, do write them to us.