Flash Player supports to run media files in Web Browser. Running video is quite impossible without installing Flash Player on PC. You might have seen a message like Flash player is not working when open video on the browser. On other side, tech geeks are using Windows 8 on their PC. But sometimes Flash player produces trouble to run Windows 8 PC. Cause is either on Internet Explorer Flash Player management is not enabled or You have not the latest version of the software. Here we are presenting tips following which you could troubleshoot flash player through Internet Explorer to run successfully.
Check that Flash Player is enabled on Windows 8 PC. 
1. Open Internet Explorer.
2. Go to the upper right corner of Internet Explorer where you will find a settings icon. Click on the icon.
4. A new dialogue box will open downward where you will get Manage Add-ons. Click on the Manage Add-ons.
6. A list will open where you have to select Shockwave Flash Object.
 Shockwave Flash Object will not appear till you have not opened video in that browser. It will appear when you open media file like video browser.
7. Click on Enable button. This will enable Flash Player on Internet Explorer.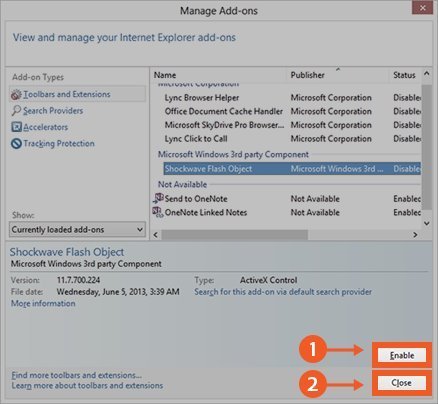 Check that you have already ddisabledActiveX Filtering by Following
1. Open a Website that has rich media content.
2. Click on the Setting icon.
3. First, click on Safety and after that ActiveX Filtering.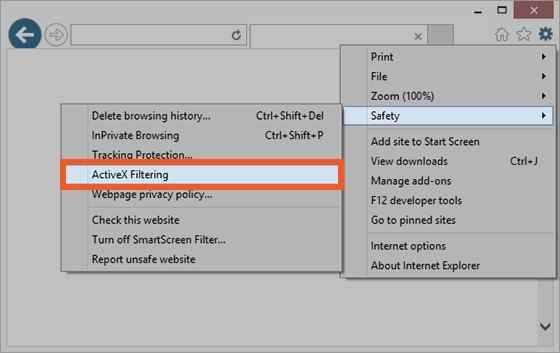 4. Reopen your browser then, try to view the media content.
Update Flash Player by Updating Internet Explorer or Flash Player
After a time Flash Player will be out of date means it requires to be updated. The Media which you wish to play or watch will need a new and update version of Flash Player. To watch this you have to update your Internet Explorer to the or you can also update your Flash Player from the link "You need to Update Your Flash Player ",. You can also update your Flash Player by following that link.
Get Adobe Flash Player Latest version
Hope you will like this …
Read:
Pending Applications Status in Windows Store While Updating Fix
Repair any Windows problems such as Blue/Black Screen, DLL, Exe, application, Regisrty error and quickly recover system from issues using
Reimage
.