My Chef offline Cookbook is an app developed by the Android tech for those users who want to learn the recipe of different meals offline. This app actually works like a cookbook for those users who want to make their meals interesting and tasty. This is very small and smart app which occupies a very little memory of 5.7 MB. There are a lot of advantages of this app like: you don't have to be online, you can check it offline and yes it works very smoothly. However because of its very small memory, it doesn't include any pictures inside itself. This is the only drawback this app has.
Related:
10 Useful Free Messaging Apps for Smartphone
Best 5 Free Apps to Control Games on Windows with Android Phone
The recipes in this app are categorized in different sections like based on ingredients, favorites, cuisines etc. The interface of this app is shown below.
Features of My Chef offline book
When you will open the main page of this app, you will find that there is a separate space indicating "All recipe". 
Along with it, there are also some spaces indicating the divisions of recipe being done according to their ingredients, cuisines etc.
Using this interface you can open all recipes or you can go for the different categories. The interface is shown below.
Just clicking on the All recipe option, you can open almost all the different recipes available in the app. There is also a search option there using which you can search your special meal. Again, it should also be noted down that once you search for a meal, there would be some options of that meal popped-up according to their rating. Obviously the recipe with higher rating would be nice. Once, you select your recipe which you want to follow for your meal and then click it, it will now open a new page describing all possible details about that very selected meal.
Again, you can also check for the left section i.e selecting the recipe according to their ingredients, categories etc.
Clicking on cuisines will simply open up a new window asking you to select one of the different cuisines available there like:  American, Chinese, Andhra etc.
Choosing the recipe according to the categories is simply choosing between Veg, Non-Veg, sweets, snacks etc.
 Choosing ingredients will l let you to decide between apple, banana, almonds etc.
Now, once you have selected your option; you can simply choose the recipe based on their ratings similar to the above-mentioned steps.
Assume, i have selected the Andhra cuisines then the interface for it is shown below.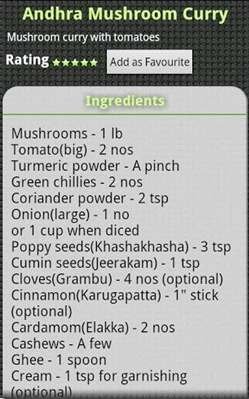 If you are willing to add some recipes to it, you can do it by just clicking Add as Favorite button in the recipe instruction screen. Now as you have done it, you can now get the access to these recipes just by clicking on the favorites on the main page.
How to Download?
I think you have enjoyed this article. Now if you are willing to download this feature on your Android Phone, you can download this app in your Android mobile by just visiting this site i.e.
Indian Recipes