XXKK3 Android 2.3.6, the branded firmware, has been released to install on Galaxy Y Pro B5510. It includes many valuable features to meet modern days requirements. Most probably you find XXKK3 firmware updates on Samsung KIES and go through to update Galaxy Y Pro. If any reason, you couldn't able to install XXKK3 firmware updates then follow particular article. It guides you to install XXKK3 Android 2.3.6 to Galaxy Y Pro B5510.
XXKK3 Android 2.3.6 Firmware Details:
PDA: B5510XXKK3
CSC: B5510OJPLF1
Version: 2.3.6
Region: Arabic
It is marked that XXKK3 is official released for Galaxy Y Pro device. So far as official firmware installation concerns, I rely on ODIN tool. ODIN utility helps to install firmware updates on whichever Android devices. Something, very special to know, that you have to make slight changes before moving to update Galaxy Y Pro on XXKK3 official firmware. These changes should be taken as forward steps to facilitate Firmware installation process.
Make sure that Galaxy Y Pro B5510 has remained 80-85% battery power to function whole firmware installation exercise. In the case device has less battery power, it won't support firmware update installation process and suddenly turn off.
Install Galaxy Y Pro B5510 USB Drivers on Computer to connect both devices during installation Firmware. Properly installed USB drivers help to make the strong connection to facilitate file transferring exercise. You may install Galaxy Y Pro B5510 USB drivers by pressing appropriate link:
Download Galaxy Y Pro USB Drivers
Once the problem appears during connecting PC and Galaxy Y Pro B5510 then situation demands to fix it. Such could be fixed only after enabling USB Debugging of Galaxy Y Pro B5510. If you activate USB Debugging function on Galaxy Y Pro B5510 then non-connectivity will no longer issue.
While installing firmware update phone memory, data vanishes. Keeping this fact in mind, you need to store Galaxy Y Pro data such as: Apps, APN settings, Contacts etc to other storage location. All such stored data will be restored after updating Galaxy Y Pro.
When above steps are taken bit earlier then you may step up to update Galaxy Y Pro B5510 to XXKK3 Android 2.3.6 official firmware. To provide help on across updating Galaxy Y Pro, I am putting step-wise instructions.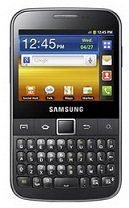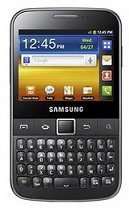 How to update Galaxy Y Pro B5510 to XXKK3 Android 2.3.6 Firmware:
Step 1
Firmware updates installation begins after downloading XXKK3 Android 2.3.6 ROM on your PC. Then you have to extract zip files.
Download XXKK3 Android 2.3.6 ROM
Step 2
After then users need to install ODIN utility to your computer. It helps to smoothly install the latest firmware on Samsung Galaxy Y Pro.
Download ODIN v3.07
Step 3
Moving ahead, you have to switch off Galaxy Y Pro.  Then restart Galaxy Y Pro into Download Mode. On around switching Galaxy Y Pro on users need to press Volume Up + Home Button + Power Button altogether till appearance of the message. After seeing message, you have to press Power Button of Galaxy Y Pro to make device functional into Download mode.
Step 4
Ensure that USB drivers of Galaxy Y Pro have been installed then launch ODIN utility on your computer.
Step 5
Now connect Samsung Galaxy Y Pro (runs in Download Mode) and PC through USB cable.
Step 6
When both of Samsung Galaxy Y Pro and PC connects, you see one of the ID:COM  turns yellow. It also displays COM port number.
Step 7
After then you have to select all such files that to be installed during update process. Such files to be chosen after extracting from downloaded firmware. You may step up in below mentioned ways to choose that files to install.
Hit on PDA in button to select file having 'CODE' in its name.
Make a Click on 'Phone' button in the same ODIN window  to select file comprising 'MODEM' in its name.( In the condition you are not able to get this type of file, avoid this step).
Tap on 'CSC' and select file with 'CSC' in its name. In case you are not getting CSC files ignore this step as well.
Click on 'PIT' button to select '.pit' file. Users are said to leave this step as well while not getting .pit file.
Step 8
In further step, you need to apply check against Auto Reboot and F.Reset Time option.
Step 9
Now click 'Start' button that appears in existing ODIN window to install Firmware updates on Galaxy Y Pro.
Step 10
When process completes, Galaxy Y Pro reboots automatically. On seeing Home screen, you need to disconnect USB cable from PC and experience the best ever official firmware for Galaxy Y Pro.
Caution:  Tips shown above to be applied only in the condition of updating Galaxy Y Pro to XXKK3 Android 2.3.6 official firmware. Users are prevented for update other devices than Galaxy Y Pro through above process. Once you ignore our suggestions and stepping to update other variants, it badly affects that device and made them dead.