If you have captured high-resolution images using your digital or DSLR cameras and you want to generate Multiple Size images on your Own Choice without affecting picture quality you should evidently use the VarieDrop without hesitation. VarieDrop is a freeware app using which you can convert and resize images without losing quality. It is a simple and lightweight application and you can simply download it on your PC to edit and edit and modify multiple images. It provides multiple size images after only dragging and dropping. VarieDrop has many tabs and options which help you to perform your task on the main application window. Recently, I have used this freeware and from my experience, I am sure you could also enjoy after using VarieDrop on Windows.
Recommended: How to Optimize Images without losing Quality for Blogging
How to Convert and Resize your Images with VarieDrop
Download the VarieDrop app on your PC to optimize your image size. You can download this freeware after choosing the desired version by Clicking Here. Now follow the important instructions mentioned below in detail.
1. This application is divided into five different sections on the main window. Firstly you have to drag and drop your images which is present in the first section (you can see in the figure below) of the window as you want your image file to be converted. For example, if you want to change your image file into JPEG format then drag your selected image and drop into "Area 1".
2. When you drop the image processing starts as soon and in a few seconds you can view changed image file can in the output folder. Now click on Set button which is given in every section (excluding Area 5) for settings purpose.
3. In the Settings, you could set for your file output format, quality, and sampling, maximum file size, etc. You find another option to resize and optimize your images by putting the values inside the Width and Height box as given below in the figure if you want. Then choose the location where you want to keep the converted files on your PC.
4. On the lowermost part of the UI, Options button lets you change the text size, set the background color, and much more and from where you can create a shortcut.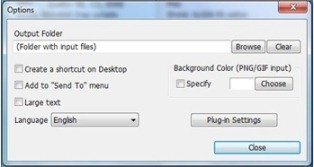 VarieDrop Key Features
Use it very easily.
Change picture format like BMP, TIFF, PNG, JPEG, GIF, etc.
Allowed to Convert and Rename images.
Doesn't Contains Spyware and Adware.
Works on a single image or on the bulk of images in just one click.
VarieDrop will certainly stand as a strong image generating tool if you are going to resize images in bulk. It will simplify your tasks.