Cookies are small files that can be easily found on one's computer, laptop or mobiles. So, what are they? They are basically designed in such a way that they could hold a reasonable amount of specific data to any client or any particular website. Cookies can be easily accessed by either client computer or by the web server. It consists of certain script which is well known about the data stored in it. It carries information from one visit to the next visit of the websites or any other related websites.
As it occupies very little memory, you won't need to worry about its removal. However, if you wish to you can remove by going to the settings option of any browser. You can download App Mgr III if you are using any smartphone to empty the space taken by cookies. Disabling cookies is not a good idea as it would then blocks certain parts of any website and you would feel trouble in logging as well as viewing articles on any website.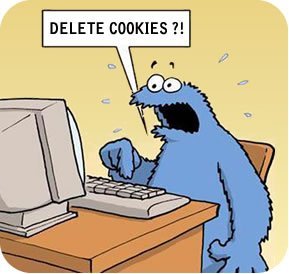 How to disable advertising cookies
If you are bored of advertising cookies which keeps on popping up while you are working, you can disable them easily. These cookies are based on FT.com or different websites.
How to Enable and Disable Cookies on Different Browsers
Follow the below procedure to enable as well as disable cookies from your browser based on your own choices.
Google Chrome
At first click on the wrench icon (three lines option) and here select settings.
In the settings option, go for Show Advanced Settings.
Here, look out for privacy heading under which you click on the content settings option.
For disabling cookies, just pick the block sites from the setting any data in the cookies section.
For enabling cookies, go in the cookies section and select the "Allow local data to be set" here.
The above step will enable both first-party as well as third-party cookies.
If you wish to block third party cookies, you can do even so just by blocking them.
You can go for the below link if you wish to know more about it in details.
Visit Here to Know more about Cookies of Chrome
Mozilla Firefox
At first go for the tools option in the menu bar
Select Options there and then Privacy Panel
For enabling cookies: Tick "Accept cookies for sites"
For disabling cookies: Untick "Accept cookies for sites"
Similar to the case of Google chrome, you can go for different options. Visit here for more Information.
Internet Explorer (IE) 6.0, 7.0, 8.0 
The procedures are quite the same you need to only change some settings. Follow the below movement to do the same for Internet Explorer.
Click on Tools option >> Internet Options.
Select here Privacy Tab in the Window navigation.
Set the slider to Medium or below as per your choice to enable cookies.
Similarly, move the slider to the top to block all your cookies to disable them.
Visit here to know about cookies of Internet Explorer in detail.
Opera 
Click on 'Setting' at the browser menu and select Settings.
After then, click on Quick Preferences.
Enable cookies by checking "Enable Cookies".
Disable cookies by unchecking "Enable Cookies".
Visit here for Opera's cookies in detail.
Safari on OS X
At first, go on the Menu Bar and click on Safari.
Select Preferences option here and then click on Security.
Enable cookies by selecting 'Only from site you navigate to'  in the Accept cookies section.
Disable cookies by opting 'Never'  in the Accept cookies section.
Visit here to know more about it in detail.
If you want to know about any other browsers which are left here, go for the help function in the browser or you can contact the browser provider too to know the details about them.