These days everybody needs to study something before, he/she starts doing work. Whether he is a student, engineer, professor, or others, they need to understand the details of the work they are going to complete. There are others i.e. kids who keep on reading comic books. After considering all the above things a software named Genius Pdf is created. This is a nice app for Windows in computer.
Genius PDF for Windows is used to read any pdf file, EPUB, CBR, CBZ, eBooks or any comics formats. Besides the above mentioned formats Genius Pdf also lets you to open DJVU, CBR, CBZ, PNG, JPEG, BMP, TIFF formats. This is a very nice app for Windows in the computer for those who don't have smartphone and iPhone.
You may be wondering why you need t his app as you already have Adobe reader for that. Basically it has certain advantage over that:
Adobe reader is not able to open as many formats as it can.

Again, while opening and reading a file in adobe you will find it a little slow and hanging at some time, there is no such problem here.
How to use this software
The user interface is very neat and highly polished. Again as you see the looks of this interface, you can easily see that a lot of work has been put in the development of this app. A screenshot of its interface is shown below: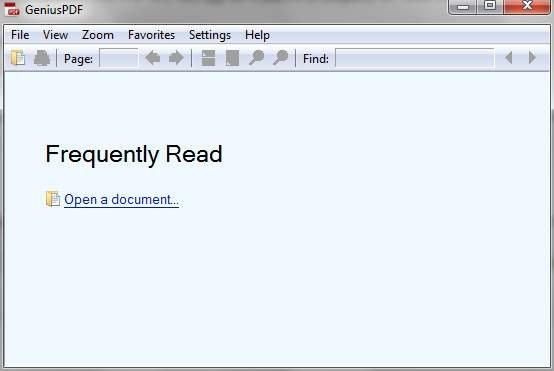 Here, you can see you have an option to open a document. Clicking on this icon will pop-up a new window which asks you to select a new file from your computer. Select any file and then click "OK". A pdf file is opened using the above mentioned method and that is shown below:
Note that using the above method you can open any different format as mentioned earlier in this article.
How to use different options of Genius PDF
Using the settings option you can change the default layout as well as the default Zoom option. You can also look for many other options using this option.
Features of this Genius PDF App:
This app lets you open different files and use them with ease.
It can be used for different formats like PDF, EPUB, DJVU, CBR, PNG, CBZ, TIFF, BMP as well as comic Books format.
Allows you to select a file as your favorite and you can change that as well.
It is lightweight only approx. 5mb.
It is completely free.
How to get this app
You can have access to this software by just visiting GENIUS PDF and from there download it. It is completely free software. While installing this app using the installation steps, keep in mind to select the language "English". However, if you feel comfortable in other languages you can select it by drop down the language box. Again one more thing and that i.e. at last you were asked to make it default for opening any pdf files, do it according to your want. That's it.