Google Docs is recognized as the most popular web-based word processor application among internet users. Several important applications like Excel, Word, Presentation are edited online through google Docs.
Now Google pinches an interesting bit that will compose it in better way. Therefore Google has added new tool (text input) at this time in Google docs so that  internet users can  insert text in language such as Hindi, Chinese and Russian.
If user likes to choose input mode through Phonetic  keypad, insert words by Non Latin characters, the input text tool will permit us to choose word from list. User can select a word from this lists by hitting on it. finding the way lists with keyboard arrows and hitting Enter to choose a word.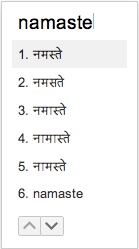 Through keyboard input tool in Google Docs , A virtual keyboard will present on the screen before us. Then it permits to hit in the characters. If Physical Keyboard is installed parallel the virtual keyboard, in order that non-latin characters could be inserted in normal mode.
We can enable the text input tool by hitting its icon or through keyboard shortcut – ctrl+ shift + K  for windows users
For MAC computer – type cmd + shift + k 
For knowing details information about it, click here