In Windows 8, Remote Desktop tool is present in the metro supported full screen app. Remote desktop is used to share two desktops in computer networks.
After the establishment of remote desktop feature in Windows 8, we become able to accomplish several system tasks of another computer such as to check system errors, to run and install applications.
How to setup remote desktop connection in Windows 8
1. Find Remote Desktop app in metro screen
At first, we have to find Remote Desktop app in metro screen. If it is not available here then follow below tips-
Press Ctrl + C shortcut to open Charms bar panel from desktop screen.
Select search button in charms panel.
A new window is coming. Here type Remote in search tab at top side.
Then we find remote desktop link in the left panel. Right-click on it.
A toolbar of setting button is displayed at the bottom. Click on Pin to start button.
Now Remote desktop will be added in metro app lists.
 2. Setup Remote Desktop Connection
Open Remote Desktop app on Metro screen.
Here type IP address of targeted computer. Click on Connect button.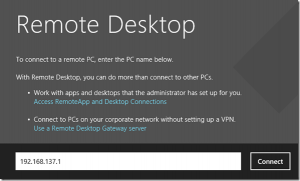 Now type Email address or Account name and Password of targeted computer. Check it – Remember My Credentials. At last Click on OK button.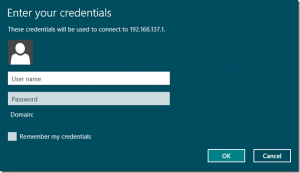 We find a pop-up notification tab. Check it – Don't ask me again for connections to this PC –  Click on Connect Anyway button to avoid it.
If Remote Desktop Connection is setup successfully, we find details of targeted computers like Username, Email address, and Account Picture.
Now remote desktop connection is ready. After accessing a computer via remote desktop app, go to metro screen and hit right click on a blank space to add target computer.