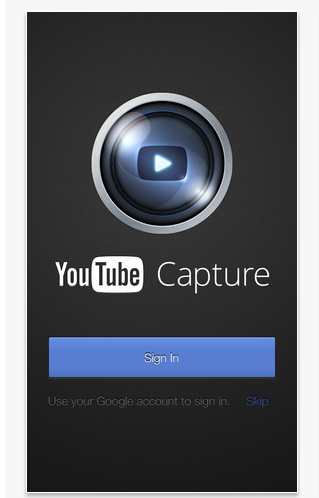 In recent time, Google has launched 'YouTube Capture' application for devices like iPhone, iPad and iPod touch. As YouTube Capture permits you to record & share memorable moments with friends and relatives with much quicker pace. You may access plenty of social networks friends efficiently, using YouTube Capture application.
Once you install 'YouTube Capture' on iPod touch and iPhone devices then you can use it in best possible manner. When you tap on YouTube Capture app, it begins to record every moment. While you stop recording act, 'YouTube Capture' allows to write caption simultaneously share it on social networks like YouTube, Google+, Facebook and Twitter. Indeed, it ensure one of the simplest ways to share Videos on popular social networks from smart phones like iPhone and iPod touch.
Apart of capturing and sharing videos, it has built-in tools like Color Correction, Trim, Stabilization and Add Background Music. These tools are quite helpful on process of enhancement of Videos quality. The particular app is compatible with devices like:  iPhone 3GS, iPhone 4, iPhone 4s, iPod touch (3rd, 4th & 5th generation) and iPad. If you want to install YouTube Capture app on iPhone or iPod touch then you need to access Apple App Store and navigate it. You may install YouTube Capture on iPhone, iPod touch and iPad with ease from below link as well.
Download YouTube Capture App (iPhone & iPod touch)