Google has introduced Google Maps Gallery. Government Organizations, nonprofits as well as business can now publish their map contents for public usage. Google will serve your content to users according to relevance of terms searched. Thus it is the extension of the Google Maps Engine which was introduced last year. Now the maps published by organizations will be discoverable and searchable. So your map data will be available worldwide easily and simply.
Google Map Gallery is like a digital atlas where people write queries and find multiple results as maps. People can also see these maps on Google earth. Government, Nonprofit and business organizations who will publish their maps will be able to communicate information at large-scale. This program aims to make Geo infrastructure more visible to public.
Read: How to Benefit from Google Maps – Latest Tips
Google Map Gallery will also be advantageous for the organizations. Organization will have full control on their content and can manage content through their own settings, branding, licensing as well as styling. They can sync their data from legacy system and launch portals for benefit of similar and complementary online channels. Google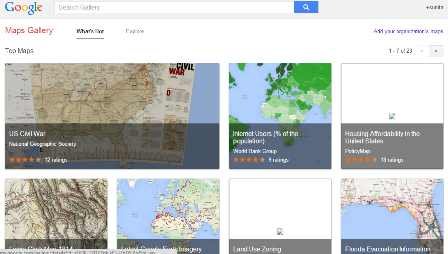 Read: How to see Trains Current Location of on Google Map in India
How to Participate to Publish your Maps in Google Map Gallery
To apply to submit your map to Google Map Gallery Fill up an online form and submit and wait until it is not approved.
Create map holding Google Maps Gallery Participant Policies. Write map description Guidelines:
1. Description should have Standard HTML hyperlink syntax.
2. You can apply <br> to insert line break.
3. Does not support image source.
In the map set a default viewport.
Before submission of your map to Google Map Gallery create your map informative and attractive. Care for the following points:
1. Design should be broadly appealing.
2. You should provide new insight, explore information in the map you are going to submit.
3. Style should be pleasing and aesthetic.
4. your map is not concerned with historical values it should have latest information.
5. Always prepare new content.
6. Consider about Accuracy. Align your map with Google base map.
7. Write the name of the in the way that it enlight and describe the content.
8. Code of the map should be correct and accurate. There is no space for broken links and errors.
8. Style your map simply and cleanly so that user feel comfort in accessing and getting info.
9. Info windows should be properly formed in Vector layers.
Now you can publish your map. Fill up a form (form will be available soon). Your map will be published within 24 hours of submission. In between you can edit the map.
Note: You can apply ads to your map according to Google Advertising policies for maps.