Hairstyle Tutorials is a Windows 8 App to guide for making wide variety of hairstyles for girls starting from graduation look to a celebrity look through videos. This application provides video tutorials on various sorts of hairstyles. This is a very simple and easy application to run on Windows 8 and 8.1 PC without any distraction. On the homepage of this app, you will find videos in thumbnail view means you can choose your desired Hairstyle Tutorial to watch after mere opening the app. Hairstyles like different types of buns, updos, french braids, half-dos, ponytails, pigtail, wedding hairdo, fishtail braids for all lengths of hair, and much more are available on this application. Apart from hairstyles, the application also has some beauty and hairstyle tips for girls.
Recommended: Design It! Windows 8 App – Dress Up Outfits, Makeup Babies for Show Off
I am pretty much sure that every girl on this earth always wants to look fabulous and stunning especially when it comes to her lovely hair. Now girls, don't worry! Hairstyle Tutorials Windows 8 application provides tutorials for different hairstyles for the ladies. This Windows 8 application will definitely make every lady sit in front of her mirror.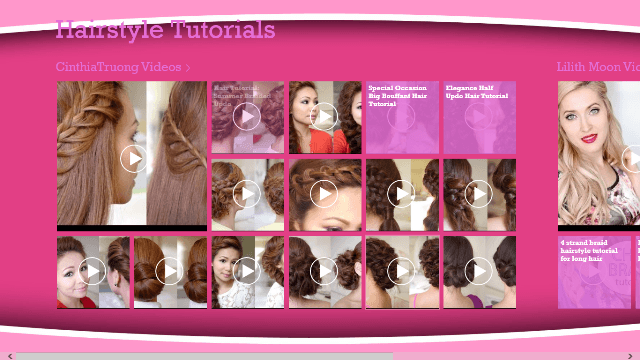 How to use Hairstyle Tutorial app in Windows 8 and 8.1 PC
1. You can own this app from the link at the extreme below of this post. This application is also easily accessible from the "Entertainment Section" of the Windows 8 store. One-click on the install button and you own the app. After installing the application on your Windows 8 PC, you will get to see lots of videos displayed in the thumbnail view. Three different experts will explain three different sections of hairstyles. Each lady had got 15 videos stored within their section. You need to have an internet connection to see the tutorials. But make sure that you have an uninterrupted internet connection so that you can enjoy the video without any hindrance. Each video has a small brief about the hairstyle.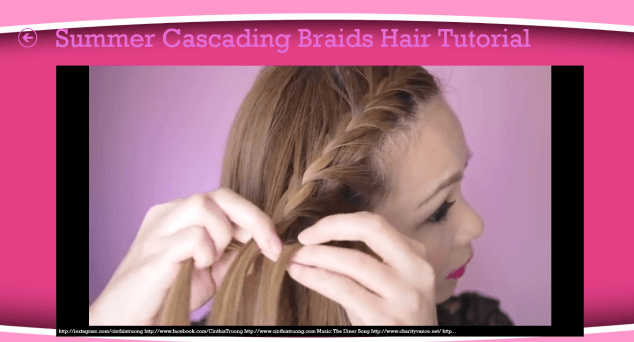 2. Click on the video that you wish to see and then a screen will be displayed with the tutorial. The video also gives you a facility to adjust volume and also to watch the video in a full screen mode. Both the options, that is the full screen mode option and volume option will be present at the bottom of the video. If you want to see other video, then simply click on the back button that is displayed on the top left of the video screen. Again the main page will be opened and you can select your desired tutorial.
Hairstyle Tutorials Windows 8 Apps Factors
The application is absolutely free of cost!
Three hairstyle experts give the tutorial.
The hairdo lessons are in video format.
The app provided some hair care and makeup tips also.
This application has permission to use internet connection.
Closure
Hairstyle Tutorials is an awesome Windows 8 app for whom who want to make an impressive hairstyle so far. Now every girl can make a celebrity look with the help of this application. Girls, download this app as early as you can and flourish yourself at every meet or party by doing various hairdo!
Hairstyle Tutorials