To embellish your desktop screen, Microsoft has come up with a new theme named Hay Hay Hay. This personalization application includes 18 sets of images which shows different beauty form of grass that has been mown and dried for use as fodder. Furthermore, all pictures illustrate the shiny sun defining extraordinary brilliance of color and chiaroscuro. So, if you like to keep your desktop warm and luminous, you are definitely going to love Hay Hay Hay Windows 10 Theme.
Hay Hay Hay theme is a free app and occupies only 14.23 MB of your memory. The application has no age restriction, so people of all ages can enjoy it. The good thing about the Theme is you can get this app on ten Windows 10 running devices. For that, the only condition is using your Microsoft account. Other than that your PC should meet basic system requirements to install the same.
Hay Hay Hay Windows 10 Theme
Here is how to download, install, and set Hay Hay Hay Windows 10 Theme –
Step-1: Press Windows+S keyboard shortcuts at one go to invoke Windows Search bar.
Step-2: Type store in the provided text field and hit Enter when the result shows up.
Step-3: When Microsoft Store comes into the view, write Hay Hay Hay and press enter.
Alternatively, visit the official webpage and click the Get button for the same purpose.
Step-4: Now, you will view a page of Microsoft store where all the details of this theme are present. You need to click the Get button again to initiate the download.
Step-5: Once the downloading procedure is completed, you will get notified through a pop-up.
Step-6: Click the Apply button to bring up the Theme Settings page in the display.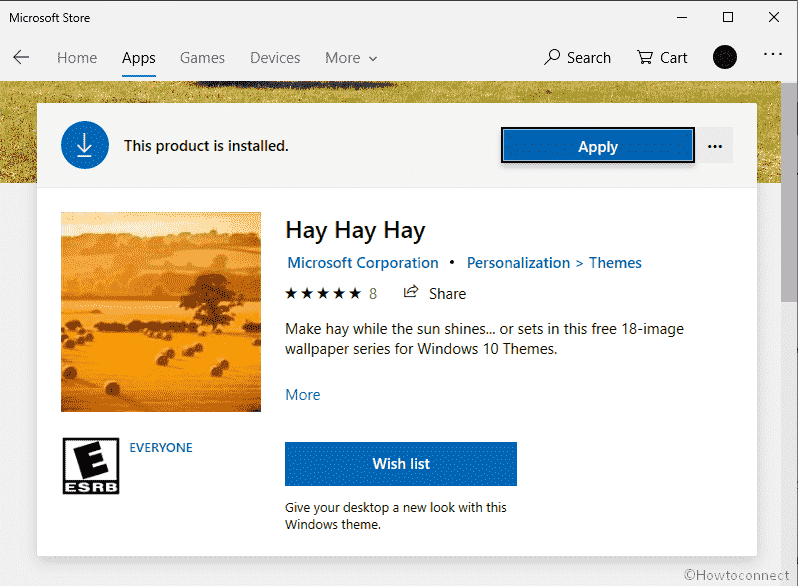 Step-7: In the right pane of running page, move down to Change theme section. Locate Hay Hay Hay Windows 10 Theme from there and make a click on the same to set it as background wallpaper.
System Requirements
To use Hay Hay Hay Windows 10 Theme, your device needs to fulfill some basic requirements. Such as –
A PC installed with Windows 10 Operating System that is running 14951.0 version or higher.
The required architecture is x86, x64, ARM, ARM64.
The device should support English (United States) language.
That's all!!!