We know, iPhone device supports a large number of file formats in iOS (iPhone Operating System). when a third-party App is installed on iPhone we can easily view and edit several types of file formats such as – documents, PDF, Text, ZIP format, Internet related files and other.
So a new iOS App has been launched named File Manager App. Through this App, we can view all files of iPhone device in the same location and make some new change in any opted files quickly. We can move files to the File Manager app library also through iTunes or from the inbuilt camera for making few changes.
There are three modes in File Manager App for importing files from iPhone.
Internet Browser
Dropbox
Image Gallery
How to move files in File Manager app from Dropbox account in iPhone?
When we launch file Manager App at the first time, we need to set dropbox account location with File Manager App. If file Manager App gives permission to access from iPhone dropbox account, we will be capable to view complete details of iPhone account directly. Now we move any file from Dropbox account in to file Manager App to change some data in the selected file.
How to access File Manager App from Browser in iPhone?
At first, click on browser link to download any file format through Internet in File Manager App. Now we can make a change in file format after downloading files.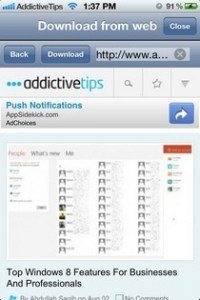 Through Image Gallery in iPhone –
We can import saved iPhone pictures to the File Manager App. So click on Image Gallery button from the Connections option. Now we are able to edit picture file, picture folder or add a picture folder in ZIP or archive format.
Click here to download File Manager App for iOS