Previous versions of  Windows Operating System Windows 7 often include Accessories tools options in the start button. Accessories tool contains several important menus such as Command Prompt, MS paint, Word Pad, Notepad, Calculator, System tools, etc. But Windows 8 Metro start screen window does not show Accessories option. If you want to access Accessories tools from the desktop in windows 8 follow below tips.
Related: How to Find Accessories in Windows 10 in 2 Steps
Activate Accessories on desktop in windows 8
1] Using Third-Party Software
Download Accessories registry hack software through the below-given link.  This software comes in RAR extension format.
Extract it from your local drives. Now Open the compressed folder and copy hide.exe file and paste it into your local drive C: \ Windows Folder.
Find Add Accessories icons in folder and double-click.
Now confirm dialog box comes in front of you and choose Allow button.  A new setting has changed in Windows 8.
To access accessories tools from the desktop, right-click on the desktop and find Accessories option that contains several menus ( shutdown, Notepad, My Computer, Calculator,  Control panel, etc) in the drop-down menu. Now Activate Accessories one by one.

Navigate to the following location to get Windows Accessories:
2] Activate Accessories on desktop in windows 8 Without Third Party Software
Open This PC and copy the below path and paste on the address bar and hit Enter.
C:\ProgramData\Microsoft\Windows\Start Menu\Programs\Windows Accessories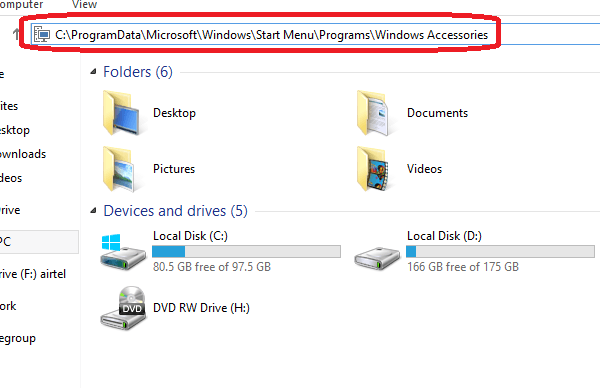 Update
Now you can find Windows accessories in All Apps on Windows metro screen. Click on the Arrow in the lower part of the metro screen and navigate to All Apps. Choosing the settings alphabetically will show the Windows Accessories.