Google Analytics is a must tool for a websites. Website's data like number of visits, Time period spent by visitors on website, Bounce rate, and many calculations help in developing a blog and lifting it on height of the goal, you set. Besides it, you can know how many visitors are active on it at particular time and which page of your website are being liked by them. This is simple a narration. These days many new features are being added to make research on site. You should memorize that without analytics a website blog or site could not grow.
To know traffic status of your website, this is a weapon. After creating WordPress website one of the most important tasks is to add analytics to our WordPress site. Here process to add Analytics is to your website is being given.
One may activate Google Analytics easily by following the process written below step by step:-
1. Just go to Analytics. For this you may click this link – Add Google Analytics
2. Sign in Google Analytics with Gmail user name and password you have. If you don't have Gmail id, Sign up. But if you already have it, sign in with your existing account. Google Analytics Sign up page comes up.

3. After filling up required details make click at Get Tracking ID.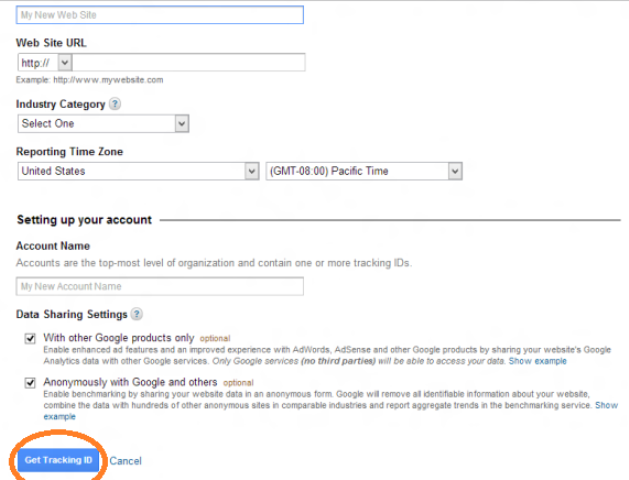 4. A page will appear in which tracking code is present at bottom part.
5. Copy this tracking code.
6. Visit your WordPress dashboard and click on editor option.
wp-admin -> appearance -> editor -> footer.php
7. Now click on footer.php
8. In footer.php editor box find </body> in lower part. Paste the tracking code just before </body>
9. At last click on update button.
Google analytics is added in your WordPress website now.
You may put analytics code in header section. To add it in this section:
1. Hit on header.php,
2. Search <head>,
3. Put the tracking code just after <head>.
Note: If you put analytics tracking code in footer, visitor,  who doesn't scroll down into your web page would not be tracked. So it is better to add it in header section.
How to add Analytics in more than one websites:
If you have more than one websites and want to add analytics code to all, then what to do? Simple, It is very easy and you can do it in seconds. Follow theses steps:
1. Click on Admin.

2. Here list of yor previous added websites is shown. On corner in this segment Account list is appearing. Click on Account list.
3. Now click on New Account again at the same corner.
Here you will find format to fill up details of new website which is to be added. From here you would be understand what to do next. So, Fill up the details and click on Get Tracking ID.
You may watch this video for help: