A ribbon interface feature in Windows  8 Explorer seems amazing. Three central menus (File, Computer, and View) are located on the top side of the ribbon interface. In Windows 8, We find various system tool and device shortcut for example – Access media, Map network drive, Control panel link, System Properties and a lot more in the ribbon interface from where you can directly access them. You can perform several system operations staying Windows Explorer ribbon Interface.
If you click on Small arrow button (it is found in the top right panel beside Help sign) in Windows 8 Explorer, ribbon interface feature hides or appears. But when you decide to Hide Windows Explorer Ribbon permanently in Windows 8 a very easy method is present here.
Hide Windows Explorer Ribbon permanently in Windows 8
First Method
Type Shortcut Windows Key + R to start RUN dialog box.
Type gpedit.msc and click OK button.
A new (Group Policy Editor) Window is displaying before your eyes.
In the left side, Click on User Configuration tab. Then Administrative Templates tab comes.
Now find Windows Components tab and click on Windows Explorer in the left panel.
In the right panel, look for an option – Start Windows Explorer with ……… minimized.  Perform a right click and choose Edit option.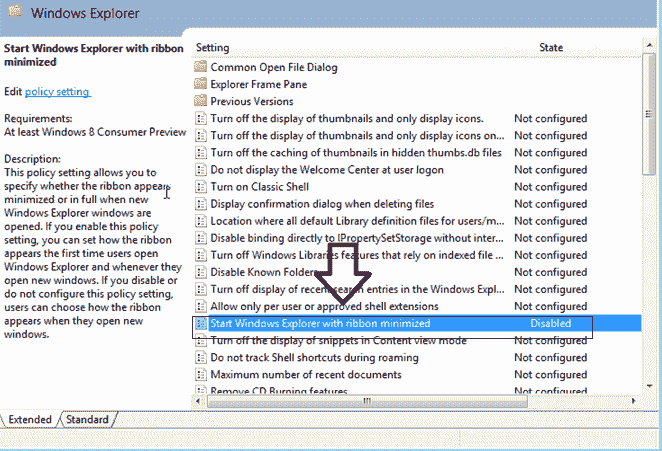 A property window of Sart windows……….. Minimized is showing. Here, choose Disabled tab and hit on Apply button at the bottom.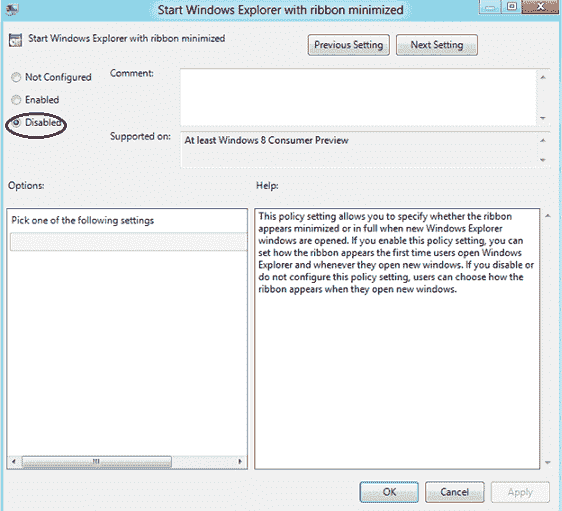 Now ribbon interface will hide forever from Windows 8 Explorer.
Suppose you want to make custom modes of ribbon interface without hiding it then check the tab –Enabled from the same window.
Now go to Options category and choose any menu in the drop down lists to make ribbon interface customized for Windows 8 Explorer.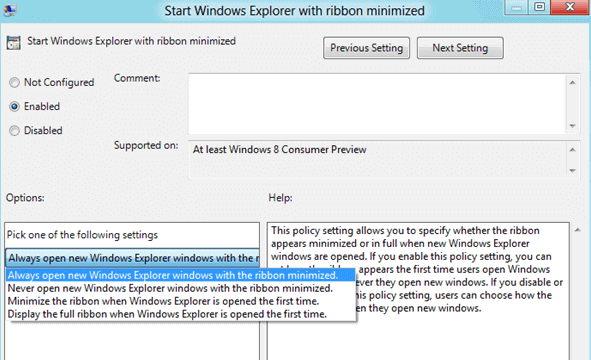 Second Method
If you are unable to hide ribbon interface easily in Windows 8 Explorer with above tips then another option can be used as follow-
At first, we have to download third party software Ribbon Disabler
Run this software in windows 8 after downloading.
We find the first screen of ribbon Disabler software.
Here check the box – Disable Explorer Ribbon and Click on RUN button from underneath.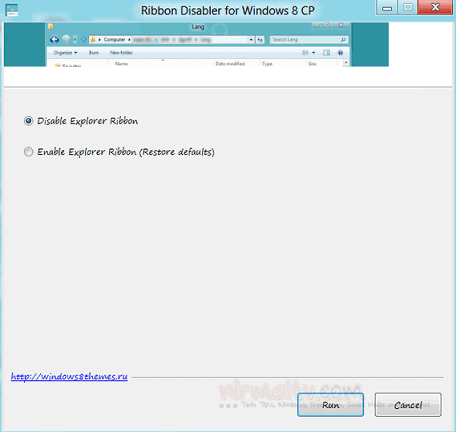 Now Restart the system and ribbon interface will vanish from our Windows 8 permanently.