iOS users might look around asking How to Add iTunes Gift Card to iPhone. They can actually redeem the cards accessing iTunes Store moreover through iPhone camera also. Apple allows utilizing the earned credit amount to buy items from iTunes Store. So, today, in this tutorial, we will talk about the process to redeem gift card free codes for iPhone in two ways in the following segment.
How to Add iTunes Gift Card to iPhone
What Redeem refers to?
Getting an app or any other item from iTunes or App Store costs funds for all the iOS devices. Fortunately, sometimes users get some Gift cards from various corners during festivals, holidays and that is really an exciting experience. Redeem is the process of converting gift cards into credit that is added to the "Apple ID". Just like all other credits, this one also holds an expiration period. It lets you purchase a wide range of stuff such as music, apps, iBooks and much more from iTunes Store furthermore App Store within that specific time span.
How to Add iTunes Gift Card to iPhone using iTunes Store
I. On your iPhone device, first and foremost, get access to the "iTunes Store". Additionally, by launching App Store also you can redeem the gift card.
II. Once you reach to the navigation bar at the bottom part of the iTunes Store app, select "Music" from here.
Note – If you choose App Store to proceed, then tap Featured option available here.
III. Go to the Redeem button and put a tap on it.
IV. Once prompt, provide your Apple credentials here and select Ok to continue.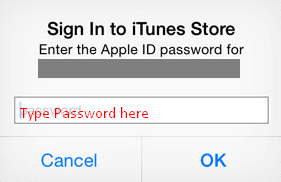 V. Upon approval of the account details, a menu will pop up on the screen. Tap Code and enter the code from the Gift card.
VI. When you have finished typing, touch the Redeem option from the top menu.
That's it and the Gift card will be redeemed instantly. The balance will be credited to your Apple ID. It's time now to use the credit to do lots of shopping from iTunes Store. For example – you can buy ebooks, apps, movies, shows, and much more.
For reference, you can read How to Download HD Videos from iTunes.
How to Add iTunes Gift Card to iPhone using Integrated Camera
You can also use the "default camera" in order to redeem the gift codes instead of providing the code manually. This feature is available only for few countries.
#Step 1: Go through the above guidelines up to Step IV and validate your Apple ID.
#Step 2: Tap the Use Camera option once system prompts you to choose between using the camera and entering the code manually. Take the gift card and pretty carefully scratch off the label gently from there. You will find a 16 digit code here.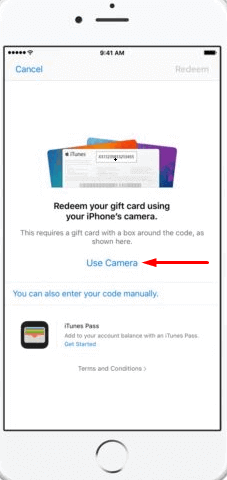 #Step 3: Now, hold it up to the camera so that it can read all the digits accurately.
#Step 4: The camera will Redeem the code as it is allocated to do and add credits to the "Apple ID".
Finally, check the iTunes Store balance. You can now see the redemption process is successfully done.
Note – You all are familiar with the fact that the credit earned from iTunes gift cards is for a limited time being. Moreover, if the credit finishes while downloading an item, Store will charge rest of the credits from original balance. Besides, if you have "free song credits", you cannot buy the full album with it rather applicable for single track only.
That's pretty cool, right! So, don't make delay and quickly Add iTunes Gift Card to iPhone. Hence, redeem the gift cards and start purchasing right away.