Let's be clear that Stop code 0x80073712 is a very common error on Windows 10 found during Windows update. Some update files are missing or have problems is the statement that appears after the updating stops unexpectedly.
Missing or corrupted Windows update cache is the main cause of Error 0x80073712 in Windows 10. Microsoft regularly releases updates to boost the overall performance of the operating but many times bugs are left as loopholes in the files. Users running on Creators or fall creators update are encountering this nagging issue but fortunately, we have found few promising fixes for this error.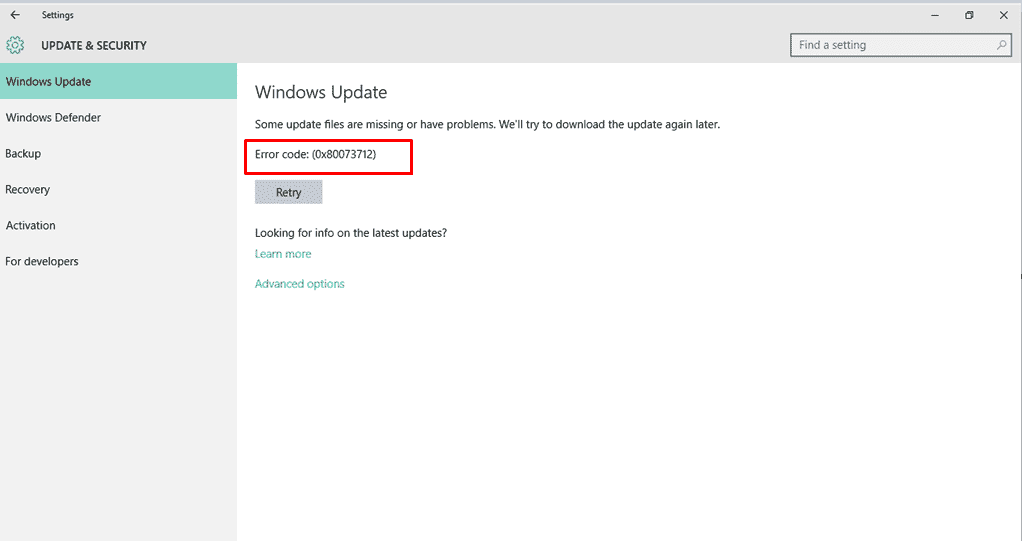 Let's start the guide using following methods:
Error 0x80073712 in Windows 10 Solutions
Workaround-1: Run Windows Update Troubleshooter
First of all, you need to run Windows Update Troubleshooter, a tool developed by Microsoft to bypass all types of Windows Update errors.
Head to the below-given website and click the link Download troubleshooter for Windows 10.
After downloading the tool, open it. Click on Advanced and check mark the box Apply repairs automatically and henceforth click Run as administrator.
Click Next and let the troubleshooter start detecting the problems.
In the following window, if you see Apply this fix button, click it.
Finally, the troubleshooter will display you the result. Sometimes, it fails to resolve certain components as shown in the below screenshot.
Workaround-2: Use DISM Tool to Fix Error 0x80073712 in Windows 10
Windows 10 comprises very strong default tools to fix any kind of errors. DISM is an effective one of these fixing command lines that many users applied in the case of Windows update stop code 0x80073712 in Windows 10 and got success. You can try the method with the following steps to solve the issue, Remember that this is a sledgehammer tool and you can use when you are expert in this work.
Launch elevated Command Prompt. Press Windows logo key, type in cmd and then perform a right click on the result under Best match. Select Run as administrator from the list and OK on UAC popup.
Copy-paste DISM.exe /Online /Cleanup-image /Scanhealth just subsequent to C:\WINDOWS\system32> in the black panel and hit Enter.
Let the scanning operation complete.
Type  DISM.exe /Online /Cleanup-image /Restorehealth as you have done earlier and press Enter.
Wait for few moments and reboot the system once the restoring gets finished.
Start the Windows update once more and check if 0x80073712 is fixed after running the DISM tool.
Additional methods
Workaround-3: Reset your Windows Update components
When Microsoft pushes the patch of update files, it accumulates C:\Windows\SoftwareDistribution\Download. Sometimes, when the update gets corrupted, the ideal solution is deleting the whole in the download folder (cache) and start afresh updating. This is called reset Windows update cache and there is a method to execute this procedure. Multiple users tell that they solved windows update error 80072ee2 after reset. Follow:
Press Winkey on your keyboard, type services, and then Enter.
Allow the Services to appear and locate following Names in the first column of the console –
Background Intelligent Transfer Service, Windows Update, Application Identity, and Cryptographic Services.
Perform a right click and select Stop on every service found above one after another.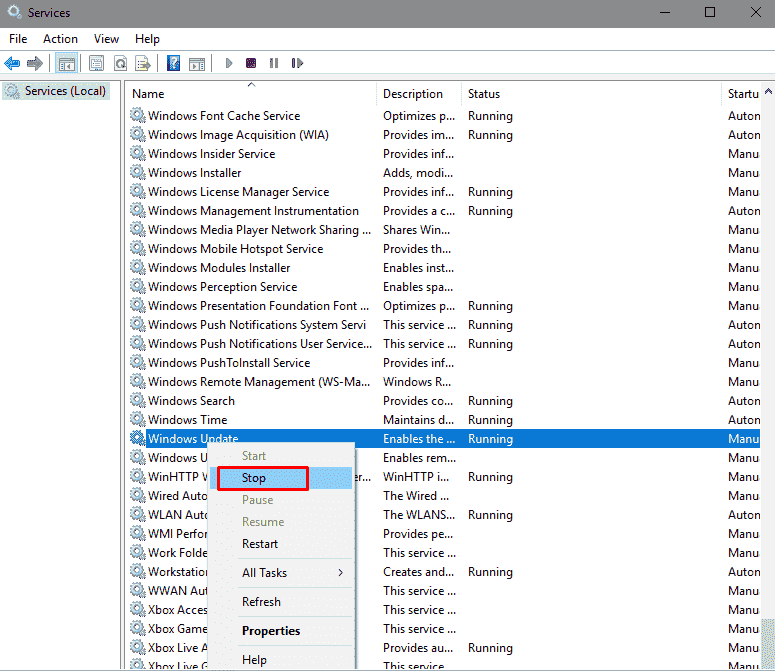 Now advance to C:\Windows\SoftwareDistribution\Download, select all the items here and delete.
Once again go to the above services successively, make a right click on each one and select Start.
Proceed to the path Settings=>Update & Security=>Windows update and click on "Check for updates".
That is all about fixing the error 0x80073712 in Windows 10. Hope you have got the solution to fix it and already enjoying using your windows 10.