The recent release of Fall Creators Update has gained an ability to relaunch the programs automatically which were running before the restart or shutdown. This means when you shut down the OS with certain apps running, some of them get appearing and active all by itself at the next boot. For many, this is completely an unexpected behavior of Windows 10. But using certain ways you can easily Block Auto Reopen of Programs After Reboot.
Microsoft explains this conduct occurs because of the core functionality of the development cycle. But out there are many users who prefer to Block Auto Reopen of Programs After Reboot in Windows 10 OS. So, today, we present you a series of methods using which you can prevent the automatically beginning of applications after a restart.
A worth mentioning point is that not all programs auto reopens after the reboot. I have not closed Chrome, File Explorer, Task Manager, Word, and Settings program and restarted the PC. Upon the startup, I found File Explorer and Settings app didn't turn up. And on the contrary, Task Manager, Word, and Chrome reopened automatically. Without wasting much time, let's head to the methods straight away.
How to Block Auto Reopen of Programs After Reboot in Windows 10
Method 1: Access Sign-in options from Settings
Step-1: First of all, click on the Start Menu from your computer. From the left pane, select Settings.
Step-2: On the Settings app, hit on Accounts from different categories.
Step-3: When a new page opens up, reach out to Sign-in options in the left pane. Click on it to open more settings in the adjacent right pane.
Step-4: Look keenly in the Privacy section and toggle OFF the option namely Use my sign in info to automatically finish setting up my device after an update or restart.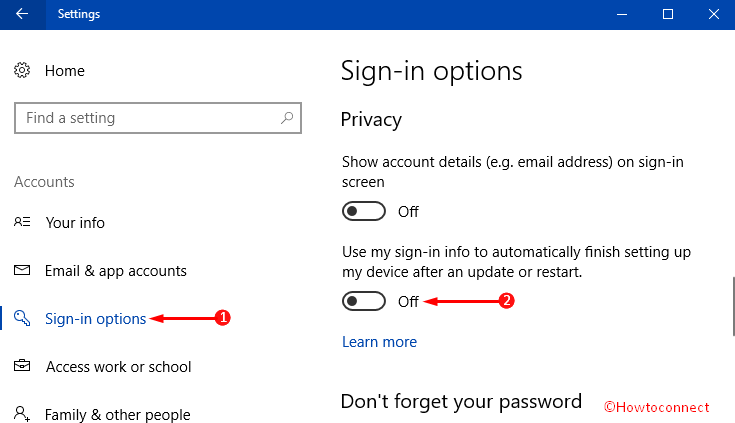 Now exit the Settings app and the option will Block Auto Reopen of Programs after Reboot.
Method-2: Shut down all apps manually
This procedure is the simplest yet little annoying but lets Block Auto Reopen of Programs after Reboot. You need to close all the running apps manually before powering off the computer. Check the notification area in the system tray to Disable Unwanted Startup Programs. If you proceed to restart in this way, these apps will not reopen upon a reboot next time.
Method-3: Use Classic Shut Down Dialog 
Step-1: Start this method by pressing Windows + M keys jointly and minimize all the active programs. Next, set the focus on the desktop by making a click on it.
Step-2: Now, press Alt + F4 keys with the intention of bringing up the classic "Shut Down Windows" dialog.
Step-3: Hit on the drop-down menu as well as select the option Restart or Shut Down. Click on OK afterward.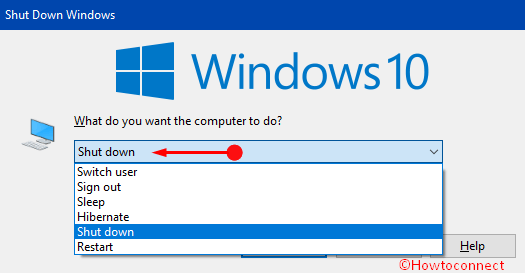 Method-4: Through Command Prompt 
Step-1: Go to the search box in the taskbar from your computer and type cmd. Command Prompt appears as the Best match. Now execute a right-click on it and select "Run as Administrator".
Step-2: On the following black window, type the following command when you want to shut down your computer:
shutdown -t 0 -s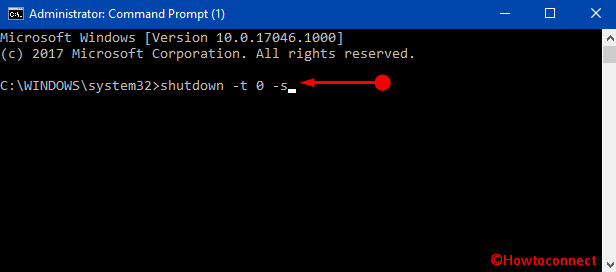 Step-3: If you want to restart the PC, type this command:
shutdown -t 0 -r
A shutdown or restart following this way will never open the apps again afterward.
You can also Create Shutdown, Restart, Sleep Shortcut in Windows 10.
Method-5: Use Fast Startup for Shutdown
You can make the "Fast Startup" work but for that, you need to execute the below-given command line.
Step-1: Use the above-mentioned steps for opening an "Elevated Command Prompt".
Step-2: Type following command at the blinking cursor for shut down:
shutdown.exe /s /hybrid /t 0
Microsoft's latest inclusion in Windows family, the Fall Creators Update is rich in superb and advanced features. Most of the users welcomed all the features of this version but some changes are not too advantageous to welcome warmly. In the previous versions of Windows, all the programs were used to terminate at shut down and never used to reopen again after the startup.
Conclusion
Windows 10 Fall Creators Update is different from other editions. This is rich in advanced features. Reopening the running apps upon a restart or shut down is also an effective way for backing up the previous app's progress. However, you may not find it appropriate every time. Hence, we have discussed some ways to Block Auto Reopen of Programs after Reboot. You can use them well and can reshape the settings in your way.