Though every snapping or Photo has its own story. But after applying Animation on it makes itself priceless.  In other words combination of Still photo with animation waves magic around our eye sights.  As you know well, things are changing more rapidly so does interest of people. Applying animation on still image and share it to its friend circle becomes passion of the people. We hail from fun makers society therefore unlimited fun is our desire.
Now, I am going to address issue of 'Creation of Animated Covers for Google Plus'
Adorning own profile on Google Plus with animated cover photo and banners could be easy if you have sound knowledge of Adobe Photoshop. Otherwise, you may choose another option for making online animation tools. There are many websites offering Online Animation making tools. Picasion is one of them, which offers Free online animation creating tools.
Now, point of talking shifting to what to do for creating Animated Cover Photos for Google Plus
Stepwise derivation would be shown the way of making animated cover photos subsequently apply on it at Google cover page.
Access the web address of Picasion, the online GIF makers
Click on Create Animation and after then click on Save this animation in next window.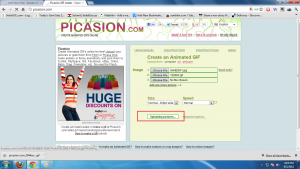 Three consecutive steps enable you to become master of the art of Online Animation Making.
Now, exercise of setting animated page in Google Plus is left. Act of setting Animated Image is relatively easy to apply animation. Just do as I suggest.
Making log in into own Google Plus account and go to Google Plus profile page
Click on to Edit Profile button
Also, choose Change Cover Photo
Hoping, I could address all the issues related to set Animated Image of Google Plus cover page in this particular article. Now, set your Google+ cover page as per your desire.