As Windows 8 is unique in appearance and operating as well as it has tools to mend or repair when be corrupted and damaged. In this condition Refresh, Reset and Re-install options are available. But a big question is how you will proceed at this time. So, here I am presenting how to repair Windows 8 from boot menu.
At first you should have bootable windows 8 DVD disc or repair disk before launch repair windows 8 via start-up boot menu.
Open BIOS Settings of your Windows 8 computer and set First boot settings as CD/DVD here.
Insert bootable DVD disc in the windows 8 DVD drive and press reboot button from the front panel.
Press any key on your keyboard when it displays a message to press any key. Now windows 8 setup begins to starts.
As soon as Windows setup dialog box comes, click the Next button after filling up following information like language, Time and Keyboard.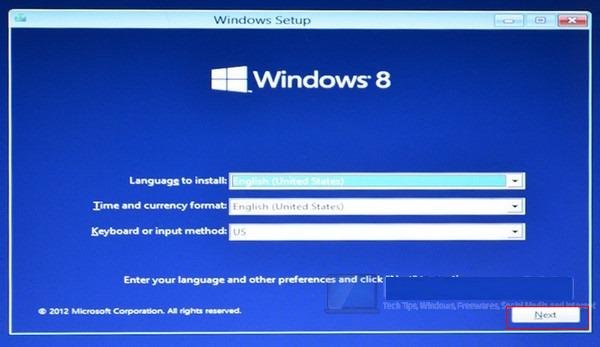 When you get new windows setup dialog box, choose this link Repair your computer from the underneath panel.
Now you have found new dialog box (Choose an Option). Here click on this link Troubleshoot option.
Now Troubleshoot dialog box comes with three extra options.
1.       Refresh your PC
It will refresh your windows 8 computer errors without losing your personal files.
2.       Reset Your PC
Reset your windows 8 Computer with repair system files and new configuration.
3.       Reinstall
When you choose this option it will wipe out your windows 8 opted drives. There is no chance to restore personal files and folders.
You get also advance options to repair windows 8 from different types
1.      System Restore
You can create restore point in your windows 8 computer. It permits you to restore windows 8 comfortably without any hurdle. You can also keep your personal files forever.
2.       System Image Recovery
Once you select System Image Recovery option, you can create windows 8 clone system recovery bootable disc. This disc helps you to repair windows 8 without any delay.
3.       Automatic Repair
Once this option is enabled in your windows 8 computer, you can fix windows 8 troubleshoot. Not only it repairs your windows 8 system files, but also boosts windows 8 loading during startup.
4.       Command prompt
Command prompt link is used to fix advanced troubleshooting of Windows 8 via several commands.
remarks 
Thus, you can solve booting or start-up troubleshoot of Windows 8 via above tips instantly.
Repair any Windows problems such as Blue/Black Screen, DLL, Exe, application, Regisrty error and quickly recover system from issues using
Reimage
.