Windows 8 inbuilt metro screen window is recognized as a modern interface. In this, we do not find the power button on start button task pane or anywhere in Windows 8. In this situation, we have to perform power actions (Shutdown, Restart or sleep, etc) through Charms bar or special keyboard shortcut ( ALT+F4 ).
Thus we may create a custom shortcut icon for the following power buttons on Windows 8 screen.
Create Shutdown, Restart, Sleep Shortcut in Windows 8 
Shut down shortcut –
Right-click on the desktop screen and choose New.
Select Shortcut menu from the new drop-down menu.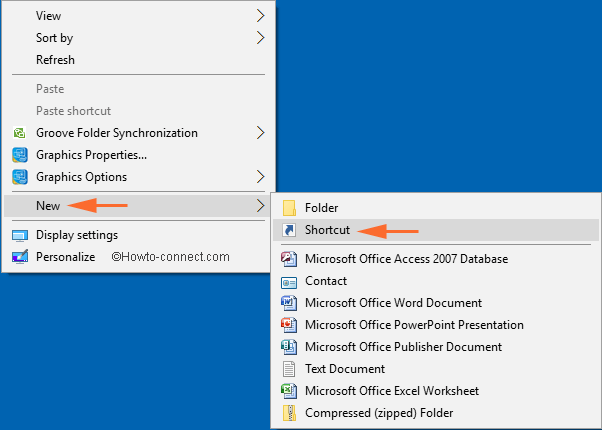 In create Shortcut window, type the following command in the required location tab box  –                                          shutdown.exe –s–t 00
Click Next button, type a shortcut name like  Shutdown and click Finish button.

Now Shut Down shortcut icon has been created on desktop screen and you may change it in a new look to get the access comfortably.
Go to the desktop screen and find the recently created Shutdown shortcut icon and choose its Properties.
In Shutdown Properties dialog box, select Shortcut tab in the top pane and click on the Change Icon button.
The new dialog box will display some information there on the click OK button.

Here you can select Power Icon logo from icon lists and click OK button.
Click OK and Apply button at the bottom of Shutdown Properties dialog box.
Now your desktop screen will show Shutdown Shortcut Icon in a new lookup (red logo).
Remarks
If you want to create another power button shortcut (Restart, Sleep, Hibernate, etc) icon on desktop screen then type following commands and follow the same way.
Create Restart Shortcut Icon in Windows 10, 8
Follow the process written above and write the following shortcut code in the location bar.
Shutdown.exe -r-t 00
Similarly, you can create a Sleep Shortcut Icon using the following shortcut code:
rundll32.exe poweprof.dll, setsuspendstate
Log off Shortcut Icon
Shutdown.exe –L
These shortcut icons will let you start, Sleep, Restart, log off directly from your desktop.