As you know upload favorite image, video, comment etc in your personal Facebook Account is shared online. you enjoy fun , share and exchange interesting ideas about your feeling on Facebook regularly. Although you want to download or save already upload file in your computer from Facebook . Therefore Facebook has launched new feature "download your Information"  for saving your earlier upload valuable shared contents in computer forever.
Actually this feature is used due to decision of delete Facebook account permanently or recover your valuable files in computers local drive  in case of virus attack or format your computer and crash of hard disk.
Step wise Step tips of download Facebook data in computer. 
Login Facebook account , go to Account option in Home tab on top corner.
 select  Account Setting link.
Now click  Download a Copy of your Facebook data link from bottom.
 in new window (download Your Information), click on link  Start my archive.
You should read show all  instruction and message box carefully before start download.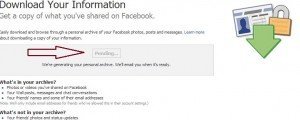 Your Facebook account will ready to produce all your personal information and verify message for security purpose  as – You will receive an email ….. . 
Click OK Button.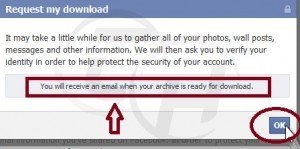 Now  Facebook support team will send download link of your previous archive Facebook data in your Facebook enable email id within 48 hours.
Login your Facebook account and find Facebook data download mail in inbox .
Browse Facebook mail and click on download link.
Remarks-
you will have to install WinRAR or Bit zipper software for viewing Facebook download information data after downloading . Because this email comes in  ZIP Format . After opening extract it.