Users are provided with additional layers of security to do a Private Conversation on Skype. This popular messaging app has enhanced its safety through end-to-end encryption while chatting privately with family and friends. This specific type of chat can be held between you and one other contact from your list. It does not support and work in groups. Another interesting fact of this conversation is that it will neither be previewed in chat nor in the notification. So, here, we are going to discuss the process and a simple tweak in the program is enough to do so. Let's move on to the procedure shortly.
How to do a Private Conversation on Skype
Step-1: Launch the Skype app as well as click on + icon beside the Search box. From the chat options, click New Private Conversation.
Step-2: The program will then prompt you to select the contacts with whom you prefer to do a Private Conversation on Skype. After choosing any, a new chat will be started with the selected contact.
Step-3: Skype will send an invitation to that contact asking him/her to Accept and join the conversation. This invitation will be valid for next 7 days. After 7 days, the invitation will become invalid and you will have to send another one.
Step-4: Conversation will start just after accepting the invitation and will be available on your device. If you like to shift this one to another device, you need to the forward the invitation again.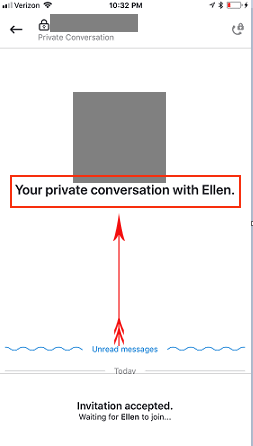 Few things you really need to know for the private conversation in Skype and these are as follows:
Once you start this type of chat with anyone, a lock icon will appear beside his/ her contact name.
Users can send emoticons; files and voice clips in a private message. Messages are of limited capacities. No one can edit them or forward to anyone as well.
Only one device can be involved in this type of chat. In case of changing device, users need to send invitation again.
Note – Currently, this feature is available in preview for 'Skype Insiders' only.
End a Private Conversation
Private chats are sensitive in most cases. No one wants that another person may see the conversation. After having the chat session, you can end that using following guidelines.
Step-1: Navigate to the Chat header and scroll down.
Step-2:  Reach out to End Private Conversation. Clicking this option will send a confirmation window with a view to ending the discussion. You need to send a new invitation to the same person again once to terminate the talk.
Delete Private Conversation
If you find the conversation super sensitive and leaking by any means this can put you in real trouble. But you can delete them at any span of time. Here are the steps to delete a private conversation in Skype.
Step-1:  Select the Private conversation you prefer to remove and execute a right-click on it.
Step-2: Click Delete from the list and do away with the conversation.
You might need to recover the deleted chat for some reasons. To do so, again head to the Private Conversation, select that specific contact you did a chat with and Skype will take you to the place where you left.
For reference, you may like too read our tutorial on How to Remove Skype Chat History on Windows, Android, iOS, Mac, Web.
Conclusion
Skype is the pioneer application to introduce a video calling over the internet. At the same time, it is the most popular one. Same supports chatting with family and friends too. With the new update, users can do a Private Conversation in Skype with any contacts from the list. We tried to cover every minute details of this messaging application. This article will be very helpful to start, end and to delete a private conversation happen with family and friends. Read and apply the guidelines according to your need.