Latest Mozilla Firefox Version 16 app has been released for Android supported mobile phones and tablets.  It's one of the best fresh features is Reader Mode which permits to view web page contents in reading mode without adds and additional unnecessary page elements. This is a great modification in version 16 of Mozilla Firefox app, and it is in support of Android devices.
Reader Mode in Firefox app is parallel to Safari Reader of Safari Internet browser.  It mainly disables web page ads, menus, and additional Web page part. Then it tries to display web page contents with effortless read view on android screen.
How to enable Reader Mode and access it in Firefox 16 version app?
At first, Install Firefox 16 version app from Google play store or update it to fresh version from previous version.
To activate Reader Mode, wait few moments until current Web page is loaded.
Then tap on book icon which is located near to URL address bar.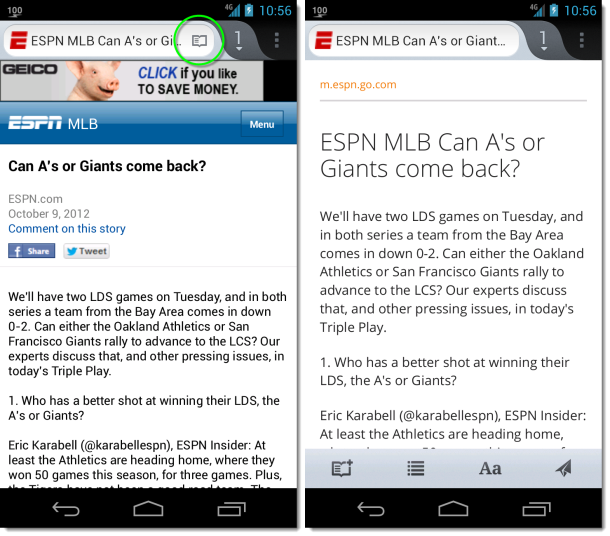 As soon as you get Reader Mode on Android screen, you can store the webpage contents, bookmarks from underneath icon.
You can also modify the size of the current displayed text and margins, convert background screen from black color to white color or reverse it. Actually selection of Black color screen is the best option while you will access Reader mode feature during night.