Google Chrome is recognized as the best Internet browser these days. Reader is an important tool in a browser. Actually, Reader feature helps in reading or viewing online Webpages contents without page ads and disturbance. But, Reader Mode inside the chrome browser is not found as default. As solution iReader Extension or app has been developed. It enables Reader mode appearance in Google Chrome. Here some tips are being given by following you may enable reader mode on Chrome browser.
How To Enable Reader Mode On Chrome
First, go to Chrome web store and find iReader extension.
Click on ADD TO CHROME.
After Installing iReader it will be added in your Google Chrome browser.
Or

Add iReader for Google Chrome browser
Once you have added iReader extension properly, close chrome browser and start it again with new URL address.

Now you have to click on iReader icon situated on Chrome address bar. It enables Reader mode of the current opened webpages contents before you.
View a floating toolbar underneath of currently opened webpage. From here you can perform several actions like print, email and make Zoom in or out, tweet or share the current webpage on Facebook.
You may also find settings buttons (Gear icon) on the Floating toolbar which is used to modify settings.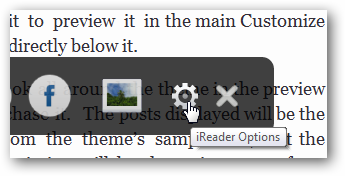 Once hit on gear icon. it brings new window named iReader Options. Here you may modify several settings in iReader extension like change background appearance of current webpages in the Reader mode, different font style with size.
You can also configure a Hokey to launch Reader mode directly without having to hit on the iReader extension in the URL address bar.
Finally, click on save button to apply new settings with iReader extension.

Thus you can say that Reader mode feature is one of the best options to view or read entire webpage contents without any restrictions.