At a present time Laptop or Notebook is being used widely, and the main cause is its battery backup. Laptop and Notebook gives facility to work without electricity for a limited period of time. And for this, user is not worried about power cut. If one uses laptop battery optimized accordingly saving, it may provide more backup as well as more life of battery. Here we are describing some tips and tricks by which you can save laptop battery.
How to Improve or Save Laptop, Notebook Battery Life
Let's follow below tips to improve battery life of your laptop –
1. Adjust Backlight Levels
Bright backlight option is used to save battery power for a long time. Commonly laptop backlights feature decreases the battery life shortly. If brightness of your laptop backlight is configured then it improves battery conditions. Even utility tools like animated screen saver with high resolution consume more power and energy which is not the best choice.
2. Disable unwanted  Tools and Tasks in  the Windows Operating system
Windows Operating offer several tools of background and task. These tools and tasks battery consuming. Once you disable unwanted scheduled tasks and windows services, chances of improvement of your laptop battery backup will be getting better. One should always examine notification bar at the windows desktop taskbar panel and find unwanted hidden icons to disable it.
For execution, pursue the instructions here – How to Disable Power Throttling Using Task Manager in Windows 10.
3. Better Power Management
Mostly laptop Manufacturer Company offers Power management features inside your laptop by software. Windows operating system also brings same features, especially for laptops and notebooks.  As soon as power management feature is activated, laptop screen will be turned off as soon as laptop battery power goes low and it will automatically turn into sleep mode to save laptop battery life. The sleep mode feature of laptop disconnects laptop from active network connection, Internet, screen savers, Wi-Fi connections and many more operations.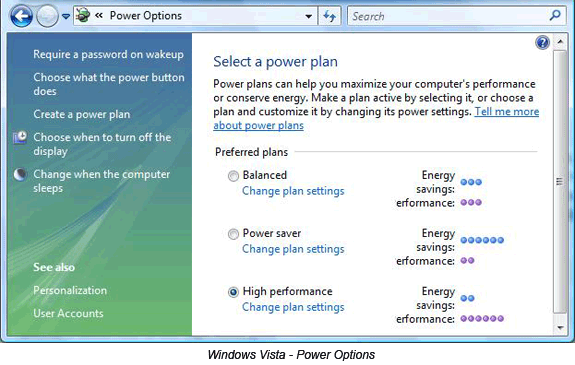 4.       Charging phase Caution
The procedure of charging also influences laptop battery life. Whenever laptop battery is turned off, plug the laptop adapter power jack to begin to charge battery. If laptop battery is made with lithium-ion, it must not be gone to total discharged.  So, before starting to charge battery one should examine the battery level carefully. A charging plan of any laptop would be dissimilar for the batteries according to their types. The lithium-ion cells, NiMH batteries can influence on computer memory, so you have to start it while the battery turns into half phase.