Till Windows 8 initiation, users have to rely on desktop email client to manage their multiple contact information. Now users have the better option in People app than earlier desktop email client. The People App of Windows 8 manages multiple contacts whether from Facebook or Google or from Skype. While switching to People app, you can import multiple contacts from different services automatically. Here, you find repetitive contact entries of some people. Seeing multiple contacts, you need to organize all such contacts on priority basis. It can be done only after Merging or Linking Contacts on People App.
If you need help on cross merging Contacts on People App then follow successive steps.
Now Log in with your Microsoft Account identity then choose such contact you want to merge with another one. 
Above act leads to open Contact Information Page. Here, you need to right click on empty space in Contact Information Page to display menu at bottom pane. Now click on 'Link' option. When People app finds probable match, it shows to link otherwise you have to choose desire contact to link. 
For selecting other contact to merge, click on to 'Choose a contact' option. Here you may choose one or multiple contacts to merge with existing one. Then click on 'Add' button.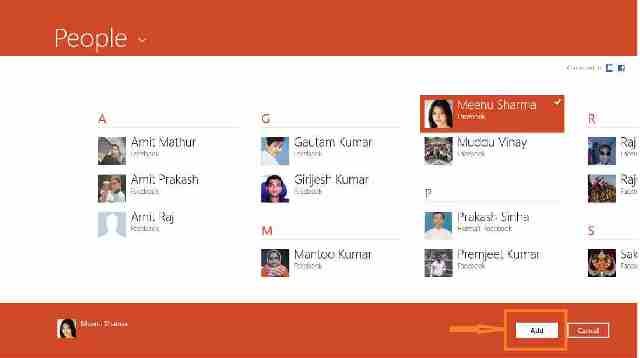 After that Back to profile linking screen and click on Save option to activate merging multiple contacts.