The newest Microsoft supported Windows 8 version has been launched with modern recovery alternatives such as – easy to restore at initial point, create system image and repair drive or disk. These three alternatives are performing significant job to access the windows 8 system with high performance. But suppose your windows 8 system is unable to boot then you can't start recovery alternative either system restore or repair tools (refresh or reset).
To do it, you are needed to create a windows 8 repair disk which is also called emergency disk. It is prepared individually by inbuilt tool in windows 8 bootable DVD disk. This disk assists you if your windows 8 system if it is unable to begin self boot. You should remind that system repair disc of windows 8 32 bit version often runs on same version. So you have to make another system repair disk for windows 8 64 bit version.
How to make another system repair disk for windows 8 64 bit version:
Step-1  
Press shortcut (windows key + Q) to start Windows 8 Charms Bar Search window.
Now insert a command "recdisc" in the search box and click on Apps button.
Next you get instant search results page and click on recdisc.exe option.

Then a pop up box named create a system repair disk is showing. It is built-in system tool which is used to create windows 8 system repair disc.
Step-2
Next you have to insert fresh and blank DVD disc in your DVD drive and click on the Create disc option.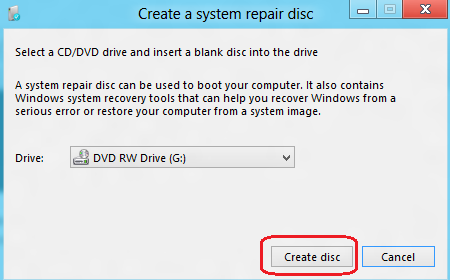 Step-3 
The complete procedure will be finished in few minutes as per your DVD drive burning speed. It will exit burning DVD disc automatically after completion of finishing procedures.