The newest ways of entertainment sharing have gained a lot of praise from the Microsoft fans after releasing the first version of Xbox 360 service. Microsoft has released Xbox streaming music service in June 2012. Its function seems similar to Google music of Google company.
Now Microsoft has produced latest edition of Xbox music app for Windows 8 on 26 October while Windows 8 has arrived with full edition. The latest Xbox music app is presented with enhanced features such as it can stream full songs on requirement instantly, play preferred online radio service Pandora.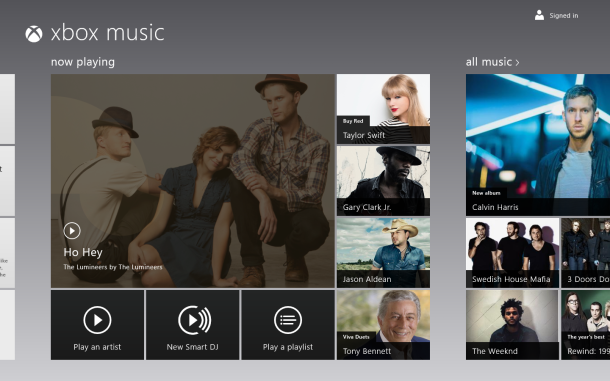 How to get started with Xbox Music app on Windows 8 –
Step-1
At first, hit on the Music tile on the Windows 8 Start screen to start Xbox music app.
Next sign in with Microsoft supported account for outlook, Hotmail or MSN.
Step-2
How to get Streaming songs on your order – 
To begin listening online music or songs immediately, click on Play an artist option and insert name of an artist you wish to listen.
Then you will get random collection results of songs or music of several artists and it will start playing without delay.
To play particular or preferred songs or albums, you can click on both options – All Music or Top Music.
Step-3
As soon as you will get preferred music, press right-click to add it as playlist in track or album sections.
 Then you will find control bar underneath of the left screen. Now click on add to album playlist or add to playlist option.
Smart DJ
Smart DJ is an online radio service that is parallel to Pandora and Spotify. Now click on "New Smart DJ" and select an artist. It will start playing music immediately and add the new Smart DJ radio station to My Music section.
Step-5
Adding your individual music –
To add your personal music on Xbox music page, press shortcut (window key + E) to launch Windows Explorer.
Next click on Music option from left panel.
Now copy your preferred music files and paste here.
While you return to Xbox Music screen, you will view your music in the My Music section.
Step-6
Managing My Music
you can change settings in My Music app while clicking on the heading of any music. Then you will capable of changing playlists name, remove Smart DJ stations and albums, songs.