Suppose our Windows XP having multiple problems like virus effect, missing system files, not run new software easily and more. In any of these situations, we may have to format operating system.  Now we start to format windows xp. But our XP bootable disc is unable to boot ahead. But don't worry, we can make custom XP bootable disc via nLite software tool.
About nLite Software –
nLite Software is useful in creating custom Windows XP bootable disc.  nLite software also comes with built in CD burning automatic feature.
Before creating bootable Windows XP disc follow some instructions:
At first, we have to copy entire folder of  XP bootable disc in the folder name at C drive. for example –
                               C: / windowsXP
Before install n Lite software, our computer should be installed Microsoft Net Framework at first, otherwise nlite will not run ahead.
After downloading .net framework, run it in our computer and install nLite software. 
 nLite welcome screen is showing. Click the Next button.
in next window, Click Browse button, find already copy XP folder in our computer.
We find  Windows XP  folder in C drive and select i386 folder.
Click the Next button.
Here we Click on Bootable ISO link for burning fresh bootable installation CD.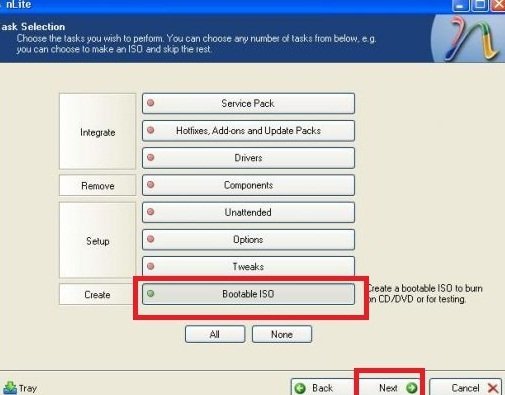 In Bootable ISO window, select Burn Image from Mode tab.
 Then insert blank CD in CD-DVD drive and choose Burn option.
Now nLite software will create fresh Window XP bootable CD in few minutes after complete burning process.